Everyone wants a business identity that will never be forgotten, and a vanity phone number is a good way to make your business memorable. If you don't yet have one, you may want to consider getting one now, to give your company an edge over your competitors.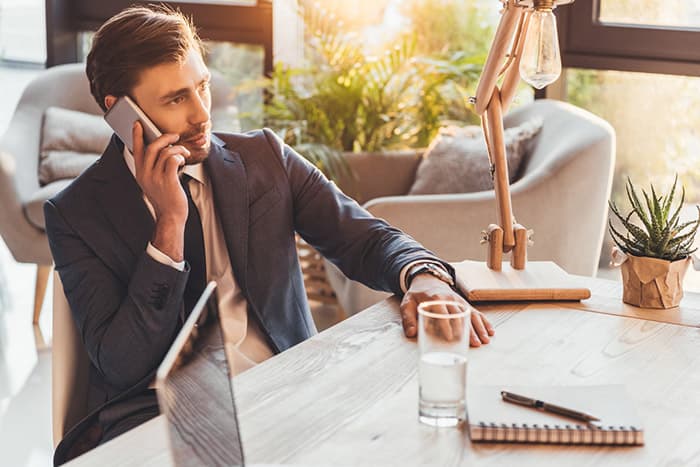 A vanity phone number is a toll free telephone number which is comprised of a sequence of letters that spells out a word relevant to your type of business. For example, 1-800-TAXICAB or 1-800-CONTACTS. Many companies use their brand name to help customers remember their business phone number, such as 1-800-CAR-GUYS or 1-800-RED-TAXI. Another way you can use a vanity number is to reserve a phone number with a memorable sequence of digits, such as 1-800-888-8888.
Vanity Number Prefixes
1-800 toll free vanity phone numbers have been around for a while, and many of the best ones are already taken. However, this need not be a problem as there are other prefixes available. These include 888, 877, 866, 855, 844, and 833 (this one was released most recently in 2017. Because 833 is a relatively new prefix, it has four main advantages. These are:
Beat the competition: Major companies such as 1-888-ALLSTATE and 1-800-CONTACTS are likely to purchase the 833 versions of their number to prevent competitors from gaining them. If you already have a toll free vanity number, think about getting the same number with an 833 prefix to beat your competitors.
Fresh tracking number: You can use your new 833 number to track your metrics on a new advertising campaign. Track inbound calls knowing that they are intentional calls to your new number and assess how effective your marketing strategies are and how you can improve them.
Building your brand: Incorporate an 833 prefix into a vanity number that really makes your brand stand out. Think of something that's relevant to your business that customers will be able to remember easily.
Use on TV and radio: When you create a memorable 833 vanity phone number, it is perfect for use in your radio and TV ad campaigns because people will be able to remember it just by hearing it. Viewers and listeners may not need your number right away, but they will be sure to remember it when they do need it.
Do Vanity Numbers Really Make a Difference on ROI?
The simple answer is yes, so let's look at how it all works. Every day, every consumer is bombarded with advertising just about everywhere they go. Advertising messages are in your mailbox, your inbox, on your TV and radio, on billboards, on flyers, and just everywhere you go online. There's no escape. This is why you have to make your message stand out above and beyond all your competitors. And to do so, your marketing campaign has to cut through all the noise in a way that is unforgettable.
This probably sounds like a tall task, especially when you consider the fact that the average consumer receives as many as 5,000 advertising messages per day. So, the key issue here is to convert your visitors, viewers, or listeners to enquirers. You need to catch and hold their attention and make them want to know more about your products and services. You need to entice them to pick up the phone and call you now to find out more. Having a toll free vanity number not only helps customers remember who you are, but it also gives them a compelling reason to call.
Inspiration for Vanity Phone Numbers
Are you struggling to come up with a vanity number for your company? Here are a few ideas based on industry types:
Dental: 800-MY-SMILE, 800-VIP-SMILE, 833-BRACES-USA, 866-ORTHODONTIST
Construction: 877-SOLAR-USA, 833-ROOF-BID, 855-LA-REMODEL, 800-LAWN-AID
Shopping/gifts: 800-SEND-GIFTS, 877-TIE-RACK, 833-GO-SHOES, 877-MY-TICKET
Pet care: 833-LUV-DOGS, 800-CAT-CITY, 866-PET-STYLE, 800-SICK-PET
Contact Global Call Forwarding directly to find out more about vanity numbers. If you're still not convinced that they can help your business, ask about our non-commitment free trial. You could have a brand-new vanity number within just a few minutes, ready to be used in your marketing efforts to enhance your brand's image easily.