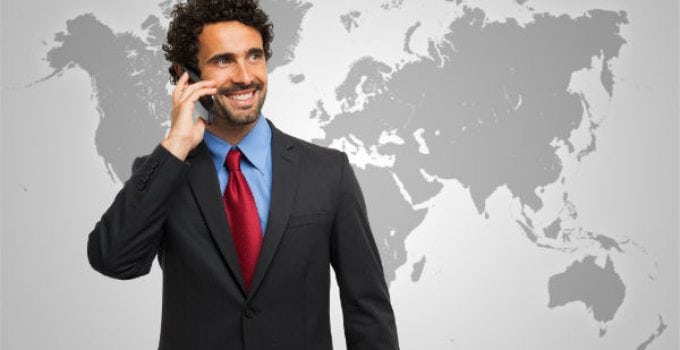 Customer engagement has become an important aspect of how businesses operate in today's well-connected digital ecosystem. Because of the different touchpoints available in the marketplace, such as social media, email, and websites, consumers also expect real-time and personalized engagement to extend to telephone calls. And one of the best ways to make this possible is to use an international toll free service (ITFS) for your company, so your customers can get in touch with you quickly without having to worry about paying for the call.
Why Your Business Needs an International Toll Free Service
First, what is an international toll free service? Traditionally, toll free services were country-specific. This meant that a caller in England could dial and call an England toll free number for free. However, this presented a limitation: they could not make a toll free call to a different country. The introduction of international toll free numbers (ITFNs) enables calls to be routed to landlines, smartphones, and even VoIP lines anywhere in the world. Now, customers can call an international business for free by dialing that business' ITFN.
How Do International Toll Free Services Work?
International toll free numbers use an ITFS and call forwarding to forward incoming calls from one country to another country. These services use voice over IP or VoIP technology to transmit calls virtually. When you subscribe to an international toll free service from Global Call Forwarding, you start by selecting a local phone number in the country or countries of your choice. Then, you pick a destination number. This is the number you want to forward calls to, and it can be a landline, smartphone, computer, or VoIP line, located anywhere. Whenever a call is placed to the international toll free number, it will be routed to your destination number.
Through this service, your business can establish a virtual presence in more than 140 countries throughout the world. An international toll free service is a great communications solution for business owners, whatever the size of your business. They are essential for companies that have customers in multiple geographic locations. For example, let's say your business is located in the U.S. but also has customers in London and Paris. You can purchase an international UK toll free number and France toll free number. Your customers from these areas can call your business at no cost to them. This makes an ITFS a powerful tool for small business owners who want to provide the same high-quality customer service for their overseas clients as they do for their clients at home.
Who Uses International Toll Free Services?
Many types of companies, from small businesses to multinational enterprises, can take advantage of toll free services. Some common examples include luxury holiday resorts, food chains, software development firms. These companies care about giving their customers the highest level of customer service, no matter where they are located. If your customers are spread all over the world, then using an ITFS is a suitable solution for better connectivity. Here are a few ways companies in different industries can use international toll free numbers to improve their global coverage and offer excellent customer support:
Hospitality and Travel: An international toll free service is a supportive tool for companies in the travel and accommodation business. Regardless of where they are located, most hospitality and travel companies can benefit from international toll free numbers. Since their clients travel to a wide range of countries and are typically not familiar with long-distance dialing, providing them with a local toll free number can help them connect with you easily. This way, you are available for your customers, no matter where they are, and can provide reliable support.
Tech Support: Most tech support businesses provide support to customers in multiple countries where they offer services or plan to expand to. These companies can use an international toll free service so that overseas customers do not have to pay expensive long-distance charges when getting assistance. This helps improve the company's credibility and builds trust in customers.
Retail and E-Commerce: Owners of online retail and e-commerce stores can ITFNs to let customers call them 24/7 and for free. This helps customers get assistance and support quickly when issues arise with a purchase or if they have queries about a product. Customers don't have to worry about paying for a long-distance call or deal with complicated international dialing codes.
These are just a few examples of companies that frequently use international toll free forwarding services. Of course, this type of telephony service is invaluable to many other businesses, including international insurance and financial services, healthcare and pharmaceutical companies, event and wedding planning, holiday rentals, timeshares, and tour guides, and more.
How to Get an International Toll Free Service?
You can easily sign up for an international toll free service with a service provider like Global Call Forwarding. In order to sign up, you will need to know a few things:
A list of the countries you want ITFNs for.
The destination phone number — where you want calls to be forwarded to.
Any additional benefits you would like — call recording, outbound calling with custom caller IDs, local ringback tones, etc.
Once you have all this information ready, visit our homepage to sign up or speak with our representatives to get customized quotes for your business.
Is An International Toll Free Service Necessary?
The answer is yes. It doesn't matter whether you're a local, national or international business, having a toll free number gives your customers a good impression about your company. Furthermore, customers will realize and appreciate your business doing all it can to make it easier for them. And today's technology makes it easy to get an ITFS. So, why not make your business accessible to local customers around the world? Here are some ways an ITFS can help your business:
Deliver Customer Service Effectively
Delivering better customer service has become today's biggest differentiator for companies. Price is still a major consideration, but globalization has lowered the price point of products and services to such an extent, there's really not that much difference. However, providing superior customer service is one of the best ways to make your business stand out from the competition. With ITFS numbers, you give your customers yet another option to connect with your business without any worries or hurdles.
Increase Global Presence with Mobility and Flexibility
An international toll free service gives your business the mobility and global coverage it needs in order to compete with local companies around the world. Your business can change location or open multiple satellite offices, as needed when expanding, without worrying about how customers will reach you, locally or internationally. You will no longer be restricted by the limitations of geography. This means you will always have a local presence, and the market you're trying to target will have access to your company at all times.
Additionally, the technology available in today's digital ecosystem has introduced a level of flexibility, allowing companies to take advantage of multiple services and features as needed for their communication systems. With that in mind, Global Call Forwarding has implemented a system in which your ITFS can be activated quickly with:
Multiple free advanced and customizable features,
Reliability of Tier 1 network infrastructure with 100 percent satisfaction guarantee, and
An online account management platform that lets you manage and customize your account as needed with 24/7 live customer support.
Related: ITFS Number Provider
Improve Connectivity with Features
Getting an international toll free service is a step in the right direction to make yourself more available. However, if the service provider doesn't offer the features essential to ensure you will always be reached, you won't get the most out of the service. The toll free number you purchase must come with the calling, messaging, and recording features that every business needs today. In addition to these features, if the right infrastructure is not in place, your callers may get disconnected or not be able to reach you.
Global Call Forwarding provides a wide range of features with our international toll free service, so your company will always be available when your customers call, day or night. Our top features include advanced call forwarding, cloud IVR, live call transfer, hosted call recording, web dialer, time of day routing, call blocking, and much more.
In addition to these features, Global Call Forwarding provides more than two decades of telecom experience to deliver the reliability that is needed to always stay connected. The company uses the proven and reliable network infrastructure of Tier 1 carriers with high availability, along with 24/7 technical support for our customers. Customers needing assistance can chat with us online, call our toll free number, or open a service ticket through their online control panel.
Become More Reliable and Credible
By using ITFNs and letting international customers reach your business without any issues, your business can improve its professional image and establish itself as a reliable and trustworthy business. Offer international customer support, improve response times through call forwarding features, and increase customer loyalty. By showing customers that you care about their business, you will not only attract new customers but retain your current ones.
Customize Settings with Online Account Management
Once you get your ITFS, Global Call Forwarding provides you with an online account management platform that lets you customize and monitor your number and features anytime from any computing device. The control panel lets you change the settings of your account by adding more services, modify the advanced features to better suit the calling needs of your customers, set up call forwarding and routing preferences, and more.
You can also view Call Records such as the date, time, phone number, and duration of your callers so you can customize your service with more precision and accuracy to better manage your costs without diminishing your availability. The control panel lets you view up-to-date invoices to see how your investment is paying off. And because Global Call Forwarding doesn't lock you into any contracts, you can cancel, amend, or update your service anytime.
Availability of Universal International Toll Free Numbers
Universal international freephone numbers (UIFN) are the closest available thing to global toll free numbers. A UIFN is a single toll free number that can be accessed by callers from multiple countries. Like international toll free numbers, they are free for your customers to call from their home country. These countries, however, must be listed in the UIFN program. There are some restrictions that you should be aware of before you purchase a UIFN:
The number must be registered in at least two countries.
You will usually have to pay a one-time set-up fee.
You will pay an additional cost for each country in which the number is registered in
UIFNs have a different dialing format than regular toll free numbers, and not all customers may recognize them as free-to-call numbers.
Get an International Toll Free Service for Your Business
Global Call Forwarding has been offering virtual phone systems and international toll free services to businesses around the world. We have local and toll free numbers for more than 160 countries around the world. And our customer service team is available 24/7 for any support our customers need. Sign up today or chat with us online to learn more!