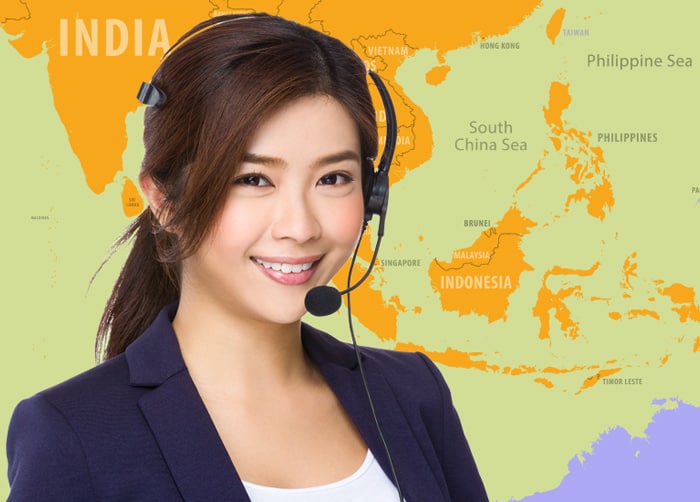 With a burgeoning economy and a flourishing tourist industry, Indonesia has earned a reputation as a "great country" to visit. Additionally, the entry of a plethora of multinationals into the country in recent times proves their trust in the stability of the country's economy and combined with the great incentives the Indonesian government has been generously offering out to encourage foreign direct investment, many businesses are seeing the lucrative potential that lies in working Indonesia.
How Do Local Indonesia Phone Numbers Work?
Indonesia phone numbers are operated through different systems for mobiles and land lines. The former don't use area codes while the latter does.
Indonesia's Country Code Is +62
For area codes pertaining to land lines, the 0 digit is dialed before the number when calling long distance within Indonesia. Area codes begin with the numbers ranging between 2 and 9 excluding 8 and may be 2 or 3 digits long. This 0 is, however, omitted when someone calls into the country from abroad. The caller instead, needs to dial +62, the country code, followed by the area code sans the "0".
Indonesia Phone Number Format
Indonesia local phone numbers for large cities come with eight digits while local numbers for other areas are seven digits. Local postpaid cell phone numbers are usually of ten or eleven digits but this depends on the service provider. Cell numbers with prepaid services typically consist of eleven to twelve digits, depending on the operator.
Local cell phone numbers are often seen listed as 'HP' meaning hah péh or hand phone. This specific nomenclature identifies it as a cell phone number. It is often seen that the HP prefix on Indonesia local phone numbers on business cards also refers to ponsel, the short form for telepon seluler or telepon genggam meaning hold-in-the-hand telephone. This is actually a hunting line or an office line with multiple individual line connections. This allows an incoming call to roll over to another line if the first line called is busy and only one number can be quoted.
Cell numbers don't have area codes, but the prefix '0' needs to be added for accessing another cell phone domestically. A plethora of cell phone services providers operate in Indonesia who offer Indonesia local phone numbers, each providing a 3-digit prefix on a cell phone number that identifies who your cell phone services provider is.
These first 3 numbers are always followed by the digit 8 signifying that it's a cell phone number. Thus, when you call someone on his mobile within Indonesia, you start by punching 08 first and then the number. When calling from a cell phone to a landline, the landline area code will then need to be added.
Using Local Numbers to Do Business With Indonesia's Economy
If and when the time comes and you decide to expand your company to include Indonesia-based operations, you are adding value to your brand. And by adding local phone numbers to your business's offerings, you can take advantage of the economic growth occurring there, whether or not you actually have an established local presence. This is because you are part of an economy that is currently not only the largest in Southeast Asia but also one of the fastest emerging market economies among the G-20 major economies, according to The Indonesian Economy.
According to the latest reports, the Indonesian economy has managed to weather the recent global financial volatility. Moreover, as a nation, it is firmly placed to tolerate future risks because of its strong economic fundamentals and economic policies which include improved fiscal credibility and prudent government spending, stable inflation rates, robust growth in private consumption, a low to moderate budget and current account deficit and government debt. Your company may be poised to gain greatly as a result of these forecasts, so having Indonesia phone numbers may be a small investment that can lead to great gains.
However, despite the promising outlook, Indonesia remains threatened by the ongoing financial volatility in the advanced economies that are also facing subdued growth and sluggish trade, continuing deceleration of the Chinese economy, and the uncertainty of global policies, particularly those concerning world trade agreements as also the interest rate normalization pace in the US.
The Indonesian economy is expected to record a GDP growth of 5.3% in 2017 because of increased private investments following monetary easing last year and ongoing reforms in the investment scenario.
Indonesia currently falls under the category of "newly industrialized countries." It is also the 16th largest economy in the world in terms of nominal GDP, 8th largest GDP (PPP). The country is largely dependent on its domestic market, spending of government budget and ownership of 141 state enterprises. Prices are administered on certain basic goods that include rice, with electricity playing a pivotal role in its market economy.
Since the early Nineties, Indonesia has experienced rapid change and growth, and as of today eighty per cent of the Indonesian economy is controlled by foreign companies and/or private Indonesian operators. This has been largely due to the fact that after the economic crisis that occurred in mid-1997, the then-government acquired a substantial portion of assets held by the private sector through nonperforming bank loans as corporate assets by way of the process of debt restructuring. As a result, all acquired companies were later sold to private operators. The economy subsequently recovered over time, with growth accelerating to over 6% on an average in the last few years.
Get Indonesia Phone Numbers Today
This alone proves how stable Indonesia is, as well as an ideal location to have a commercial presence. Because an effective communication system is an inextricable component of any successful business venture, having Indonesia local phone numbers will definitely add to your business's brand value and recall when you decide to begin setting up your operations in Indonesia.