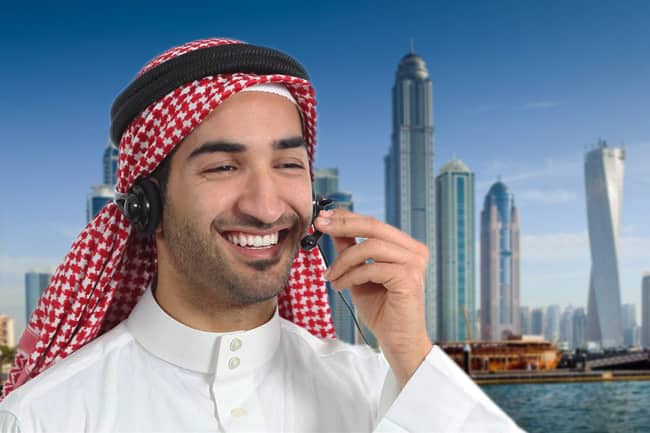 The United Arab Emirates (UAE) offers excellent economic opportunities for almost every kind of business. There are certain strategies, like getting UAE local phone numbers, that you as an entrepreneur can make use of to establish a business presence in a foreign land.
One of the most vital factors for expansion of any business is customer service, and for that you need to provide both potential and existing customers with uninterrupted, easy, and affordable connectivity options.
Along with the right business strategies, you also need to know about the economy of the place where you are planning to take your business, so as to capitalize on the available opportunities.
UAE's Economic Status
For anyone looking to expand their business to foreign shores, the UAE is a place that you cannot ignore. The economy of the UAE is second only to that of Saudi Arabia in the Arab region and in 2014 it had a GDP of $570 billion.
Trade regulations that encourage investments combined with the region's open-market policies make it a viable place for businesses. The low levels of corruption and strict laws in place only contribute to making the UAE a financially beneficial place for establishments looking to expand.
The economy of the UAE has traditionally been reliant on oil, but the country has taken a strong approach to diversifying its sectors with excellent plans and policies aimed at encouraging the development of other industries. The UAE is also a salient place for smaller businesses to grow as licensing requirements are simple to comprehend and there is no minimum requirement of capital in order to set up a business.
No corporate tax at the federal level, no general sales tax, and the absence of income tax are some other factors that has led the UAE to its current status as a significant player in the world economy. The country's GDP is expected to grow even more in the coming years.
What are UAE Local Phone Numbers?
Often referred to as 'virtual phone numbers' or 'geographic numbers,' UAE local phone numbers give you the advantage of making your presence felt in the region in the most convenient and cost-effective manner. How UAE local phone numbers work is that these are helpful in targeting people staying in a particular geographical location. So when you buy such numbers, you have a phone number for customers residing in the UAE to reach you at the cost of a local call.
With UAE local phone numbers, you can establish a direct connection to your clients in the area, irrespective of whether you have a physical office in the region or not. For example, if you are based in the United States, United Kingdom, Argentina, or any other part of the world, you can attract customers from the UAE without even setting up an office in the area or even vising the land in person.
Any calls made to your UAE local phone numbers can be forwarded to a number of your choice, either in the region or anywhere else without any hassle. For the callers, it is just another local phone number so they will not be hesitant to reach out because of the fear of international call charges.
How Can UAE Local Phone Numbers Help a Business Grow?
Buying UAE local phone numbers from reputed companies like Global Call Forwarding can surely help businessmen looking to expand in foreign shores. Such numbers are particularly beneficial for small establishments, freelance workers, consultants, and businesses that are aiming at conducting operations in a few UAE cities.
The major advantage of UAE local phone numbers is that you can have calls to these numbers forwarded to a landline number, cell phone, and even call centers without having to bear the varied costs of setting up an office in another region.
You can use UAE local phone numbers as advertisement material both online and offline, and these help customers in the region associate you as a local business that can understand their specific requirements. People are more likely to place their faith in a service that is based in the same region, and UAE local phone numbers give you just the visible presence that you were looking for.
Since Global Call Forwarding offers a host of advanced call forwarding features with UAE local phone numbers, you can ensure that you do not miss a single call made from callers in the region. In addition, even though your clients are making a call to another country, they need to pay only local call charges and will not even realize that the call is being forwarded somewhere else.
This maintains privacy for you and helps build credibility for your brand image. The seamless connection ensures that every caller has the best experience and is encouraged to call again, another reason why choosing UAE local phone numbers can be a truly beneficial decision for your business.