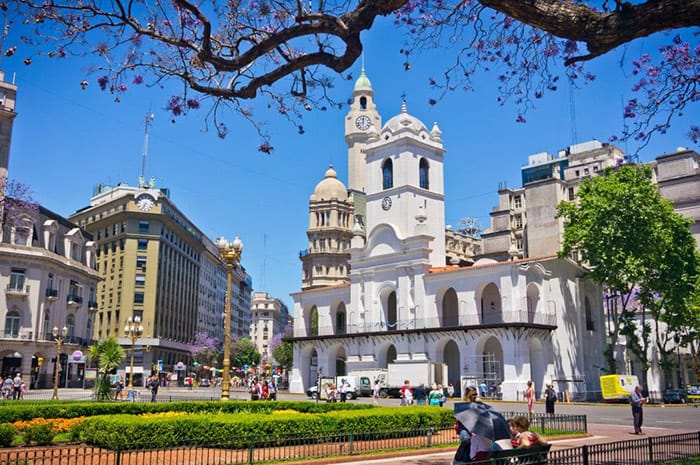 For anyone considering the launch of a business or expansion into Buenos Aires, establishing a reliable means of communication is a critical initial step. Global Call Forwarding sells Buenos Aires phone numbers to help establish that much-needed presence for any type of business looking to succeed. Buenos Aires phone numbers listed on a company website help customers and business contacts to reach the business with ease. Offering telephone access with Buenos Aires phone numbers is an optimum method of achieving this goal.
Calls made to Buenos Aires phone numbers can be forwarded to a landline or a mobile phone, which is a convenient option for a business owner looking to establish a local presence in Buenos Aires while not physically present in the city.
A business owner can add Buenos Aires phone numbers to their business card when meeting with new customers or business partners in Buenos Aires, solidifying the commitment of the company to their new location. Their Buenos Aires phone numbers can also be used in other promotional materials used when promoting the brand in this new market.
The capital city of Argentina, Buenos Aires, is the nation's most populous city. Buenos Aires has a population of over 17 million and represents the fourth most populous metropolitan area in all of the Americas.
Buenos Aires gained independence through a 1994 constitutional amendment. The citizens of Buenos Aires initially elected a mayor in 1996. Before gaining independence, through which the citizens could vote, the mayor of Buenos Aires was selected and assigned by the President of the Republic.
Life in Buenos Aires, Argentina
With regard to quality of life, the city of Buenos Aires has placed 91 in the world. The city also has one of the highest rankings with regard to quality of life in Latin America. Buenos Aires is the city that is most traveled to in South America and it is the second-most traveled to city in all of Latin America, second only to Mexico City. Buenos Aires is a preferred tourist destination and it is well known for its exquisitely-preserved Spanish/ European-style architecture, as well as the city's richness of culture.
As the home to many ethnic and religious groups, several languages are spoken in the city in addition to the most common, Spanish. Millions of immigrants have moved to Buenos Aires from many parts of the world in the last 150 years or so, contributing to the formation and growth of a melting pot of ethnicities which has made it an extremely diverse city.
Government in Buenos Aires
In relation to government and politics, the Chief of Government (the mayor) is elected for a four-year term along with a Deputy Chief of Government. The mayor and Deputy Chief lead a 60-member legislature. Each member of the legislature is also elected for a term of four years, though one half of the legislature goes through a re-election process every two years.
A large part of the Buenos Aires labor force works within the services sector, especially within the areas of commerce, tourism, financial services, social services, business services, and manufacturing. Buenos Aires is at the core of the industrial, commercial, and financial sectors of Argentina. Buenos Aires has ranked as the 13th largest economy of all cities across the globe and is high-ranking with regard to the Human Development Index.
Buenos Aires' services industry is highly developed and varied. Seventy percent of the economy in Buenos Aires is represented by the services sector. Other strong sectors of the city include financial and real estate services, advertising, finance, and hotels. Manufacturing is also extremely important in relation to the city's economy and a large number of manufacturing facilities are based in the southern portion of the city. The manufacturing sector greatly benefits from a high level of local purchasing power and plentiful local and skilled labor.
Buenos Aires has an advanced transportation system in place, which is comprised of a number of commuter rails, as well as tramways, taxis, buses, ferries, and a well-run subway system, making it extremely convenient and easy for residents and visitors to travel from one place to another within the city.
When all factors are considered, such as the low cost of living, high quality of experience, vast number of skilled workers in technology, and many other attractive features the city, Buenos Aires offers excellent opportunities for foreigners who are looking to relocate. As a result, Buenos Aires has been drawing a steadily increasing number of startup businesses and other types of foreign investors. A number of additional advantages to businesses and foreign investors in Buenos Aires include: equitable cost of doing business, a cooperative community that supports entrepreneurship, and an overall richness of culture.
Global Call Forwarding specializes in international call forwarding through the use of Buenos Aires phone numbers and virtual phone numbers set up from many other countries worldwide.
Global Call Forwarding sells Buenos Aires phone numbers as well as virtual local numbers and toll free numbers with SMS to Email capabilities. There are many features offered with the service, such as a new outbound calling feature, along with the option of call recording, and SMS forwarding.