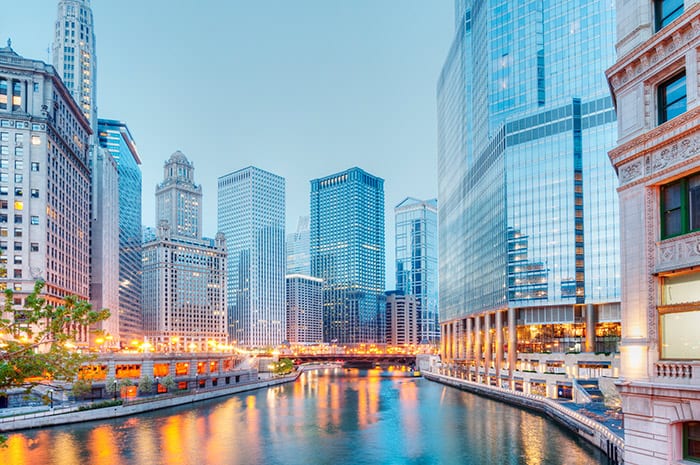 Chicago is the third-most populous city in the United States. The Chicago metropolitan area is home to nearly 10 million people and is an international hub for finance, transportation, culture, and more. Looking to take your business to Chicago? Get a local Chicago phone number and connect with local residents and businesses.
Why Your Business Should Get a Chicago Phone Number
When a customer residing in Chicago calls a local Chicago number, they are charged local calling rates. Businesses located outside of the city or the state of Illinois can also get a local Chicago number. This way, when residents call your business, they are not charged high long-distance calling rates, even if your business is located internationally.
Chicago Area Codes
Our Chicago phone numbers come with SMS capabilities (optional). We offer Chicago local numbers with three area codes:
708 area code
312 area code
872 area code
When you call a customer or lead through a local number, they are more likely to answer the phone than when receiving a call from an unknown number. Using local Chicago numbers with familiar area codes can help you build trust with interested prospects. Additionally, these customers won't hesitate to call your business as they will be charged normal local calling charges, even if your business is located out of the state or country.
How Much Does It Cost?
You can get a Chicago number plan for as low as $7.95 per month. Browse through our five different plans so you can find one that is suitable for your business. Sign up on our homepage!
Why Take Your Business to Chicago
Chicago is an international hub for major industries such as travel, commerce, technology, telecommunication, and more. The city is also home to Fortune 500 companies Boeing, Sears, Kraft, McDonald's, Walgreens, and more. With all these opportunities, foreign investment is encouraged and often successful.
To do business in Chicago successfully, make sure to get a reliable and scalable business communication system. Sign up for a Chicago phone number today or call us to learn more!