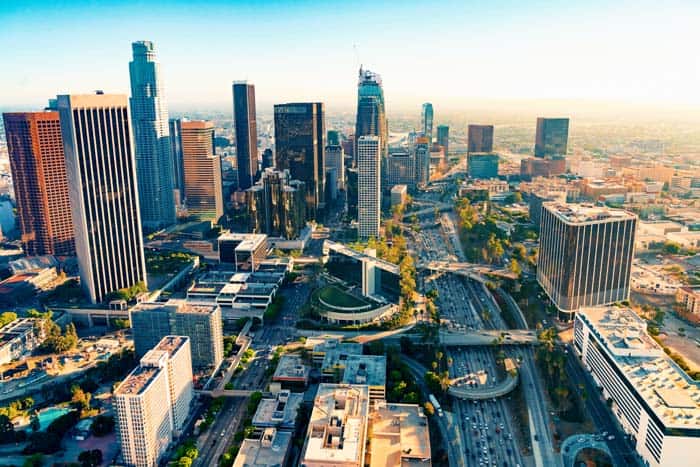 Los Angeles is a city known for its glamour and film industry and it is home to some of today's most glamorous celebrities. However, despite this reputation, Los Angeles' economy is fueled by manufacturing and innovations in business and technology. It does not matter if your company is a small startup or an established giant, you can benefit off of having connections and business partners in Los Angeles, and the easiest way to do this is to have a presence in the market. Sometimes it isn't possible or financially realistic to open a physical location in an area you are doing business in, so in this scenario, many businesses purchase virtual phone numbers to aid in their expansion. You can buy Los Angeles phone numbers and establish a virtual presence in minutes.
Having your Los Angeles phone numbers will allow you to enter a conversation from a place of trust. People like what is familiar to them, and that includes a caller ID with a local area code. We are far more likely to respond to a call from a local number than from a completely foreign number. It comes down to trust, so give your business an added benefit of having a local phone number if you plan on working in specific areas where it may be useful.
How Can I Get Los Angeles Phone Numbers?
Companies like Global Call Forwarding offer buyers a list of thousands of 800 and local phone numbers that can be bought and used within minutes. You can begin forming relationships with potential business partners with zero change to your daily operations. Having Los Angeles phone numbers will make it easier for your business to enter the growing and innovative Los Angeles market.
Moreover, you can customize nearly every aspect of this phone number including the voicemail options, call forwarding, and ringtones. This allows you to customize your service to fit exactly what your business needs. If, for example, you live outside the Los Angeles time zone, you can arrange for calls to be forwarded to a call center or an individual that you have working during Los Angeles business hours.
How You Benefit from Having Los Angeles Phone Numbers
The driving forces behind the economy in Los Angeles are manufacturing and business/ technology innovation. If you have a business in any of these industries you will want a Los Angeles phone number to make it easier to initiate conversations with potential business partners.
The entertainment and film industry is a 38 billion dollar industry, and it produces hundreds of films per year. Box offices around the country bring in millions of dollars for the release of larger films. In turn, this brings tourists to LA and Hollywood to visit the sites of some of their favorite flicks. Although, with recent allegations of sexual misconduct against some of the largest names in Hollywood, the industry has been battling the bad reputation of this male-dominated field. If you are an individual with a company looking to make a difference in this field, especially for the women, you should get Los Angeles phone numbers to begin making contacts immediately. The timing of the cultural climate could not be more indicative of a green light for new players to shake up the industry. Use your Los Angeles phone numbers to enter the market now to begin working, before even needing to physically visit Los Angeles.
Los Angeles is the largest manufacturing center in the United States, and LA and its surrounding area employ over 500,000 workers. The largest industries within manufacturing are apparel, computer and electronic products, transportation products, fabricated metal products, food products, and furniture. The auto industry is second only to Detroit, and most major car companies have set up design centers in Los Angeles. If it seems that your company may benefit off of the large-scale manufacturing occurring in this part of the world, your Los Angeles phone numbers will enable you to build a virtual presence so that you can expand the scope of your business to include the LA market.
Because of its proximity to countries such as Japan, Korea, and Taiwan, Los Angeles is the country's largest port if you consider the value and tonnage of goods that pass through it. If your business has any kind of trade relationship with Japan, Korea, or Taiwan and you are looking to enter the Los Angeles market to gain easier access to trade, you'll want Los Angeles phone numbers to make this more accessible.
Los Angeles also has a well-rounded financial industry that is among the top in the country. Having your Los Angeles phone numbers makes contacting these business partners much simpler, and establishing your virtual presence will help you to start earning the profits available in this market.
One of the few barriers to entry is the complicated tax system and tight government regulation on businesses. However, despite these barriers, small businesses are thriving in Los Angeles. The proximity to Silicon Valley and Hollywood gives your business access to cutting-edge innovation, and affluent customers willing to try new ideas. Your Los Angeles phone numbers will make your move into this market seamless and efficient.