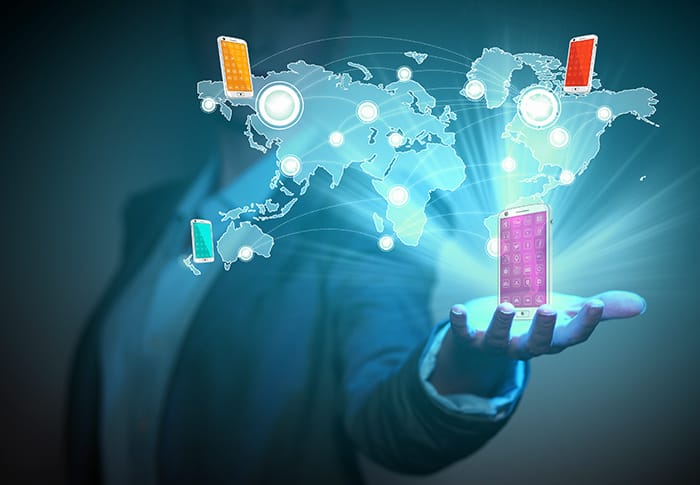 Anna runs a digital marketing agency working with a team of independent contractors that includes writers, editors, and researchers. Even though Anna operates out of her house, her clients don't know that. She uses virtual phone numbers to ensure seamless connectivity with her clients in any part of the world. With the rise of the internet and digital communication, virtual numbers are now extremely common and quite affordable.
What are Virtual Numbers?
To put it simply, virtual phone numbers are not associated with any physical telephone line. They are based on the internet and VoIP telephony.
Entrepreneurs and small businesses need effective communication options. Many need to stay in contact with clients or customers around the world. Therefore, they need something more advanced than the traditional phone system. Plain old telephone systems are expensive, slow, and inefficient for long-distance communication. In comparison, virtual numbers offer seamless connectivity at an affordable rate and minimum hassle.
Using Phone Numbers for Business
To be able to use virtual phone numbers, you need to have a virtual phone system. Unlike traditional phone systems that took weeks and months to be fully operational, our numbers become active within a few hours of subscription.
There are two types of numbers that are widely used: toll-free numbers and local numbers. Virtual toll-free numbers are like regular toll-free numbers. They are free for the caller while the owner is charged a nominal rate. Virtual local numbers function like local phone numbers for callers in a particular region. For instance, New York virtual phone numbers will be charged at local rates for callers in New York no matter where the call is forwarded to.
What is a Virtual Phone System?
While traditional phone systems used copper wires to connect calls, virtual phone systems use the cloud to connect one number to another. A virtual phone system is much like a website that is hosted by a third-party company. It acts as a remote server for inbound calls, forwarding calls directly to your chosen phone lines. For instance, many entrepreneurs choose to direct calls to their smartphones because they are always on the go or do not have a permanent office space. Virtual numbers are in use all over the world and have several benefits for both individuals and businesses.
How do they Work?
These numbers work via a virtual phone system without any need for expensive hardware installations. Calls made to these types of numbers are forwarded to your call center or company phone via a virtual PBX system based on VoIP telephony. This virtual PBX system is where you can tweak the settings of your virtual phone system.
Features of Virtual Telephone Numbers
The obvious advantages of using these numbers over traditional phone systems have made them popular worldwide. Some of the features of virtual numbers are:
Call Forwarding: The most popular reason why most people opt for a virtual phone number, the call forwarding feature forwards calls made to the virtual numbers to your phone. Entrepreneurs and small business owners can forward calls to a mobile number, an office phone, or a call center. Call forwarding makes remote working possible and eliminates international call charges.
Caller Menu: An IVR system is a staple feature of any toll-free number and gives a professional image of the company. With virtual phone numbers, it is possible to greet your callers with a custom menu or personalized welcome message even if you are a one-person business. The caller doesn't have to know if all the menu options lead to the same or different phone numbers. An IVR system enhances the caller experience and reduces bounce rates.
Extensions: If you have different departments within your company, this feature allows you to forward numbers to the right people. Extensions are a time-saver for callers.
Call Stacking: Callers often find the call waiting system annoying, but with virtual phone numbers, you can instead keep them on hold until a line becomes free. You can customize the hold time, play music on hold, and also add a custom message. You can also transfer the call to any available line if you are busy.
Set hours of operation: Numbers also let users set hours of operation so that no one calls outside of business hours.
Other features include voicemail, call recording, and call scheduling.
Virtual numbers are great for those who want to save on call costs, whether for individuals or businesses. A large number of people have been utilizing this modern communication marvel, and it justifies the popularity of these numbers across the globe.
Almost all services work with your existing mobile phone, residential, or office phones, eliminating the need to buy, install, or maintain expensive phone systems. This complete virtual communication solution is cost-effective, efficient, and bridges geographical distances with ease.