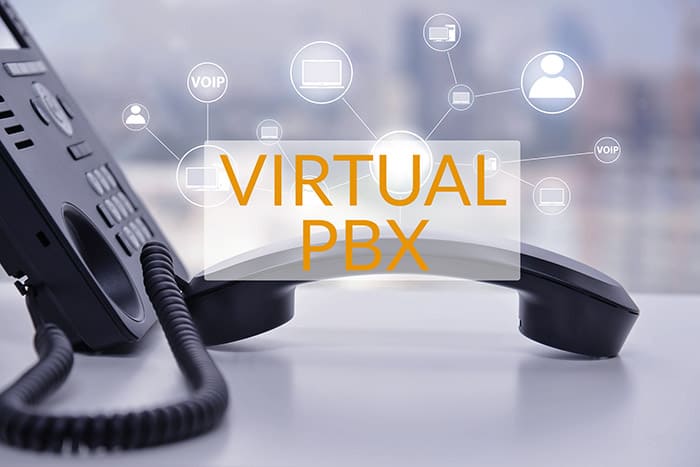 When researching what is the best way to set up business communications, you may have come across the terms "virtual PBX systems," "cloud PBX," "hosted PBX," and many more types of phone systems. Here we will discuss what a virtual PBX system is, its benefits, limitations, and features so you can get a better understanding of this phone system and how it can benefit your business.
What is Virtual PBX?
A virtual PBX — a type of hosted PBX system — is a business voice over IP private branch exchange system (PBX). In other words, it is a PBX system that works over the internet and routes calls virtually. "Virtual PBX," "hosted PBX," and "cloud PBX" all refer to the same type of phone system.
Virtual PBX systems are hosted and handled by an offsite VoIP service provider. This means that your business does not have to bother with hardware issues or conduct maintenance checks.
Benefits of Virtual PBX
Virtual PBX systems are popular with various business types — small businesses, remote companies, start-up, large enterprises — for a variety of reasons such as:
Offering inexpensive business voice over IP services to small and medium-sized businesses
They work great for companies with a small budget and limited calling needs
They offer one platform for unified communications such as voice, video, text, etc.
They reduce the cost of hiring an IT team to manage and maintain an on-premise PBX system
Service does not require a contract or long-term commitment
Comes packed with useful virtual communication features
Features Included in Virtual PBX
Besides the obvious benefits of not needing to hire an IT team or worrying about maintaining a PBX system on-premise, a virtual PBX system can also deliver some common and useful virtual phone features, such as:
Call management and routing tools: forward calls based on time, skill, and to different departments
Call transfer: to transfer calls between different departments
IVR system: an automated voice response system that interacts with callers and directs them to the most appropriate agent or employee
Call recording: recording business calls for quality assurance purposes
Note that features offered vary depending on the provider. Furthermore, it is a good idea to check with your provider to get the exact details on what comes along with your virtual PBX system.
Virtual vs On-Premise PBX
If you're wondering whether your business requires a virtual or on-premise PBX system, then comparing the pros and cons will prove helpful. Let's look at the benefits and limitations of each type of PBX system:
Virtual PBX system
On-premise PBX system

Pros

Can be managed easily
No set-up or extra hardware costs
No need to maintain hardware
IT team not required
Ideal for small business teams

Full control over the system
Can customize the system and add necessary security features
Can rely on the in-house IT team for quick fixes as well as major concerns

Cons

Provider's customer support or troubleshooting help may be poor; depends on the provider
Your business' service is lost if the provider's network is lost
Not much control over the system

Requires a trained and experienced IT staff
Hardware set-up and maintenance costs
Expensive for small teams
Get PBX with Global Call Forwarding
Think a virtual PBX system may be the way to go for your business? Learn more about virtual PBX systems and how they can benefit your specific business by talking to one of our experts today.