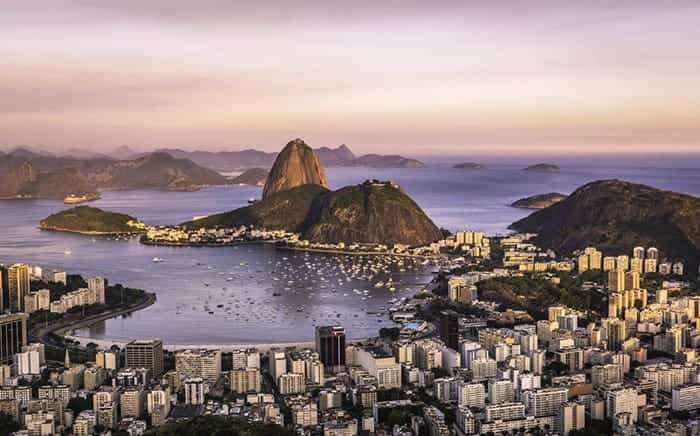 Brazil ranks as the fifth largest country in the world with over 200 million residents. With a country code of +55 and the GDP of the country exceeding a trillion dollars, Brazil is one of the richest countries in South America along with Venezuela, Argentina, and Colombia. Adding to Brazil's profitability is the country's strategic location for efficient exporting and trading.
Almost every country in South America borders Brazil, with Chile and Ecuador being the only exceptions. While Brazil is most convenient for South American and Latin American trade, other continents are eager to trade with Brazil as well. For example, the United States traded more than $80 billion in goods and services with the country in 2016.
Of the many successful sectors in Brazil, the tourism industry is well-known worldwide with Rio de Janeiro and São Paulo attracting more visitors to the country each year. In fact, more than 5 million people come to Rio annually, contributing billions to Brazil's economy.
Get Brazil Virtual Phone Numbers
Brazil is home to a youthful and vibrant nation. Companies are thriving in various sectors, and they all look forward to utilizing the power of technology. Today, using the internet is now essential to businesses looking to expand in the region. Consumers in Brazil are tech-savvy with almost 100 million people accessing the internet on a daily basis. Furthermore, many Brazilians spend hours online searching for the latest tech trends and shopping for household items, clothing, and business services.
If you are a business owner operating from another country, online marketing with Brazil virtual phone numbers will help to establish your presence with young and innovative Brazilian consumers. Because Brazil's youth and millennial consumers are honing in on the power of online businesses, having Brazil virtual phone numbers listed on your website can generate revenue and demonstrate to residents that you are available to address any questions and concerns.
A Social Media Presence Builds Trust in Brazil
Similar to online search engines, social media is a popular outlet in Brazilian society for people to share updates about companies and buyer experiences. Through social media, foreign businesses can build a trustworthy reputation in Brazil with the help of satisfied customers.
Customers that enjoy your services will likely provide reviews about their experiences and rate your company online. In turn, potential customers that search for your business on the internet will see the positive feedback on social media and find your website. Viewing these positive reviews will make readers more interested in your services, prompting them to call your Brazil virtual phone numbers.
As a small business owner, social media can serve as a tool for gathering and extracting data about your customers. Based on your social media mentions, you can take note of the age groups and related interests of people who are attracted to your brand. From there, you can adjust your marketing efforts using Brazil virtual phone numbers for more specific targeting. Options such as purchasing a vanity number can make your contact info easy to relate to, and easily remembered.
Language Skills are Necessary in Brazil
Portuguese is the official language of Brazil, but more than 200 languages are spoken in the country. German, Japanese, and English are among the most common languages in the nation. With your Brazil virtual phone numbers, you can hire remote workers with diverse language skills to communicate with customers. By speaking the multiple languages of residents, your business will display respect and appreciation for incoming callers, as you make your services available to the masses.
Hiring multilingual remote workers also eliminates the costs associated with hiring traditional employees. As the trend of telecommuting jobs continues to gain popularity, you'll have access to well-educated workers that value customer service and understand local customs. An additional level of flexibility with remote workers is added by the available hours that can be arranged to take calls. With Brazil virtual phone numbers, you can establish a 24-hour calling line to provide customer service to locals and tourists at times that are convenient for your employees.
How to Buy a Brazil Virtual Phone Number
Brazil is a South American country offering numerous opportunities for foreign business owners, and there are a variety of marketing strategies you can implement using Brazilian virtual phone numbers. While modern companies are taking advantage of social media to build a loyal following and share positive customer reviews, word of mouth marketing is also valuable.
Phone calls are the preferred method of communication for customers with questions. As an entrepreneur, demonstrate your great customer service skills by addressing any questions or issues using your Brazil virtual phone numbers. You can create extension lines and voice menus that will direct callers to someone who specializes in their topic of concern.
Cost shouldn't be an issue as you consider the ways you'd like to customize your Brazil virtual phone numbers to meet your business needs. Setting up a virtual line is inexpensive, and your phone features can be adjusted as your business grows with no need for additional equipment.