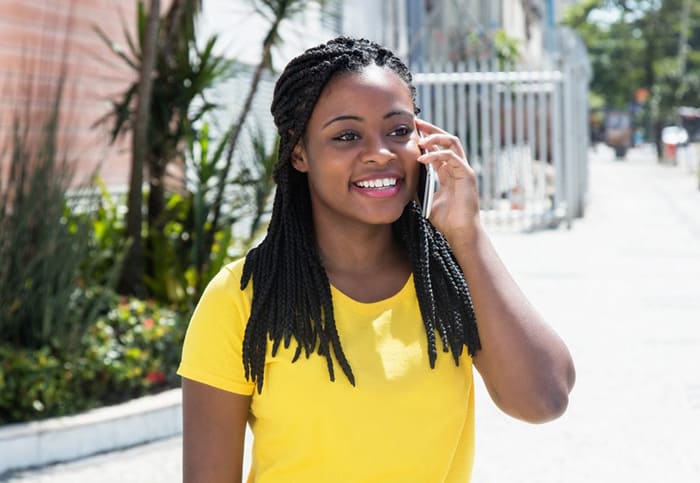 If you wanted to do business in South America, you'd probably want to do business in the largest country in South America. With Brazil phone numbers for your business, you're not only reaching out to the biggest country on the continent but the 5th largest country in the whole world. And because Brazil borders every South American country other than two, reaching out to do business in Brazil puts you within close reach of every country in South America.
A Government That Fosters Business Growth
With a democratically elected president and different representative houses, varying political parties, and governmental "checks and balances," Brazil's government is advanced and well-established. Like America, Brazil's states have their own constitutions, which cannot conflict with the constitution of Brazil.
Brazil's democratic, representative government is a welcoming and stable influence on businesses, and it shows in the area's economic development. Brazil boasts the world's eighth largest economy, which includes the 6th largest labor force, the fourth largest car market, and of course, as every tired business person knows, the world's largest production of coffee. Brazil is also the third largest agricultural exporter, exporting oranges, sugar cane, soybeans, and papayas.
Brazil is a country forward-moving and it is using technology to make its resources last as long as possible. Although Brazil is the 10th largest energy-using country in the world, it is a pioneer in the use of ethanol and hydroelectric power.
Getting Brazil Phone Numbers
This should make it clear that Brazil phone numbers can expose your business to a thriving and booming economy. But you don't have to open up a physical office there or deal with a foreign, Brazilian phone company to get a Brazil phone number.
That's because Brazil phone numbers can be purchased at minimal cost. Your virtual Brazil phone numbers tell customers in Brazil that you're local to them, even if your business is located somewhere else. Just a quick phone call or online setup is all that's needed for a professional and local presence. A virtual phone number can even have the same ringtone and frequency as those of the local market that it's assigned to, again giving your customer base the message that your business is connected to, and established within the local economy.
You can also make your virtual number toll free, which can be a huge advantage for a large country like Brazil. Toll free Brazil phone numbers ensure that people who live anywhere in Brazil can contact you without having to worry about added costs.
Tourism & Entertainment
All of this information about Brazil may be of great interest to your business. But is the country a fun place to be located? If your business caters to tourists or leisure/ vacation activities, take note: by all measures, Brazil is one of the most entertaining and welcoming countries you'll find anywhere.
Brazil is the third most popular destination in the Americas, just after the United States and Canada. Much of the travel is tied to Brazil's well-known landscape, which includes the largest river in the world, the Amazon, along with boasting the greatest biological diversity of any place on earth.
This means that Brazil phone numbers are ideal for businesses related to adventure travel, and ecotourism. Of course, Brazil's huge coastline and fantastic beaches, which include three of the world's top 25 beaches according to TripAdvisor, are also a natural draw for tourists looking for a more relaxed way to enjoy nature.
Tours of "shanty towns" in Brazil have been gaining in popularity. Tourists can also visit the famous "Statue of Christ the Redeemer," or take a ride up to the 46th floor of the Edificio Italia building to see a panoramic view of Sau Paolo, which has the largest economy of any city in the Southern Hemisphere.
A Commitment to Education
An educated customer base knows which are good companies to do business with, and Brazil is a leader in its dedication to educating its people. The country is constitutionally bound to provide a certain percentage of revenue to its educational system. Residents are required to attend not just grade school, but also an institution of high learning. Of the top 20 institutions of higher learning in Latin America, eight of them are located in Brazil.
Education, as well as social programs such as a pension system, have taken care of the country's elderly population, and the result is a population where more than half of the people are considered middle class.
Flexibility Benefits
Virtual Brazil phone numbers can not only give you access to all that Brazil has to offer, but it allows for enormous flexibility as well. Brazil phone numbers don't go have to go through normal phone lines, but rather, they can be routed through the internet to any device you want. You can even route multiple phone numbers to a single device.
A virtual phone number can allow you to introduce your product or service to this thriving and international market without a huge, upfront initial financial commitment. With Brazil phone numbers, customers in Brazil can be routed to the phone line most convenient for you.
If you do eventually decide to physically locate your company in Brazil, those virtual Brazil phone numbers can be routed to the line you choose at that time, as well. If you decide you want to do business while you're enjoying one of those world-famous beaches, or while you're sightseeing on the Amazon; you've got options.
Expose your company or services to a country that is thriving: Brazil is one of the largest, most populated, and most advanced nations in the hemisphere, and with virtual Brazil phone numbers from Global Call Forwarding your business can be a part of this exciting, up-and-coming global market.
With Brazil VoIP numbers, you can enter this booming economy and increase your business' sales and global coverage. To learn more, speak with representatives today!