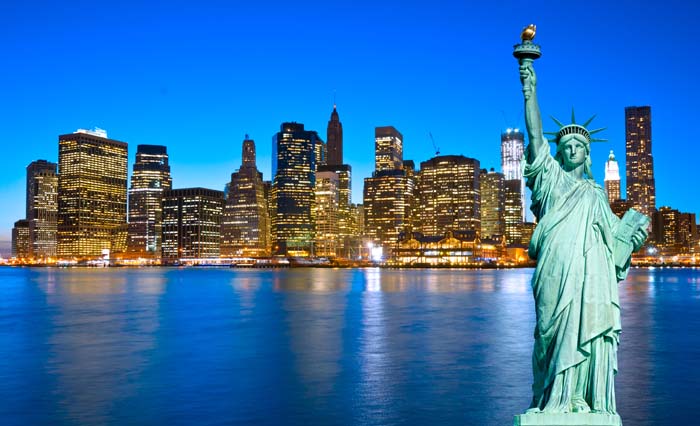 Located in New York, Manhattan is the city's most heavily populated borough. It is also New York City's administrative and economic hub. Referred to locally as the city, Manhattan overlaps with New York County.
Manhattan is bordered by the Harlem, Hudson, and East Rivers, a number of smaller adjoining islands, and a small mainland neighborhood known as Marble Hill. The city is often described as an entertainment, media, and cultural capital of the world. It is also known as one of the leading financial centers of the world. It is home to the two largest stock exchanges in the world; NASDAQ and the New York Stock Exchange.
Manhattan is home to several multinational media corporations, and the city has been and continues to be the setting for numerous movies, books, and TV shows. Real estate in the city has become some of the most expensive in the world.
If you'd like to expand your business services to Manhattan, but you can't meet the cost of renting office space in the city, don't be disheartened. You can do it all without even having to relocate your office thanks to Manhattan virtual phone numbers.
How Do Manhattan Virtual Phone Numbers Work?
A virtual phone number is also known as an access number or direct inward dialing (DID). It is a phone number that is not attached to a physical telephone line. Instead, Manhattan virtual phone numbers are programmed to redirect incoming calls to one or more preset phone numbers. You may choose the number yourself, and they can be your cell phone, office phone, landline or call center. One of the main benefits of subscribing to Manhattan virtual phone numbers is that you can use your existing phone without having to purchase any dedicated hardware or expensive software.
As well as Manhattan virtual phone numbers, you subscribe to virtual phone numbers throughout the U.S. and all over the world. For example, you can have an office based in London, but subscribe to Manhattan virtual phone numbers and virtual numbers in Germany, Dubai, and Japan.
Your virtual phone number(s) can be set to redirect calls to different numbers depending on the time of day, and the day of the week. You can even set your calls to be forwarded to several different numbers at the same time until one of them picks up. If you like, you can have all your calls routed to the office during weekdays, and to your cell phone on weekends.
Example Applications for Manhattan Virtual Phone Numbers
You may be surprised to know that virtual phone numbers have several different uses:
Business matters: Your company can be located in the U.S., but you can have virtual numbers in China without paying a fixed price for an overseas exchange line. Virtual numbers are popular with call centers that wish to appear to be in a certain country or region when they are in a location with a different time zone. This allows them to provide coverage 24/7.
Personal matters: You can also use Manhattan virtual phone numbers when you are traveling. That way, your friends, and family back home can reach you by simply making a local call.
Tracking marketing: You can have separate virtual numbers for your business cards, website, newspaper ads, and customer emails. This allows you to track your marketing campaigns, so you can easily see which ones are working and which ones need tweaking.
Virtual services: If you provide a virtual service, such as being a virtual assistant or virtual receptionist, a virtual number will allow you to tie all your virtual services together in one efficient solution.
Advantages of Virtual International Phone Numbers
Here's a rundown on some of the many advantages of having a virtual number:
You don't need to pay for additional hardware or software, you can use whatever phone system you already have in place.
Choose from a suite of optional features like SMS forwarding, fax to email, and failover forwarding.
Customize your settings and change them as often as you like.
Make the most of low-cost calls.
Assign virtual numbers to any phone or mobile device so you're always within reach.
Enjoy the freedom of working remotely.
Have total control over where all your calls are rerouted.
Designate recorded greetings with welcome messages and useful information.
Use failover forwarding so you never miss a call.
Have faxes and voicemails forwarded to your email inbox.
Use black and whitelisting so you only have to answer the calls you want to.
Manhattan virtual phone numbers provide a great way to facilitate your business. Contact our team at Global Call Forwarding today to find out more about how you can save money and expand your business throughout the U.S. and overseas by subscribing to virtual numbers.