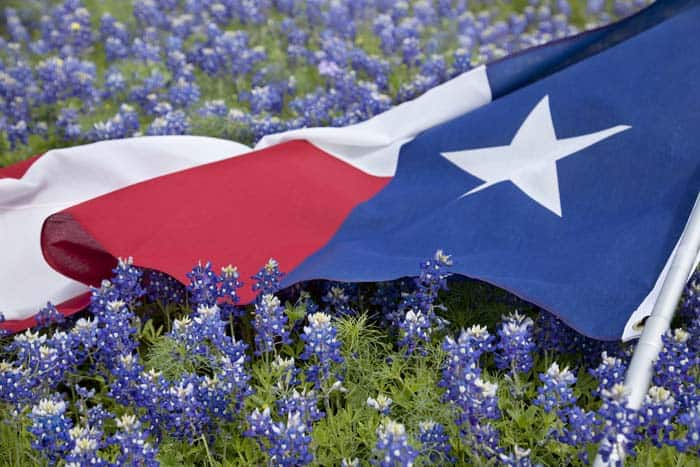 Being the second-largest state in the nation makes Texas a big region for business. With a population of almost 30 million, there's plenty of business opportunities in Texas. But, without a business in Texas, it can be hard for remote locations to establish business connections. And, provide effective business solutions to residents of this state. However, by using phone numbers with Texas area codes, remote businesses have a better chance of success. Furthermore, with the use of virtual phone numbers, businesses can easily purchase and use phone numbers with Texas area codes. 
List of Texas Phone Number Area Codes
Before getting your United States phone numbers to reach more Texas-based customers, get to know more about Texas area codes. This way, you can better determine which US area codes you'll need for your business numbers. And, you'll understand how to better serve the people in this area according to their specific needs. 
Area Code 512
The 512 area code serves the city of Austin, Texas, and its suburbs. Counties in this area code include Burnet, Caldwell, Travis, and Bastrop. This area code is one of the most historical in the state, as it is one of the original codes of 1947. Back then, it was the area code for all of the southern-central part of Texas. Since the state is so large, it was using four main area codes at the time. But, eventually, the reach of this area code shrunk. And, today, the area it spans has two area codes for the people living there (737 and 512).
Area Code 214
For people living in Dallas, Texas, the main phone number prefix is 214. LIke 512, the 214 area code was one of the four original area codes of Texas. In 1947, it was to cover the entire northeastern region of Texas. But, after 35 years, the area code 903 was to cover east of Dallas instead of 214. This was due to population growth expansions in Dallas. So, today, this area code is specific to this city. But, it isn't the only one for Dallas, as 469 is an overlay that also works to service the residents of this city. 
Area Code 713
Of course, if we mention Austin and Dallas area codes, we must also recognize the city of Houston. The 713 area code is the main area code for Houston, the largest of Texas' cities. It is the third of the four historical, original Texas area codes. Originally, it was servicing the entire southeast region of the state. But, since this city keeps growing in size, more area codes have been included over time. Since its inauguration, the 713 area code split twice in order to shrink the region it serves. And, the addition of two more area codes, 346 and 832, were to act as overlays. Today, the city of Houston uses four different area codes, including 713.
Area Code 281
Since Houston is so large, it requires a few area codes. Along with the original area code 713, area code 281 services the people of Houston. This area code was the second split of area code 713 in 1996. Essentially, its intention is to provide a specific area code to Houston's suburbs. And, serves the suburbs laying outside of the Beltway 8, one of Houston's main interstates. But, anyone inside this interstate typically uses the original 713 area code. 
Area Code 903
The 903 area code split from one of the original Texas area codes, 214, in 1990. This is the area code that serves the northeastern part of the state that the 214 area code did service. To compensate for the growth in this area, another area code, 430, also services the region. Currently, the two area codes are the only ones in this part of Texas. And, while offering phone numbers to cities including Sherman, Tyler, and Texarkana. 
Area Code 682
This area code is one of the area codes that the people of Fort Worth use. It is also used by those in the western section of Texas' metroplex area. Although area code 682 is relatively new, its intention was to overlay the 817 territories in 2000. Specifically, the 682 area code is for residents of suburban neighborhoods of central Fort Worth. 
Area Code 956
The 956 area code covers phone numbers for the very southern tip of Texas. And, the area surrounding the city of Loredo. Other cities that use this area code include Brownsville, McAllen, Edinburg, and Mission. While it was a split from another area code in 1997, it's the only area code currently in use for this area. And, it covers seven different Texas counties.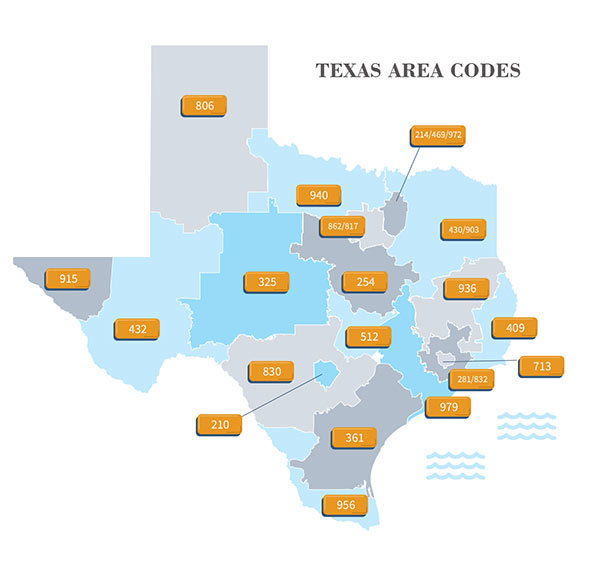 Area Code 936
This phone number prefix serves the people living in the Nacogdoches-Huntsville areas of Texas. But, the 936 area code is also for people living in the city of Houston as well. This area of the state is also known as the "Deep East Texas" region. Initially, it split from the 409 area code in 2000. This area is now directly to the east of the 936 area code's territory. Currently, the area code is the home area code to 21 different Texas counties.  
Area Code 325
The 325 area code belongs to the residents of Abeline, Texas. But, it is also an area code for the San Angelo area. It's the only area code that services this region. Although, originally, it was split from a different area code, 432, in 2003. The large expanse that this area code covers includes 29 different counties. And, it remains the home area code to over 685,232 people. 
Calling Texas Residents with Texas Phone Numbers
If you're looking to call people in Texas to gain more business, you'll likely need to dial these Texas area codes. But, without calling from a phone number with a Texas area code, it can be challenging to convert business opportunities. Fortunately, virtual phone numbers from Global Call Forwarding are a quick and affordable solution. These phone numbers are able to pair with your current business phone systems. Or, even your personal mobile device. Just choose a number with the Texas area code you want and call with your new number. Plus, choose from a number of business phone features to use with your new virtual number. And, provide your business with specific area code phone numbers to increase capabilities.
To conclude, you can customize your own virtual phone number package with Global Call Forwarding. So, don't hesitate to contact us today. Above all, be sure not to miss out on the business opportunities the state of Texas offers. Start making calls to Texas residents with virtual phone numbers now.