In this article, we will take a look at cloud-based office phone solutions. We will examine what they are, their main benefits for your business, and how to get them. Let's begin. 
What are Cloud-Based Office Phone Solutions?
Modern telecommunication is no longer reliant on landline communication, which often suffered from latency issues, poor audio quality, and security issues. As a solution, the Internet's instant connectivity and digital security solutions have provided a way to offer seamless communication that has exceeded the possibilities of landline communication. And as a result of the ever-changing digital landscape, cloud computing emerged to provide an upgrade to telecommunication around the world. As a telecom provider for more than 20 years, United World Telecom has stayed at the forefront of these developments and created cloud-based office phone solutions to take advantage of the latest developments. 
The result has transformed how offices around the world are able to process inbound calls, contact those within their organization, and make outbound calls to clients and businesses. Some of these developments include PBX (Private Branch Exchange) directory systems, IVR (Integrated Voice Response), whitelisting/blacklisting capabilities, call recording, failover forwarding, and many more cloud-based phone solutions. Incorporating them into your organization can substantially change your business model, particularly with the rise of "virtual offices," online collaboration platforms, and so forth. 
Now that you have a basic understanding of cloud-based office phone solutions that are available, let's briefly cover the main benefits that this technology can bring to your organization. 
What are the Benefits of Cloud-Based Office Phone Solutions?
There are numerous business benefits associated with using cloud-based office phone solutions for your business. Some of these include:
Increased Efficiency: Because cloud-based phone solutions use cloud computing, processing calls requires fewer resources and is overall, more intuitive. For instance, setting up a PBX directory can significantly reduce the time spent redirecting customers through the departments of your organization. Time of day routing, another popular add-on, can redirect calls that occur during lunch breaks or outside of regular business hours to another destination (i.e. call center) that can process the call. 
No Need for a Physical Presence: Considering that our economy is shifting towards a "gig economy" and the idea of a static business is becoming eroded, many organizations are enabling their employees to work remotely while providing service to customers as needed. This is gradually reducing the needed for a dedicated office space, which saves on overheads and potential liability issues. 
Revamped Business Models: Considering that modern businesses use some form of "virtual offices" in their operations, business models are shifting accordingly. In the past, processing transactions required human interaction or an in-person exchange. Now, with call recording and IVR, customer inquiries can be streamlined without the need for oversight and management.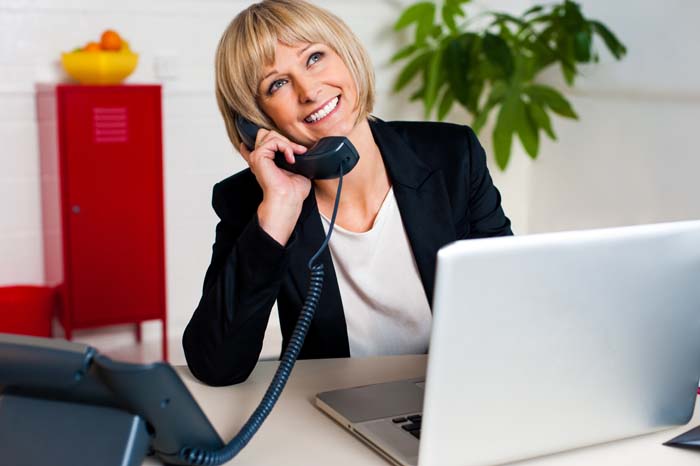 How to Get Cloud-Based Office Phone Solutions for Global Call Forwarding
Because there are numerous way to incorporate cloud-based phone solutions into your business, we will cover how to get started with virtual phone numbers, which is the first step towards incorporating this technology. 
Begin by navigating to www.globalcallforwarding.com, the homepage for Global Call Forwarding. Once the page fully loads, you'll notice a series of dropdown menus at the top of the page, which are organized into two columns:
Select Your New Phone Number

(your new virtual phone number)

Enter Your Destination Number

(the phone number where calls will be routed to and from)
Underneath Select Your New Phone Number, you will first select your country code corresponding to the country where you want to engage customers. For instance, if you want to do business in the United Kingdom, you will select "United Kingdom (+44)." Next, you will select the type of phone numbers available (a submenu may appear to refine your choice). After this, you will either be provided with a list of numbers to choose from or a number will be provided upon activation.
Next, enter the destination number, including the corresponding country code from the 1st dropdown menu and submitting the remaining digits of the phone number where calls will be routed to and from. From there, click on "View Rates & Try for Free."
Now, there will be a variety of payment plans to choose from based on your usage. Below this, you can click on the checkboxes below to augment your subscription service with add-ons, such as call recording and outbound calling. 
At this point, the rest of the subscription process is simple. Simply enter your contact information, intended usage, review the Terms & Conditions, enter billing and payment information, and verify your order. Now, you can submit the order. Once your order is placed, a United World Telecom representative will help you set up your cloud-based office solutions within 24 hours.