The beautiful country of Egypt is considered one of the most important and intriguing places in the world. It has an array of historical sites that can only be described as cultural gems, and the country offers many sites of immense historical value, as one of the oldest and most fascinating ancient civilizations.
Getting to Know Egypt
Aside from the pyramids, mummies, and ancient artifacts, Egypt is well known for its beaches, hieroglyphics, ancient mosques and the ancient Coptic language. Spanning from the southwest corner of Asia, Egypt sits at the northeast corner of Africa, connected by a land bridge that was formed by the Sinai Peninsula. Visiting Egypt is often a perspective-changing experience for those who make the journey to witness the juxtaposition of a modern civilization set against a dramatic ancient background.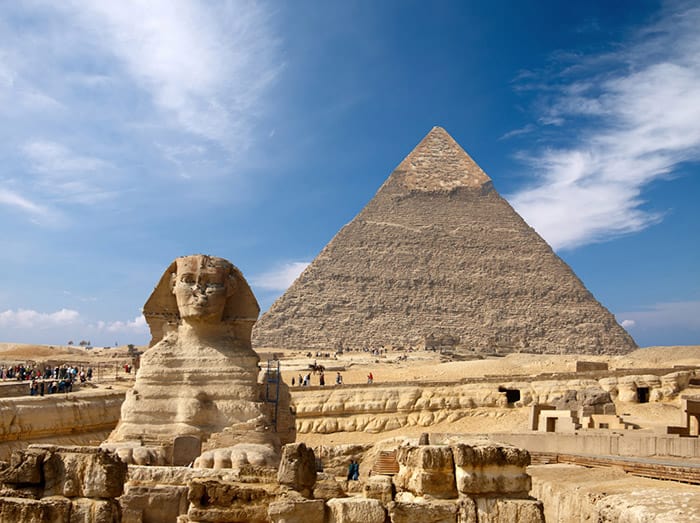 Population
Egypt is known to be one of the most highly populated countries in North Africa, home to almost 96 million people. It is also in the top 15 most populous countries in the world. The majority of people in Egypt live near the Nile River and in the urban areas. Even though the Sahara desert is located in Egypt, the only people known to inhabit that area are those of the Tuareg culture.
Tourism
The tourism industry of Egypt is one of the nation's main sources of income. In the past, around 15 million people visited Egypt yearly, largely due to the pyramids and other historical tourist attractions the country offers. Over the past several years, however, tourism has declined to about 5 million tourists yearly as a result of the security threats that have occurred as a result of the country's geographical location.
The Best Places to Visit in Egypt
The Pyramids of Giza – This is known to be one of the world's most recognizable landmarks and it is also the final resting place of pharaohs and their queens. The pyramids stand as a testament to human achievement.
Islamic Cairo – For those who would like to learn more about Islam, especially how it is practiced in the modern world, visiting Cairo is one of the best options available. This city offers beautiful mosques, schools, and monuments.
Abu Simbel – This stunning temple complex features one of the most historical monuments ever created. It is situated at the second cataract of the Nile River and was carved entirely from the stone of the cliffside it sits upon, in approximately 1244 BCE.
Economy
The economy of Egypt is known to be one of the most diverse in the world. In the near future, it is expected to become one of the greatest in economic growth with a 4.3% GDP growth rate and a 1.4% population growth rate. The GDP per capita of Egypt is $3,514.49 USD, as of 2016.
The gross national income stands at $1.063 trillion, PPP.
Egypt is among the original countries that became a part of the United Nations, along with different national organizations in various parts of the world.
Why Choose to Do Business in Egypt?
The economy continues to grow in Egypt, according to the International Monetary Fund, and this is anticipated to only increase in the coming years. Egypt has a very positive outlook regarding their long-term growth, and the nation has taken many steps to ensure economic stability.
Egypt has more progressive attitudes than many other neighboring nations, and they value women in the workforce highly. They promote labor force participation for women and offer such benefits and accommodations as specialized training, public nurseries for the care of young children, and they are improving the quality and safety of public transportation in an effort to strengthen their economy.
Business owners in Egypt are considered to be more conservative in their business practices as compared to Western countries. It is important to understand that in Egypt, business is not conducted as quickly as in the US. Businesses owned by Muslims, according to standard practices, are closed on Fridays for religious purposes, for example.
Egyptians do not believe in taking big risks; so if you are offering a product or service that is deemed exceptionally contemporary, make sure that you are catering to a need in the Egyptian marketplace. By doing so, there is a big chance that your business will thrive. Otherwise, if your product or concept veers too far outside of their cultural comfort zone, it may be doomed to fail.
Egyptians take the Muslim religion very seriously. The decisions they make are often related to what their religion dictates. First and foremost, for foreigners doing business there, they require an Egyptian business agent as an initial contact. They will require a thorough presentation of the business being offered. If your presentation is lacking or if you do present your offer properly, you will be prohibited from conducting business in the country.
In addition, learning and speaking multiple phrases from the Arabic vocabulary will help your business gain even more respect among the Egyptian population, which can be a good way to ensure you will be successful. Most Egyptian business people understand multiple languages, so this is somewhat expected of those doing business there as well.
Global Call Forwarding is a provider of Egypt virtual phone numbers and Egypt toll free phone numbers with SMS and Email capabilities. Many other features include ringback and call recording to assist you and your business in establishing a solid means of communication. We are committed to helping businesses access Egypt through telephony and communication. Businesses communicating with consumers as well as locals are vital for any business.