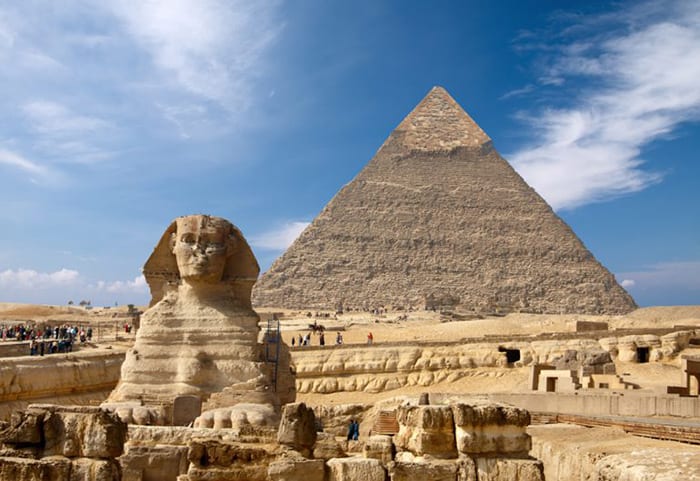 Cairo is Egypt's capital, as well as its largest city, with a population of more than 6.7 million. Known as "the city of a thousand minarets," Cairo is home to the longest standing music and film industry in the Arab world. It also boasts the world's oldest center of higher learning.
Egypt's Economy
The country's economy is largely dependent on agriculture, petroleum exports, tourism, and media. Over the past decade, Egypt has seen significant growth in infrastructure and communications.
This growth has been due to investment from the Egyptian government as well as financial aid from the United States. The country is also developing a viable energy market based on hydropower, natural gas, oil, and coal. Egypt's main revenue comes from tourism, with around 13 million tourists visiting each year bringing in revenue of more than 12 billion dollars.
Doing Business in Egypt
Doing business in Egypt can be tricky, which is why you need to understand the culture and Egyptian business tactics. High-pressure strategies will not work well in this country as the pace of business is slower than in American or European business cultures. In Cairo, like most of Egypt, a typical business day usually lasts from 8 AM until 2 PM during the summer months, and 9 AM until 1 PM during winter, sometimes with additional business hours from 5 PM until 7 PM. You will not be conducting business on Fridays at any time of year, as this is a holy day in the Muslim faith, which is the predominant religion in Egypt.
Cairo virtual phone numbers allow small businesses to expand into Egypt without the necessity of relocation from overseas, allowing you to have an overseas presence in a convenient and affordable way quickly. Small business owners all over the world are turning to virtual international numbers to help them maintain a professional business image while keeping overheads low.
Here is a rundown on the main benefits of Cairo virtual phone numbers.
Keep personal, and business calls separate: Often, you don't want to hand out your personal phone number to customers or business colleagues, particularly if you are publishing your phone number on your company website. Cairo virtual phone numbers allow you to maintain a dedicated phone number for your business contacts while keeping your personal cell number for friends and family; all while using the same device. Furthermore, when making a call from your Cairo virtual phone numbers, your customers will see your business line as the caller ID.
Maintain consistent branding: Your business thrives on successful branding, without it your company is just another fish in the sea of commerce. Keeping a consistent image throughout all of your means of communication is vital for your company. Cairo virtual phone numbers allow you to maintain this high level of branding because you can leave a personal message for your callers. For example, "You've reached James Talcott Financial Advisors," rather than just a vague or automated greeting. Personalizing your greeting lets your callers know that you are professional and that they have reached your business rather than your cell phone, so you will have an edge over your Cairo competitors.
Gain additional features: Cairo virtual phone numbers from Global Call Forwarding give you a suite of extra features that you wouldn't have with your cell phone alone. These include call recording, SMS forwarding, time of day routing, sequential forwarding, local ringback tones, voicemail to email, failover forwarding, fax to email, and black and white lists.
Avoid purchasing dedicated hardware: Cost-effectiveness is key to Cairo virtual phone numbers because you don't need to purchase additional hardware or software. You can simply have your calls forwarded to the number or numbers of your choice, whether it's your office landline, call center, or cell phone. You can stay connected with your Cairo colleagues and customers wherever you are.
Use toll-free virtual numbers: You can have one or more Cairo virtual phone numbers. You can also subscribe to numbers in other Egyptian cities. As well as increasing your efficiency, this also boosts your customer's confidence while allowing you to reach new markets.
Would you like to see first-hand how international virtual phone numbers can help your business grow globally? Do you have questions about how to subscribe to Cairo virtual phone numbers? Contact our team at Global Call Forwarding to find out more about our services.
We can set you up with Cairo virtual phone numbers as well as virtual phone numbers in more than 60 different countries throughout the world. It doesn't matter whether you are a startup company or a global conglomerate, we have the experience and the know-how to help you establish your business presence across the globe, and we've been doing it since 2007. We can even set you up with a free trial, without any obligation. Contact Global Call Forwarding today!