With a population of more than 7 million, Hong Kong is an international hub of sights, sounds, and buzzing activity. It is also one of the most favored destinations in Asia, as it has a mixture of cultures integrated within its own.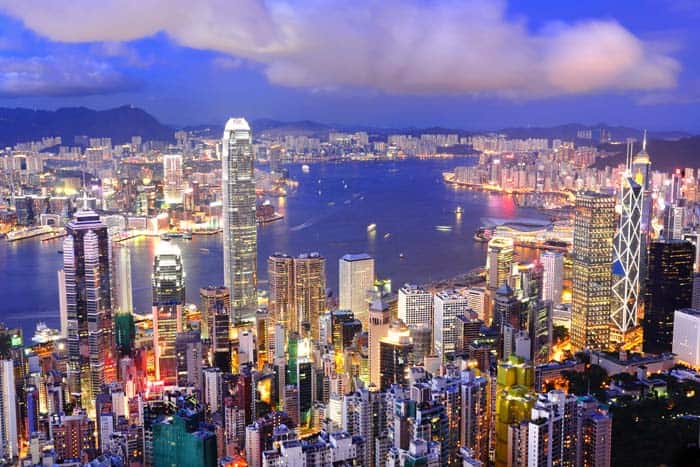 Hong Kong Geography
There are four main areas associated with Hong Kong: the actual island of Hong Kong, Kowloon, the smaller grouping of outlying islands, and what's called the New Territories. Most tourists will spend their time on Hong Kong island or on Kowloon. All of these territories are south of the Chinese mainland. Let's take a look at these areas individually for a more in-depth look:
Hong Kong Island: on the northern shore, you will discover the exciting business and financial districts of Hong Kong. There are modern skyscrapers, shops, and trendy restaurants to enjoy. In the south, there are smaller villages and towns.
The New Territories: these lands make up more than 65% of the total land area. The territories are home to traditional temples, villages, and protected parks for tourists. Here you can expect to view mountains, marshes, and wetlands with exotic wildlife.
The Outlying Islands: these are made up of more than 260 islands that offer gorgeous beaches and rugged terrain. This area is perfect if you'd like an escape from the busier parts. A few notable islands to include Lantau, Lamma, and Cheung Chau Island.
Kowloon: a host of diverse areas, Kowloon has neighborhoods with local street markets. Here you will find traditional foods and places to explore. If you get a chance to visit West Kowloon, it is the place to view the tallest building, the ICC tower.
Hong Kong Economy
Hong Kong's economy is currently ranked among the first in the Asia-Pacific region. They are considered above average when compared to both the region and the world. This may be due to the fact that Hong Kong is competitive in finance and business. The government is mainly transparent and allows little room for corruption. Not only that, trade is a vital part of their economy, heavily relying on exports and imports. Imports and exports of Hong Kong include integrated circuits, semiconductor devices, gold and other metals, telephones, broadcasting equipment, computers, and more.
Starting a business in Hong Kong is easier than expected due to new regulations put into place in 2016. They accomplished this by decreasing business registration fees.
Because of a previous agreement, China has promised not to force socialist policies in Hong Kong. Even though there have been some conflicts about this in the past, Hong Kong still enjoys healthy trade with the mainland.
Hong Kong Tourist Attractions
Want to visit some of the best tourist attractions? Surprisingly, at the top of the list is something more American than anything else: Hong Kong Disneyland! Visitors can go on traditional Disney-themed rides and see their favorite characters in the parks. Most of all, children will enjoy real storybook magic from tales such as The Little Mermaid, The Princess and the Frog, Tangled, Aladdin, and more.
A more traditional attraction is the Tai O village. It's a bit removed from the crowded city and truly shows off the local markets and homes. The Tanka people are a community of fishermen and built their houses on stilts.
The Dragon's Back Hike is a popular trail with spectacular views. From this hike, you can feel the ocean breeze and listen to the sounds of waterfalls. It is easily accessible from the big city and there are many starting spots to choose from.
Another modern option is Tsim Sha Tsui, a hub for entertainment and places to shop. This district has boutiques, restaurants, and other cultural landmarks to check out. The Tsim Sha Tsui Cultural Complex also has great attractions such as the space museum and museum of art.
Hong Kong Culture
As mentioned earlier, Hong Kong is a unique combination of the East and West. It has kept most of its traditional Chinese roots while also adopting Western culture moving forward. This especially shows in their local cuisine, often combining different flavors for "fusion" meals. Aside from meals, the local people enjoy tea time in the afternoon, adopted from common British customs.
The population is a melting pot that consists mainly of Cantonese, Shanghainese, Indian, British, and other nationalities. Cantonese Chinese and English are most commonly spoken there. They celebrate traditional Chinese holidays such as the Mid-Autumn Festival and Chinese New Year.
Cantonese opera is a form of entertainment that is well-loved in Hong Kong. This type of opera is art that blends music and drama performances with Chinese legends, myths, and classic stories. Also featured are acrobatics and martial arts! Operas tend to teach stories and virtues such as loyalty and patriotism.
Access Through Communications
Global Call Forwarding is a provider of Hong Kong virtual phone numbers and Hong Kong toll free numbers. Many other features include ringback and call recording to assist you and your business in establishing a solid means of communication. We are committed to helping businesses access Hong Kong through telephony and communication. Businesses communicating with consumers as well as locals are vital for any business.