What city do you think is the most populated in the entire world? Tokyo? New York? London? The answer is Shanghai, China, with 24 million people. This diverse, bustling city is divided into 16 distinct districts. These districts include areas such as The West Bank, which is older Shanghai, and The East Bank, which is the newer part of the city. Other suburbs are home to universities, residential areas, and rural landscapes that are farther from the central hub of the city.
The Land and Climate of Shanghai
Sitting on the east coast of China, just off the East China Sea, Shanghai is cut in half by a tributary of the famous Yangtze river. The city's canals, river systems, and lakes provide water resources for its people and help move goods back and forth to support the robust trade and commerce systems.
The climate of Shanghai has something for everyone, with four well-defined seasons. Although winter brings Siberian winds that can drop the temperature to below freezing, it does not snow very often. And although summer temperatures can reach about 95 degrees, that only happens about eight days out of the year.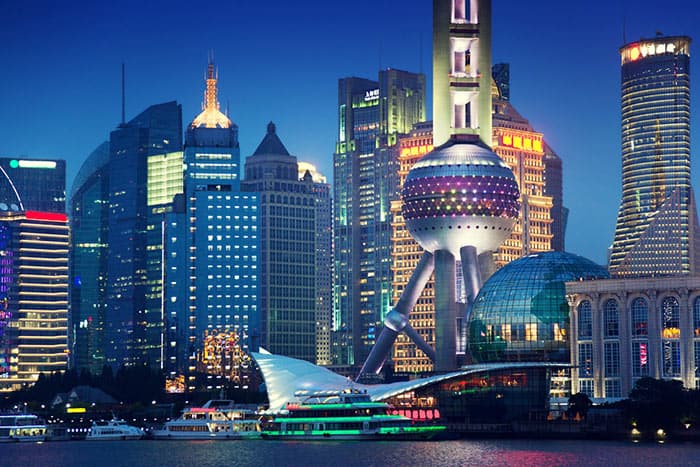 A Robust and World-Class Economy
Shanghai's economy is one of the most robust in the entire world. The city ranks 13th in the Global Centres Index and, as a testament to the city's prosperity and the resources of those who live there, it is the most expensive city to live in mainland China. The stock exchange is the third-largest in the world and trading of rubber, copper, and zinc are ranked first worldwide.
Shanghai has become a major center of international business as well, with a culture that invites the commercial world to enter its borders. The Shanghai Pilot Free Trade Zone in 2014 made history as the first such area in mainland China. That program led to Shanghai being ranked as the Chinese province of the future and having the highest amount of foreign investment in the Asia-Pacific region.
Economic prosperity has brought great expansion. In all but two years since 1992, the city has achieved double-digit growth. That's largely due to the city's three main financial pillars: banking, retail, and real estate. Shanghai is home to the world's busiest container port. Steelmakers, shipbuilders, and auto manufacturers make up the heavy industries sector of the city.
Businesses looking to expand into Shanghai will find a large population that is densely focused in one area. Almost 90% of the population is urban, with just about 10% living in rural areas. The population is not just home to Chinese, but also home to Japanese, Korean, and American registered foreigners.
Any area with a large population that serves as a mecca of business will have transportation issues. Much has been made of Chinese traffic, but Shanghai has learned to use technology and infrastructure to help its citizens get around the city with relative ease.
Religion and Education in Shanghai
The people of Shanghai are free to worship in whatever religion they choose, and there are many religions that are represented (China's constitution even bans religious discrimination). A majority of people identify as nonreligious, but there are also Buddhists, Protestants, Catholics — Shanghai is home to the largest concentration of Catholics in all of China. A percentage of the population is Christian, and there is a Jewish population as well, a result of immigration during World War II.
Education is a staple and a mainstay of Chinese life. The population is not only educated, but it is also set up to be one of the most educated in the world for years to come. In a worldwide study of 15-year old students, students in Shanghai (which includes migrant students) scored the highest of all other countries in math, reading, and science. That same study found that publicly-funded schools have the highest educational quality in the world.
Only about 2% of the population is illiterate. That's in part to the city being the first in the world to have a 9-year mandatory education requirement. But primary and secondary education aren't the only levels that are emphasized; there are over 30 colleges in the city, making it the higher education epicenter of China.
The Culture of Shanghai
Although Shanghai may be known for business and education, it maintains a culture that has contributed to historic preservation, art, film, and recreation worldwide.
The Shanghai Museum is a world-class historical museum, and the city is also home to the largest art museum in all of Asia. Shanghai also boasts a natural history and a science and technology museum. Filmmaking that dates back to the 1930s made Shanghai the center of cinema in China, and it has been the birthplace of many major movie stars in China.
Shanghai is even a center of fashion, with its own fashion week held twice a year, and an international fashion culture festival that showcases not just Chinese, but international designers.
Soccer and basketball are huge sporting attractions. Many Chinese leagues develop players that later go on to play professionally in America. Everything from baseball to table tennis and even a Grand Prix have become huge draws.
Doing Business
At Global Call Forwarding we want your business to stay connected with Shanghai along with its consumers. This prosperous nation offers many opportunities for businesses looking to expand, and due to its stable economy, the prospects are good. We offer Shanghai virtual phone numbers for local and toll free numbers, so setting up a virtual local presence in Shanghai can be quite simple, and an overall streamlined process. Best of all, these numbers are digital, so they can be forwarded or redirected to any of your chosen locations.