South Korea has a long and storied history. Bordering the Yellow Sea, the Sea of Japan, and the country of North Korea, this country is made up of nearly 40,000 square miles. South Korea boasts some impressive achievements, especially since global superpower China tried and failed to subjugate them. Now today they are one of Asia's most influential, innovative, and affluent countries.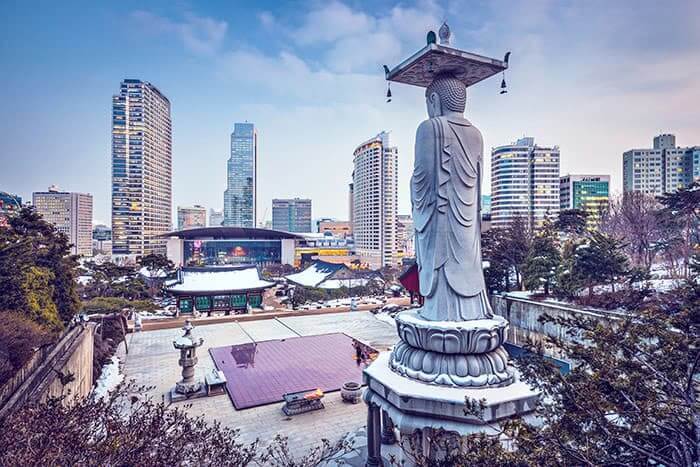 The climate of South Korea is humid for most of the year, with hot summers, cold winters, and a monsoon season from June until around July. The capital, Seoul, is in the northwest part of the country and is considered their largest city with over 10 million people. This makes Seoul a very densely populated area.
Tourists who come to Seoul have many memorable attractions to choose from. Myeongdong and Dongdaemun are both shoppings areas where you can discover internationally known brands as well as unique items. Changdeokgung Palace is a historical site with structures that have been in place for 6 centuries. Insadong is a place to learn more about current Korean culture with stores that have traditional clothing, teas, and pottery. However the more youthful tourists like to visit Hongdae, where there are many clubs and nightlife attractions.
Business Enterprises in South Korea
Around the year 1997, South Korea discovered flaws in their economic development as the rest of Asia was facing a financial crisis. Since then the government has adopted new reforms, such as a new openness to foreign imports and investments, in hopes of generating new wealth with relatively little debt. Since that time they have made some impressive strides in their economic growth.
It's not enough to say that South Korea is simply high tech. They are one of the top countries in the world for new technology. You may even recognize South Korea's most famous tech brands, like Samsung Electronics, LG Electronics, Kia Motors, and Hyundai Motors. Large enterprises such as these are global and seek to drive the production of smart home appliances, TV displays, smartphones, computers, and many of the other comforts enjoyed in most households.
As this country becomes more industrialized, South Korea has also become an importer of agricultural goods like corn, soybeans, cotton, and meat. Suppliers come from all over the world, including China, Australia, New Zealand, and the United States. This allows them to lower the costs of agriculture in their home country. South Korea's other industries include telecommunications, automobile production, chemical production, steel, and more.
Telecommunications in South Korea
Because of South Korea's great strides in technology and innovation, nearly every household is connected online in some form. Like most of the world, South Koreans use the internet to access social media, online shops, games, and educational resources for school. This is in stark contrast to a time when there was heavy censorship imposed on the media.
Most South Koreans use their mobile smartphones for nearly every task, especially since providers give fast, high quality service. Teenagers and young adults are especially drawn to features such as media sharing and applications for entertainment and taking photos. For all residents, it's also common to upgrade to the latest versions of their phones almost as soon as they are released.
South Korea's love of pop culture keeps them connected with television media. In fact they have multiple national television networks, both publicly owned and privately owned. Main enterprises include the Korean Broadcasting System, the Munhwa Broadcasting Corporation, and the Seoul Broadcasting System. The most popular shows to view are South Korean dramas, also called "K Dramas", are pretty similar to American soap operas. Finally, as for radio programs, the population generally enjoy general broadcasting, news, and new music from their favorite celebrities.
Global Call Forwarding
For all of these reasons and more, foreign investors love South Korea. When you're ready to set up your business enterprise for success, Global Call Forwarding knows how to get you started with South Korea virtual phone numbers.
Entrepreneurs who want a more global, virtual presence should take advantage of digital and local phone numbers and South Korea virtual toll free numbers. These are designed to redirect to any phone line in the world. For example, if a company in the United States wants more points of contact in South Korea, China, and Japan, Global Call Forwarding can provide these local numbers, which will in turn forward to your offices or designated department. This gives your brand extra value because callers will not have to pay any expensive international fees.
Other added features include custom messaging and forwarding based on time zones called time of day routing. So not only will callers feel like they are being given a personalized experience, they will never have to leave a voicemail again. Simply route the client to an available call center during their "open" hours.
It's time to upgrade the way you do business. Contact Global Call Forwarding today to extend your services into South Korea and see how you can do more with local and toll free virtual phone numbers.