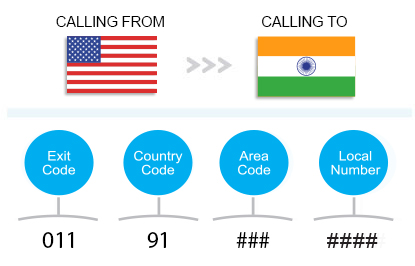 Exit Code – This is the code you need to dial OUT from a country. Also known as IDD (International Direct Dialing) code or ISD (International Subscriber Dialing) code.
Country Code – Each country or region is assigned thier individual country code. You will need this code to dial IN to a country. There is a total of 249 codes worldwide. View all Country Codes
Area Codes – Area codes define a specific part of a country. This can be a whole city or a general region. Some countries are not big enough to have multiple area codes, so you would simply dial the country code and the direct dial number.
Local Number – This number is the local direct line to a home, business or cellphone.
How To Dial an India Local Number from the USA
Dial 011 91 – Area Code – xxx-xxx
Example #: Dial 011 91-22-5555-5555
Dial 011 91 – Area Code – xxx-xxxx
Example #: Dial 011 91-712-555-5555
Dial 011 91 – Area Code – xxx-xxxx
Example #: Dial 011 91-80-5555-5555
Information About India
The telecommunication network in India is the second-largest in the world by the number of telephone users (both fixed and mobile), with over a billion subscribers. The general procedure for calling India is 91 + Area code (2-3 digits) + TEL # (7-8 digit).
ISD Code or Country Code for India is 91
Area codes – There are 441 area codes in India. Area codes are 2 or 3 digits and phone numbers are 7-8 digital for a total of a 10-digit number. Dial the area code of the city in India you are calling after dialing ISD Code (91). If there is no area code dial the recipient's telephone number after ISD Code.

India Emergency Numbers
100 – Police
102 – Ambulance
101 – Fire
112 – National Emergency
108 – Disaster Services