---
Businesses in the IT Industry That Can Benefit From IVR
Customers call for many reasons: to ask queries, get assistance with information and purchases, register complaints and issues, and so on. IT and software companies offering customer support and customer success services can make use of IVR to distribute calls effectively. Some of these companies may include: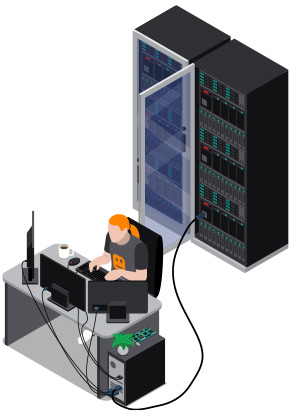 Tech companies
Software and hardware services
Programming services
Network services
Cybersecurity
Tech support
Communications
Web design and maintenance
Data storage
Cloud computing
Analytics and reports
Business automation
With IVR, you can make it easy for callers to get the help they need immediately without having to pass the call around. In fact, in some advanced cases, they may even be able to complete tasks through the automated system.
Why Should Your IT Company Consider IVR?
So, how can your IT company specifically use this service? Most businesses use this service to manage inbound calls more efficiently. You can redirect calls based on location, caller preferences, caller's needs, and so on. This way, you ensure that the caller speaks with an agent most appropriate for their purposes. Some ways an IVR system can help your company include:
Greeting callers
Providing information in different languages
Helping callers when agents are busy
Collecting information that the agent can use to prepare
Transferring calls
Offering company and product information
Processing payments
Providing customer history
Registering complaints
Collecting feedback
Offering simple troubleshooting information
Providing after-hours customer service
The best part about an IVR system is that you can customize and personalize it as you please. Have pre-recorded messages greet customers, offer important information and promotions, and control what your callers are able to do. All of this is to ensure that caller experience is good and by extension, your customer service efforts are improved.