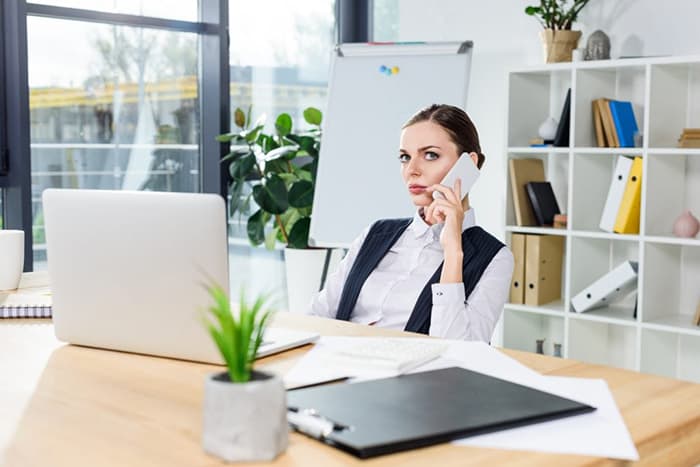 Once you start a business, it's important to put processes in place that will keep your company organized as you work to satisfy customers and handle important business operations. Most entrepreneurs agree that one of the key aspects of a successful business is your means of communication. Some business owners may choose to use their personal cell phone while others may work in-office and use a number that connects only to the main phone line of the building, but there are issues with these methods.
Sharing your personal mobile phone number can be a privacy concern and will make your business seem unprofessional. Personal phone numbers also lead customers to believe that a business cannot afford the necessary hardware to operate professionally.
If you decide to use an in-office phone, what happens when you leave the office throughout the day? You increase the likelihood of missing important phone calls. This is why having business phone numbers with extensions over a VoIP connection is important as it shows that you are a professional brand while allowing you to work and multitask from any location, while still being available to connect with customers.
Understand Your Communication System
It's important to consider the capabilities of your phone system and how reliable the system would be when interacting with customers. Your telephone system should allow customers to easily connect to departments that can best meet their needs, and your conversations should always be clear without dropping calls. For your employees, you need a system that is easy to operate, well-organized so daily goals can be met, and overall very efficient so that tasks can be completed without confusion.
The cost and efficiency provided by your business phone number is also important to consider if you're starting up. As a business owner, you must also consider the setup process for the type of phone system you choose to use. Being that modern options don't require much hardware to function, buying a telephone system that requires installation and large equipment may not be the best choice, especially when considering the possibilities offered by the internet.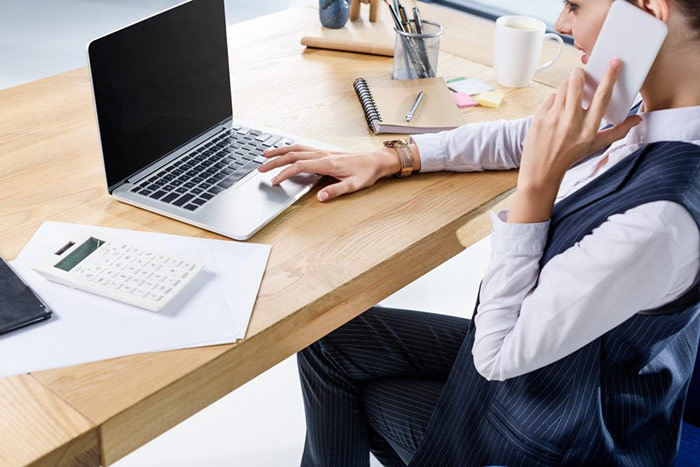 Business Phone Numbers With Extensions Are Customer-Centric
Managers using business numbers with extensions must remember that a vanity line is imperative for the success of any virtual business. Company owners can't go wrong with vanity numbers when using a creative phrase or slogan that emphasizes the brand message. Furthermore, vanity phone lines are effective for all forms of marketing and they motivate potential customers to call your business to make purchases or start a conversation that will lead to sales in the long term.
The extensions that are created should always keep the customer in mind, and current options for reaching business professionals at their extensions have advanced for customer satisfaction. Instead of remembering a random set of numbers, callers can listen to custom menus that will forward them to the desired extension, or customers can find an extension line according to the name of the person working at the extension. Business phone numbers with extensions also assist employees when providing customer service and reaching out to management when critical issues need to be addressed.
Showcase Your Professionalism And Increase Productivity
Business phone numbers with extensions will show how professional your business is regardless of size. Business phone numbers with extensions allow your business to work and scale as you grow, or even as you decide to scale down.
Likewise, you don't have to pair your extension line to one person for one reason only. If you have a small team with various areas of expertise, you can have multiple extensions that redirect to the same person. You can also use automated messages to keep these employees focused on creative solutions for customers instead of spending company time answering calls for minor questions, such as the company location and hours of operation.
Workplace productivity will be further enhanced by using business phone numbers with extensions because you'll save the time spent locating someone in the office to take a call. When working with remote team members, locating staff can be an even bigger hassle because you must consider the different time zones that will present delays as you try to get in touch with someone. With business phone numbers with extensions, people can be reached in real-time and their extensions can be made available at suitable hours depending on their location.
In Conclusion
There's no need to be a technology expert or internet guru to set up your business phone number with extensions. By signing up for business phone numbers with extensions, company owners will not be sacrificing freedom because there are no contracts or long-term obligations. The phone system is so flexible that business owners can change the menus and greetings for incoming callers as often as they like at no additional charge to match the tone of their company culture.