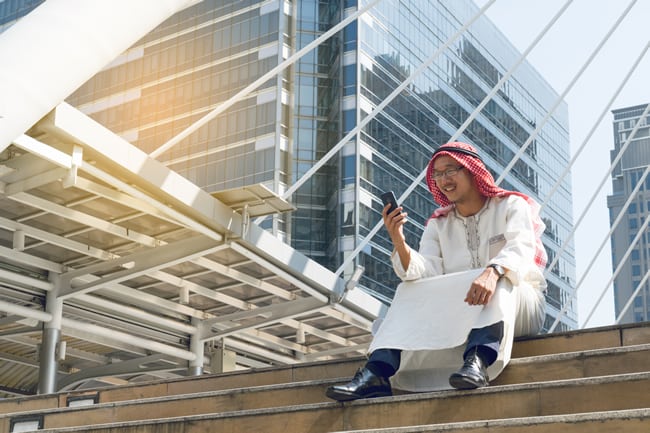 Sweeping economic changes have transformed what was once a barren desert land into the bustling city of Dubai today – an epicenter of trade and commerce in the United Arab Emirates and arguably one of the leading business capitals of the world. Get a phone number in Dubai and forward calls from Dubai anywhere.
Even Fast and Furious wanted to go to Dubai! Part of Fast 7 took place in Dubai and it was not an accident! Dubai is amazing!
Dubai is currently a grand tourist destination. Moreover, its Jebel Ali port is a major export point in the entire Middle East. In 2004, the DIFC or Dubai International Financial Centre was started and which has been largely instrumental in the development of Dubai as a global hub for burgeoning service industries like finance and IT.
Thus, it is only too obvious that Dubai would have a fabulous telecom infrastructure to get more and more foreign investments and to keep growing. Also with an ever increasing expatriate population, to get a Dubai phone number is essential for anyone working there to keep in touch with his home country or the rest of the world.
The Dubai Economy
Dubai is the United Arab Emirates' 2nd wealthiest emirate, Abu Dhabi being the first. Even though the popular perception is that it's primarily an oil-based economy, the fact is Dubai uses only moderate amounts of its oil reserves to get revenue for developing its infrastructure for manufacturing, trade, and tourism. According to published statistics, 95% of Dubai's GDP isn't oil-based actually. Oil accounts for a maximum of 1 percent of the emirates' GDP while tourism generates 20%.
In the early Nineties, only a few hotels could be seen in the country. The scenario changed after 1994 when the opening of the Burj Al Arab Hotel became the harbinger of massive changes to come and to give Dubai the status of a world-class tourist destination that it is today.
Tourism has indeed changed the face of Dubai over the last few decades. However, some of the most significant investments made in Dubai have been adversely affected due to the ongoing global recession. The city's banking, financial, and service sectors were affected with the real estate market hitting an all-time slump during 2008-2009. Most ongoing projects as also jobs held by expatriates got negatively affected.
However, Dubai is now officially acknowledged as a major international hub for the IT industry, which has clients worldwide. The Dubai Internet City has joined with the Dubai Media City to form TECOM or  Technology, Electronic Commerce and Media Free Zone Authority, that houses some of the top-notch IT firms like Microsoft, EMC Corporation, Dell, Hewlett-Packard, Oracle Corporation and IBM. It is also home to media giants such as the BBC, CNN, MBC, Sky News, and Reuters.
Dubai recorded a growth rate of 6.1% in 2014 to become one of the faster-growing economies globally. Its largest trading partners are China, India and the United States. Tourism continues to be the main revenue earner for the economy and Dubai is currently rated as the 7th most visited country in the world. In 2016, a record 15 million tourists visited the city.
It's also a paradise for shopaholics with its grand gold souks and gorgeous shopping centers. Moreover, it has grabbed the bid for hosting the much-awaited Expo 2020, expected to be a grand economy booster and a creator of around 270,000 jobs.
Dubai's growth is expected to accelerate in 2017 even as its oil prices remain on the lower side along with sluggish trade. Economic growth should be around 3%, marking growth in 2016. The year is predicted to be challenging but suitable and rapid diversification coupled with the opening of new markets, including the development of the renewable energy and Islamic finance sectors will come to the economy's aid. This has been stated by the DDED or Dubai Department of Economic Development.
Overall growth in the UAE was slow ever since oil prices fell below $30 per barrel. This led to the projects being delayed in Dubai to cut public spending. With crude prices rising to $55 a barrel presently, the Dubai administration plans to spend more and create more employment opportunities.
Reasons to Get a Dubai Phone Number
Despite the sluggish growth, Dubai was and will remain a buzzing hub for trade and commerce in the Middle East in the foreseeable future. No doubts about that. This has led to a situation where most foreign multinationals are thinking of getting a piece of the Dubai action.
This would of course, require the setting up of offices there along with the recruitment of trained and experienced personnel to run the show. And inextricably linked to this, would be a fantastic and superlative telephony system to maintain contact with local and international business associates and customers.
That's why you need to get a Dubai phone number so that answering customer queries or maintaining worldwide contact becomes easy. You could also get a Dubai phone number without actually being present in the country. These come with some great features like fax, voicemail-to-email as also international call forwarding. Your calls can get routed to anywhere in the world through mobile devices, home, office, or PBX lines.
It's easy to get a Dubai phone number. If you are physically present there, you just need to approach the local authorities, comply with the mandatory rules, make a deposit and get your landline number.
Alternately, you could even take the online services of private operators by getting into their website, choosing a number from their vast online inventory and getting it activated in as little as sixty seconds after paying a fee. This moreover, requires neither any set-up cost nor long-term commitment. You can surrender your number whenever you like.
Your virtual number will allow your customers to call you cheaply without having to remember confusing dialing codes at local call costs. You will be reachable from any landline or mobile phone from anywhere in the Gulf.
When you get a Dubai phone number, you are actually making your presence felt in this oil-rich and economically strong city. And with the Expo 2020 coming up, you have a grand opportunity to get some great business done! Get a Dubai phone number now. It's a choice you'll never regret.