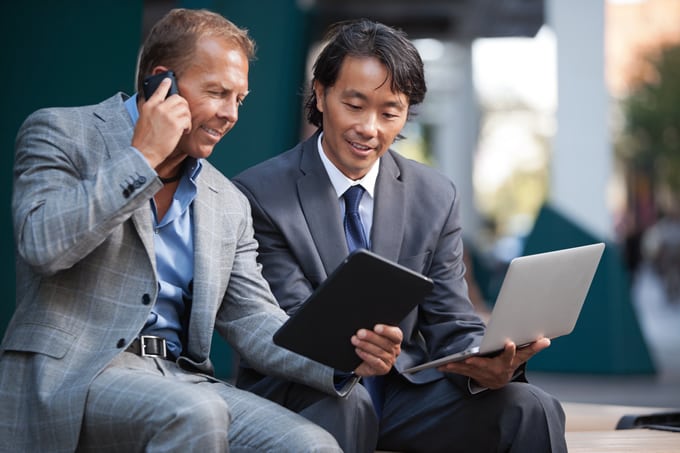 Expansion to foreign marketplaces is a delicate business practice. Forethought, research, and an understanding of the market's needs is essential to develop a solid business foundation. One area some businesses overlook is communication. At Global Call Forwarding, we aid businesses to avoid costly communication oversights no matter the foreign market they're expanding in.
For example, we help businesses get a phone number in the UEA when growing their companies in the United Arab Emirates. Clear communication can be a challenge in a country like UAE, but with a strategic plan and powerful communication options, any company can excel in this arena.
Prior to embarking on a journey towards getting a UAE phone number or opening up a physical location there, it is a good idea to gain a broader understanding of the economy and culture of UAE. Let's take a brief look at the UAE's economic background and why businesses that get a UAE phone number can excel in its economy.
UAE'S Economy—A Broader Understanding
The United Arab Emirates originally formed after the Trucial States of the Persian Gulf coast allowed the UK control of defense and foreign affairs in the region during the 19th century. Moving towards 1971, and six of those states—namely Abu Dhabi, Ash Shariqah, Dubayy, Umm al Qaywayn, Ajman and Al Fujayrah, merged together to form the United Arab Emirates (UAE). In 1972 they added one more state, al Khaymah.
The UAE's per capita GDP today is similar to those of Western European nations. Thanks to massive oil revenues and a tempered foreign policy, the UAE continues to play a pivotal role in the goings-on of the region's country states. The previous three decades of UAE economic strength were largely dictated by oil and global finance. During the global financial crisis of 2008-09, however, the UAE suffered greatly. Plummeting real estate values and a worldwide banking disaster had an adverse effect.
During the "Arab Spring" in 2011, the United Arab Emirates avoided political crisis by announcing a $1.6 billion infrastructure investment plan to aid those in the poorer northern emirates while heavily pursuing advocates of political reform.
Fortunately, the UAE has an open economy and a significant annual trade surplus. It has invested in economic diversification in an effort to move away from an economy backed by oil and gas. It has successfully reduced the portion of its GDP backed by oil and gas to just 25%. Despite this, the country's wealth undeniably originated from the discovery of oil over 30 years ago.
The government has turned its attention to job creation and infrastructure expansion. It has done this largely by opening utilities to private sector businesses. Another major benefit to business in UAE is the country's free trade zones, allowing for 100% foreign ownership and no taxes—which is, of course, attracting the attention of foreign investors.
As a country, the UAE specializes in the industry and service sectors primarily, with little to no agricultural efforts being made. As a desert nation, most food goods are imported. The UAE's strategic economic plan is to focus on creating more job opportunities through improved education and investment in private sector employment.
How & Why to Get a UAE Phone Number
Owning a business in a foreign marketplace such as UAE can be complex. Communication is the key to smooth operating procedures and marketing efforts. When a business gets a UAE phone number, they are better equipped to communicate with contacts and customers in the UAE.
At Global Call Forwarding, we provide a comprehensive list of global call forwarding services and offer phone numbers for markets such as the UAE. The goal of our customers is often to simply provide a point of contact for their customers and partners in the UAE. Instead of complicated foreign dialing codes and expensive fees, customers in the UAE can simply dial a toll free number that is then forwarded to the designated number of a businesses' choosing.
To get a UAE phone number, all businesses have to do is contact a call forwarding service provider that specializes in this unique niche. Whether a business is located in the United States and interested in doing business in the UAE or has an India based call center they'd like to forward their UAE customers to, a specialized business number can provide the communication lines needed.
Benefits of Getting a UAE Phone Number
Companies that are expanding to the UAE require a professional form of communication. UAE toll free virtual phone numbers provide the point of contact needed for customers and contacts in UAE. Affordably priced for businesses both large and small, localized telephone numbers are easily forwarded to other international phone numbers such as mobile phones and office landlines.
Businesses who utilize Global Call Forwarding services can also benefit from simultaneous ringing, local call back ring tones, customized voicemail greetings and an online control panel. Businesses that get a UAE phone number for their company can experience streamlined communication and more satisfied customers.