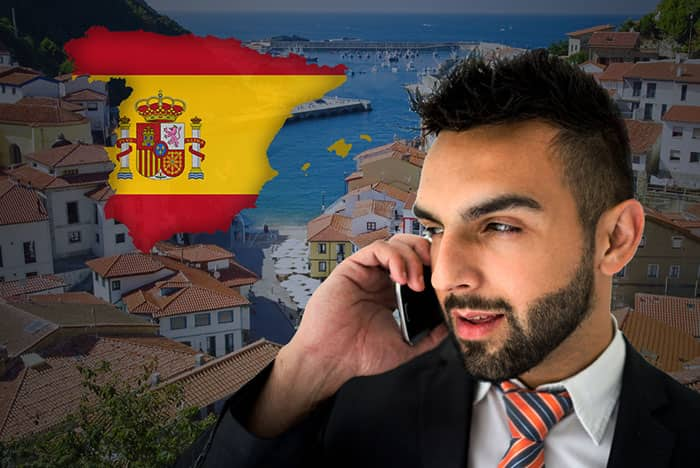 A lot of strategies go into the marketing and branding of a business, but using a toll free number is often overlooked. Not every business owns a toll free number, but those who do manage to build trust with customers and prospects. Big businesses often market themselves with toll free numbers, but toll free numbers aren't restricted only to only large enterprises with a sizeable budget.
Many small businesses and startups now use toll free numbers to communicate with customers because it is the most inexpensive communication channel. Besides being affordable, toll free numbers also lend an air of professionalism to your business. Since toll free numbers are usually associated with mighty, standout businesses, having one for your company will also give you a favorable image.
Spain ITFS numbers are toll free numbers that forward calls from Spain to anywhere in the world. These numbers are free for the caller, and free numbers also draw in more callers. The only difference is that these numbers are virtual numbers.
Although they look like regular toll free numbers, they work internationally.
Setting up these numbers is easier than with other phone numbers. When you have a customer base in Spain and want a direct channel of communication with them, Spain ITFS numbers are an ideal choice. Let's find out more about them in detail.
Spain Telephone Systems
Toll free numbers are freephone or free call numbers that are charged for arriving calls while calls made are free. Toll free numbers are used worldwide for business communication purposes, especially by big enterprises with call centers that need to handle a large volume of calls every day.
Spain follows a closed telephone numbering plan, which means numbers can only be of a certain length. Until 1998, the country followed an open numbering plan. The telephone system in Spain is regulated by Comisión del Mercado de las Telecomunicaciones.
For regular phone numbers, the country is divided into 21 area codes. Barcelona has the area code 93, Madrid has the area code 91, and Granada has the area code 958. However, for Spain ITFS, no area code is required. The full form of ITFS is International Toll Free Service. Regular toll free numbers function only within the originating country. However Spain ITFS numbers are internet based, and can be forwarded to any part of the world.
There's never been a better time to get started using an ITFS number for your business. Whether you are located in the US, the UK, China or Germany, calls made to Spain ITFS numbers can be forwarded to any region. Unlike local virtual numbers that require area codes for different regions, Spain ITFS numbers work within the whole country.
So, by subscribing to one Spain ITFS number, you can have calls from all over the country. Spain is the eighth largest economy in the world, and there are major industries like tourism, textiles, clothing, food and drink, chemicals, automobiles, and electronics for you to explore the possibilities of doing business in. Even if you cannot physically expand your business to Spain, you can always draw new prospects with the help of Spain ITFS numbers.
How Does it Work?
Getting started with Spain ITFS numbers is easier than you can imagine. Unlike regular phone numbers, ITFS numbers offer minimal hassle and a whole lot of convenience. To get started, you have to select a digital call forwarding service provider and subscribe to a plan that suits you.
Subscription is done online, so you don't have to make trips to the physical location of the service provider. Once you have subscribed to a plan, you have to set the number where the calls are to be forwarded to. This can be a call center, a company phone, or a personal mobile number.
Spain ITFS numbers are high on convenience. They are easy to set up, and have zero maintenance costs. In fact, you can forward calls to any number you like and start using the service within a few hours. Unlike traditional phone numbers, ITFS numbers transmit calls over a cloud server. When a call is placed to Spain ITFS numbers, the call is routed through a virtual PBX system and connected to the phone line.
Benefits of Spain ITFS Numbers
Spain ITFS numbers have several benefits that aren't available with regular toll free numbers. ITFS numbers can forward calls from one country to another, while regular toll free numbers work only within one country. Secondly, ITFS numbers are highly customizable. They can play welcome greetings, music on hold, record calls, send voicemails to your inbox, and give missed call alerts.
You can also set up an IVR caller menu that directs callers to the appropriate department. These features save callers time, and enhance user experience. With these professional features, you can build a favorable image for your business.
Spain ITFS numbers are a branding tool and business asset. Contact Global Call Forwarding to learn more about how to use toll free numbers for your business today.