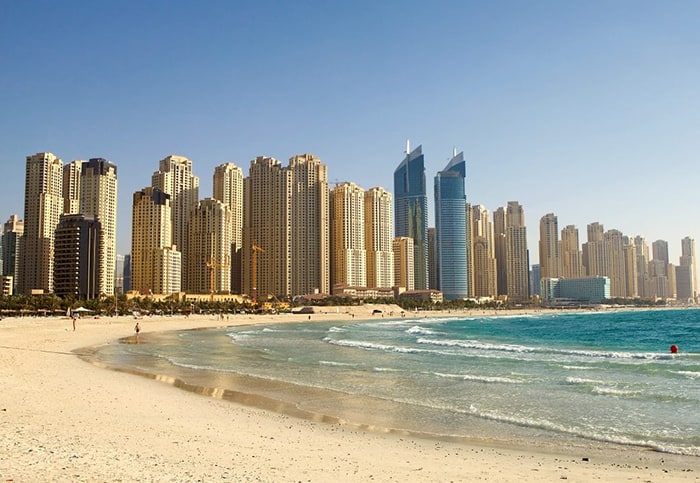 Millions of potential customers and business partners live throughout the Middle East, and especially in the city of Dubai. The city is one of the richest in the world and is one of the seven emirates within the United Arab Emirates (UAE). With a country code of +971, Dubai offers a safe and lucrative society for businesses looking to maximize sales and expand their brand.
Dubai Provides a Diverse Business Economy
Dubai has progressed exponentially from an economy relying on oil and trade, to one of complex business operations and forward-thinking initiatives. Trade continues to be a driving force of the economy, and the success of the trading industry is apparent at Port Rashid and Port Jebel Ali. These ports are massive in size with more than 35 berths to support the incoming and outgoing trading relationships.
More than half of today's GDP in Dubai can be credited to the industries of trade and tourism. Trading, exporting goods and services, transportation, manufacturing, and luxury food and lodging services continue to be on an upswing in Dubai. Looking back to 2013, 70 billion dollars of gold was traded in the city. The real estate industry (along with various major architectural projects) are growing with impressive speed, and this isn't expected to slow down anytime soon in this city of unprecedented wealth. Currently, one of every four cranes on the planet can be found in Dubai.
Inclusion is Valued in Dubai
In the year 2015, 22,369 business licenses were issued, showing that Dubai and its residents are welcoming to the culture of start-ups and foreign business concepts. Demographic data has shown that less than 200,000 Dubai natives live in the city, but 2 million foreigners now call Dubai home after moving to the city to pursue business opportunities. Dubai continues to move forward as a nation filled with residents of various lifestyles and ethnic groups with 85% of residents being expats, including peoples of Iranian, Sri Lankan, Filipino, and Indian descent.
Tourists can't resist the attraction of Dubai's architecture and affluent culture. Many visitors head to Dubai to visit the Burj Khalifa tower, standing at 2,723 feet high. The weather is pleasant year- round, keeping residents optimistic and providing tourists with a pleasant environment as they explore the sophisticated shopping opportunities in the city. The influx of diverse tourists in Dubai is especially beneficial for businesses. With Dubai phone numbers, tourists will be more likely to contact your local number to meet their needs.
Dubai Phone Numbers Give Foreign Businesses a Competitive Edge
Your business must stand out in Dubai, and using Dubai phone numbers is crucial to business success. An effective marketing strategy is essential and this strategy should include advertisements that easily transition into phone calls.
A recommended strategy for attracting business is using a vanity number to help customers remember your name and contact information. A vanity number also makes it easier for others to spread the word about your business with word-of-mouth advertising.
Employee Retention Comes Easy in Dubai
While Arabic is the official language in Dubai, English is commonly spoken in the city as well. Over 1 million employees are based in Dubai, but only 53,000 are native to the city. The many expatriates working in Dubai are accustomed to various personality types and business operations. By using Dubai phone numbers, you'll have unlimited access to employees who are well-trained, cultured, and often multilingual.
Dubai offers additional flexibility to business owners because of the unique time zones. The hours work well because both eastern and western time zones exist in the city. This allows for various hours of operation and more opportunities for customer outreach. In short, you can contact people with your Dubai virtual numbers in different time zones while remaining local.
Expanding into Dubai is a Logical Business Move
Combining the populace of the surrounding emirates along with that of Dubai equals a population of more than 2 billion. This means there are more than two billion opportunities to sell to consumers using your Dubai phone numbers.
Another major advantage that attracts so many businesses to Dubai are the free trade zones for foreign businesses. Dubai has at least 20 free zones where small companies and large corporations can work while retaining full ownership of their business without being subject to tax payments.
In Conclusion
Allow Dubai customers and other businesses in the UAE to call you locally using your Dubai phone numbers to build trust in your brand and avoid additional expenses. Consumers spending money related to your brand would prefer to do so through direct sales and not calling expenses. Many customers may not be able to contact you at all without Dubai phone numbers due to the confusion of the differing country codes. Your Dubai phone numbers will serve as a convenient point of contact that has the potential to increase the revenue of your business.