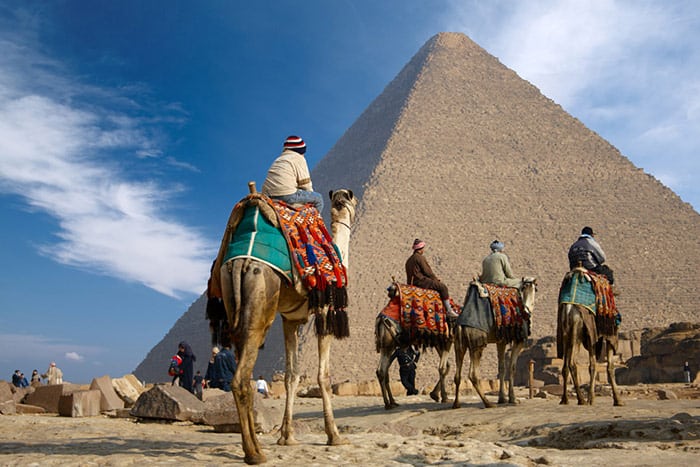 Egypt phone numbers enable you to make and receive phone calls in Egypt. It's the most efficient way to establish a virtual presence in Egypt and communicate with people over the phone. Get Egypt phone numbers with Global Call Forwarding and take your business to the Middle East.
Virtual Egypt Phone Numbers
Egypt phone numbers are virtual telephone numbers that start with Egypt's country code +20.
Phone numbers are separated into different categories: International toll free numbers, mobile phone numbers and geographic numbers that correspond to specific area codes. Egypt has area codes for landline phone numbers in different cities. For example, Greater Cairo and Giza have the area code 2. The area code for landlines in Alexandria is 3. Mobile phone penetration is high as well.
Your business can use Egypt virtual phone numbers to make and receive calls. Inbound calls from Egypt will automatically and seamlessly route to the intended destination. Furthermore, you can make outbound calls with Egypt virtual numbers. It's one of the best ways to develop business in Egypt.
Toll free numbers are the best type of virtual numbers in Egypt, utilized by call centers, consumer brands, and big businesses. Toll free numbers are in the format 0800-xxx-xxxx. Callers can dial the numbers free of charge. Egypt also has phone numbers for premium services that start with 09xx-xxxx, usually reserved for premium hotlines and they have a cost to dial them.
Four mobile network companies are available in Egypt: Orange, Vodafone, Etisalat, and We (offered through Telecom Egypt). The codes for these operators are 10, 11, 12, and 15 respectively. You can also find short number formats typically reserved for special services and emergencies. These are 5 digits long and start with the numbers 16, 17, or 19.
Phone numbers in Egypt are administered by the National Telecommunications Regulatory Authority, a government-approved authority created in accordance with the Egyptian telecommunications regulation law #10/2003. The NTRA has regulatory oversight of all telephone numbers in Egypt.
Using a Mobile Phone in Egypt
The international call prefix for calls into Egypt is +20. It's pretty easy to use a GSM-unlocked mobile phone in Egypt with a local SIM that you can purchase inside most supermarkets and shopping malls. Outbound calling is also possible while using a mobile phone in Egypt with internet-enabled VoIP services. Businesses may prefer a reliable outbound VoIP service because it offers features like time-of-day routing, advanced IVR, and customized greetings.
Calling Egypt Phone Numbers from Egypt
Domestic callers inside Egypt should dial 0 before the phone number they are trying to reach. This signals the call is being terminated in Egypt. Outbound calling is billed at standard local calling rates. Callers in Egypt can call toll free numbers cost-free.
Calling Egypt from Foreign Countries
If you are dialing into Egypt from another country, you must dial +20 followed by the local area code and phone number you wish to reach. Egypt ITFS numbers are not accessible to callers outside the country.
Doing Business in Egypt: Understanding the People
There is a worldwide population of over 105 million Egyptian people, according to the BBC. Egyptians speak a local variety of Arabic, known as Masri. There is also widespread use of English in Egypt, enabling many people to do business with the Egyptian population.
The Economy of Egypt
There is tremendous potential to expand your business and do business in Egypt. The market is among the top 20 globally and the GDP per capita is high. Egypt engages in major trade with Saudi Arabia, the United Arab Emirates, and the United States. Egypt phone numbers allow for significantly more cost-effective large-scale phone communications between these countries.
Big Businesses in Egypt
Egypt has many very successful companies spread across a number of verticals. Lucrative industries of Egypt include the following:
· Banking: major banking players in Egypt are CIB and National Societe Generale. Virtual numbers are popular with banks, as they help to improve communication with clients. Many banks use toll free numbers as well.
· Telecom: the largest telecom company in Egypt by market value is Telecom Egypt. They provide Egypt phone numbers and Global Call Forwarding is already integrated to deliver calls to anyone on Egypt's telecom grid.
· Tobacco: tobacco is a big industry here and Eastern Tobacco is the biggest tobacco company in Egypt. Many large tobacco companies have call centers in Egypt as well.
· Cement: big cement companies in Egypt are Suez Cement and Alexandria Cement.
· Chemicals: the chemicals industry consists of a large part of Egypt's exports. For that reason, many chemical companies in Egypt have international virtual phone numbers as well.
In order to communicate internationally, it helps to use virtual Egypt phone numbers with two-way voice for inbound and outbound calling. These are suitable for companies of all sizes, ranging from lean startups and small business to medium-sized and larger-scale enterprise Egypt phone numbers systems.
Major Cities in Egypt
Cairo is the biggest city in Egypt today with a population of more than 20 million people. People come to Cairo to see the Great Pyramids (located in Giza), so it is a popular destination for travel companies, who benefit greatly when using virtual Cairo phone numbers. The second-largest city in Egypt is Alexandria with a population of 4.5 million. Alexandria is growing rapidly due to high birth rates and urban migration.
Phone Calls in Egypt
Phone calls are a critical aspect of doing business in Egypt, but it must be noted that calls to the United Arab Emirates and Saudi Arabia from Egypt are very expensive. It is very much preferable to dial Egypt phone numbers rather than call a phone number in the Middle East and pay exorbitant fees. Outbound calling is offered for businesses and individuals to make and receive phone calls in Egypt.