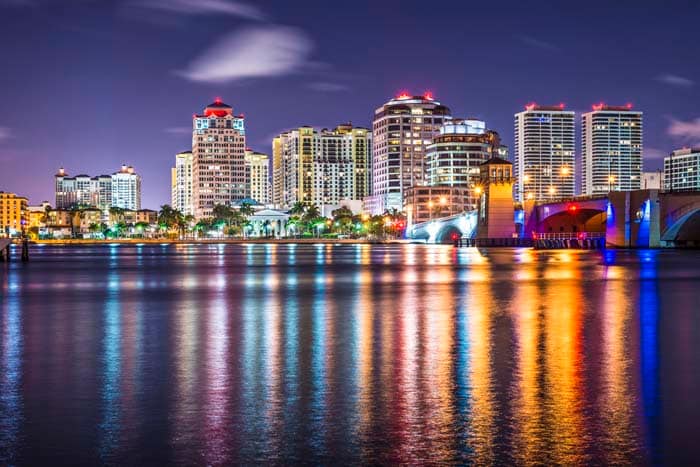 Palm Beach county spans 1970 square miles down Florida's southeast coast.It has a rich history of wealth and development, and is still currently Florida's wealthiest county. It is also the leader in agriculture in Florida, and is home to come of the state's most beautiful beaches. It also benefits from Florida's pro-business tax structure allowing small businesses and individuals to conduct business without having to pay state income tax.
One way that companies often try to establish a presence is to have a Palm Beach County phone number. This allows them to contact local businesses from out of state/country with a Palm Beach county phone number and area code. People enjoy doing business locally, and a local phone number is the first step to making the business connections that you need.
How Does Call Forwarding Work?
Call forwarding companies, such as Global Call Forwarding, have a catalog of (800), and local phone numbers that companies or individuals can purchase to establish a virtual presence anywhere in the world.
The benefits of having a virtual presence is that you can appear to have a physical presence anywhere in the world, making it easier to build trust and rapport, and conduct profitable business. It allows companies to expand their market shares, and make connections anywhere in the world. Having a Palm Beach county phone number would allow a company or individual to access the tourism, retail, and agriculture industries that are absolutely burgeoning in this part of the state.
Global call forwarding offers a fast, cheap, and customizable service that makes it easy for companies to insert themselves into the Palm Beach county market immediately.
Palm Beach County Business Climate
As the wealthiest county in Florida, and the number four Forbes "America's Millionaire Capitals," Palm Beach county is a hotspot for business connections and opportunities. Not to mention, businesses in Palm Beach county benefit from the Florida tax structure which allows businesses and individuals to be free of state income taxes.
Businesses who want in on profitable opportunities in this part of the world will want to get a Palm Beach county phone number as soon as possible. Aside from the potential for strong growth in commerce, Palm Beach county attracts businesses with low taxes, great weather, quick access to three international airports, deep-water ports, and proximity to South American markets. Will all of these attractions, it is no wonder that so many businesses set up in this part fo the world, and a company with a Palm Beach County phone number can earn access to this rich and dynamic marketplace without even having to set up a physical location (although who wouldn't want to move to sunny Florida).
Palm Beach county is home to a few cities (Boca Raton, Highland Beach, Delray Beach, Palm Beach) with some of the nation's wealthiest individuals. For this reason there are a large number of charities and nonprofits that try to set up close to this kind of network of financially well-off and business savvy individuals.
There are fundraisers, galas, and events almost any night of the week in Palm Beach county, and if you have a local Palm Beach county phone number it will be far easier to gain access to these events if it appears that you are a local business owner.
Healthy living has been a blossoming industry in most large cities, however Floridian, and especially those in the cities listed above have taken to expensive vegan diets, luxury gym memberships, and have developed a strong affinity toward cosmetic surgery since residents in this part of the state have the means and the desire to afford it.
It probably helps that everybody is frequently at the beach wearing swimwear and wants their body to look good. Any company with a new health drink, or detox will be hard pressed to find a stronger market than Palm Beach county, which is another reason to get a Palm Beach county virtual number. Establish a presence, make the connection, expand your market share.
As home to a variety of headquarters for large companies such as Office Depot, The ADT Corporation, The GEO Group, Campus Management Corp, and G4S Secure Solutions (plus any more), Palm Beach county phone numbers are becoming increasingly popular among non local businesses. If your business wants to create connections with these large national corporations, a local phone number will take you far in your pursuit to grow and become more profitable.
It is worth considering as well that typically companies will want a local phone number to appear local while they are really in another state/country. However, it may the case that a company wants a Palm Beach county phone number to contact businesses in other parts of the world, in addition to Palm Beach county, because of the status that is associated with a business in Palm Beach county.
A palm Beach county phone number is all about the networking opportunity that it allows. Gaining access to such wealthy and intelligent individuals in this market will only benefit your company and it's growth. You better come prepared with some Florida small talk though, make sure you know about Henry Flagler and his contributions to the massive growth spurt that he encouraged in 1894, when he extended the Florida Railway. Some fishing talk won't hurt either, especially if you're a boat owner!