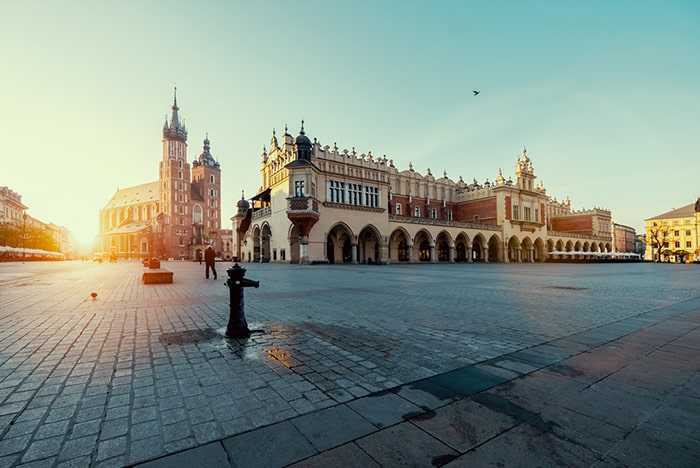 The Republic of Poland is located in Central Europe and covers an area of over 300,000 square kilometers. It is home to over 37 million people, the majority of which live in modern metropolis' such as Warsaw or other large cities such as Kraków and Łódź. Poland is a member of the European Union and is bordered by the Baltic Sea as well as Lithuania, Ukraine, Germany, Slovakia, and the Czech Republic. Getting Poland phone numbers for your business can help optimize your exposure.
Expanding into Poland
Poland is a great country to market your business to using Poland phone numbers. Poland telephone numbers are comprised of 9 digits and do not use the prefix '0' to make a call within the country as was required in previous years.
The nation of Poland ranks very high on the High Development Index, and Poland has one of the best economies in the European Union. It is home to the Polish Stock Exchange in Warsaw, which allows the citizens of Warsaw to enjoy high-incomes and elevated levels of living standards.
The workforce in Poland is highly educated due to their well-developed educational system that provides free university educations. Polish citizens also benefit from a universal healthcare system and social security. Using Poland virtual numbers to attract these overseas workers can take your business from a local shop to an international corporation.
Since the turn of the 21st century, Poland has been a market-based democracy and is a member of both the European Union and NATO.
More About Poland
Poland has both forests and mountains, as well as bustling cities, such as its capital city of Warsaw. Warsaw is an exciting city that blends historic architecture with new, modern buildings throughout the city. Although the majority of the architecture was destroyed in World War II, many original buildings were restored and stand today. Gdańsk is another important city in Poland as it rests on the edge of the Baltic Sea and is home to several busy port centers.
Poland phone numbers are divided by city and neighboring areas, and each of these areas has its own unique code for making calls. These codes begin with number 12 for Kraków and end with 95 for Gorzów Wielkopolski. Although you can divvy up Poland phone numbers by city and the surrounding area, each region has its own significance. Each region has its individual cultural differences and traditions. Although these provinces have the same traditions, their historical territories sometimes differ. Poland's regions are Greater Poland which includes the nation's original capital, Lesser Poland which despite its name is home to very large cities and the heart of their tourism industry, Central Poland and Masovia, Podlachia, Pomerania and Culvavia, Silesia, and Warmia-Masuria which is where you can find the Polish countryside as well as untouched lakes, forests, and hills.
The country is also a member of the Schengen Agreement which allows its citizens to travel freely through certain countries within the European Union. Because of this agreement, people from the United States, Canada, Israel, South Korea, and Japan are allowed to stay in Poland for as long as three months without acquiring a Visa. Tourists from other countries, though, are required to have a traveling Visa.
Global Call Forwarding offers virtual Poland phone numbers for businesses that want to expand their business to this country, as well as for travelers who would like to avoid international calling fees while visiting the country. Global Call Forwarding offers several options for Poland phone numbers including acquiring a toll free number, a universal toll free number, a mobile number, and a geographic number. Mobile numbers also come with the opportunity to send SMS. There are several different plans for Poland phone numbers that were created to fit every budget. The packages are based on the need for multiple sizes of businesses from small to large corporations. Travelers who need to use their phones for business while on vacation or if they are doing business overseas in Poland, have the ability to benefit from a small and very cost-effective plan from Global Call Forwarding.