Has your business been considering getting United Arab Emirates phone numbers? If so, you should know that Global Call Forwarding enables businesses to get connected to the UAE simply by subscribing with our service. Subscribers have different varieties of phone numbers to choose from, including:
Geographic Numbers
Toll Free Numbers (mobile accessible)
Modern telephone numbers from Global Call Forwarding are made possible by cloud computing technologies, such as VoIP. More specifically, these phone numbers are referred to as "virtual phone numbers." Therefore, let's first take a look at how United Arab Emirates phone numbers work.
How United Arab Emirates Phone Numbers
Virtual phone numbers are a type of technology that enables phone-based communication to occur instantaneously around the world. This type of communication varies from the old telecommunication methods which required long expanses of landline cable. Instead, Businesses and individuals can communicate by using internet-connected devices, as well as by interfacing with landlines.
Essentially, when a virtual phone number is dialed by a caller, the call is redirected to another phone number (which is referred to as the "destination phone number"). Packets of audio data are instantly transmitted in real-time between users so that communication is seamless. The effect of this seamless communication means that if your business is located in another part of the world, you can still reach customers and businesses in the United Arab Emirates in the same way domestic businesses can.
Geographic UAE Phone Numbers
Geographic United Arab Emirates phone numbers are virtual phone numbers that have the same country code (+971) and area/region codes that "regular" phone numbers in the United Arab Emirates have.
The benefits of geographic phone numbers are wide-ranging, especially for businesses that want to immediately establish a presence in the country's robust markets. For instance, your business can access these markets without facing restrictions that service providers may institute, such as long-distance fees or service blockages. Better yet, those located within the UAE can dial these phone numbers in the same fashion as domestic phone numbers, making it more likely that customers and clients can access your business.
Toll Free United Arab Emirates Numbers
Toll free United Arab Emirates phone numbers are exactly the same as toll free numbers from anywhere else. By subscribing with Global Call Forwarding, your business will receive a phone number with the same country code and remaining digits that match current toll free numbers within the country. Typically, these phone numbers are available as ITFS numbers, which are short for "International Toll Free Numbers." When a caller in the UAE calls this number, they are not charged long distance fees. For businesses that don't use toll free UAE phone numbers, callers in the UAE will be charged for making calls – which defeats the purpose.
The benefits of toll free numbers are numerous. First, by enabling your customers in the UAE to reach your business without incurring fees, you make your business more accessible. Secondly, toll free numbers give your business a professional sheen that local numbers do not. Third, customers appreciate having the ability to call a phone number and not incur a charge, which immediately helps when establishing your business as a professional entity worth doing business with.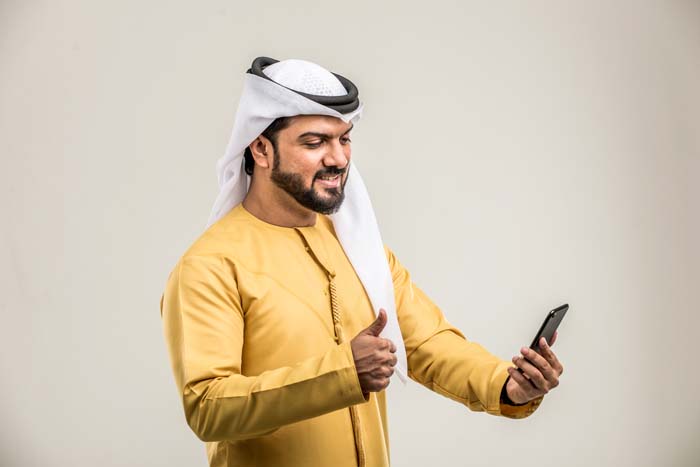 How to Get United Arab Emirates Phone Numbers
If you're ready to get these phone numbers for your business from Global Call Forwarding, the process is simple.
First, you will begin at Global Call Forwarding's home page at www.globalcallforwarding.com. There, you'll find a series of dropdown menus labeled "Select Your New Phone Number" and "Enter Your Destination Phone Number." To begin the process of getting a United Arab Emirates Phone Number, you'll begin by selecting the United Arab Emirates country code, (+971).
Next, you'll be given the opportunity to select which type of United Arab Emirates Phone Number you need. If you decided to choose "Geographic" as your selection, you may be prompted to select a sub-menu which is city-specific. For toll free phone numbers, a phone number will be provided upon activation.
After this, enter in your destination phone number in the appropriate dropdown menus, including your country code and the corresponding digits for the number that you want to route calls to. Once complete, click on the button for "View Rates & Try for Free."
Following selecting a new United Arab Emirates Phone Number and entering your destination phone number, the process is fairly straightforward. You'll select between a free trial or a number of payment plans to fit your usage needs (from individual usage to full enterprise solutions), as well as any add-ons and features to enhance your communication for the phone number. Then, you'll enter in your contact information, billing & payment information, and be able to verify your purchase before finalizing the transaction.
Once complete, a representative from Global Call Forwarding will contact you within 24 hours to ensure that your United Arab Emirates phone number is set up properly and if needed, answer any questions you may have.