About Virtual Office Numbers
When starting a new international business from scratch, or seeking growth for a current enterprise, it soon becomes apparent how difficult this task can be. Knowing exactly how to make a company a success doesn't come with a one-size-fits-all formula. That being said, there are highly recommended and proven practices that can help.
Those with economic ties to the Middle East can make use of Saudi Arabia virtual office numbers. Using this as a resource, business owners and entrepreneurs will not have to spend time or energy setting up a physical office space. This is because virtual numbers are not bound to traditional landlines and they can be forwarded to any location or device.
Having a digital office makes business operations more affordable. With Saudi Arabia virtual office numbers, there is no need to buy or lease an expensive office space. No office equipment is required, such as hardware or furniture. For small businesses and startups, this is an especially attractive option for being able to compete with companies that have much larger budgets. Virtual offices legitimize operations of every size.
Best of all, digital offices have all of the components of a regular company. Make use of local area codes and have them forwarded to your phone. Employees will then receive a dedicated line for communications. A personalized voicemail greets incoming callers during or after business hours. These features and more are possible, enabling the most effective means of communication, which equates to better customer service for your clientele.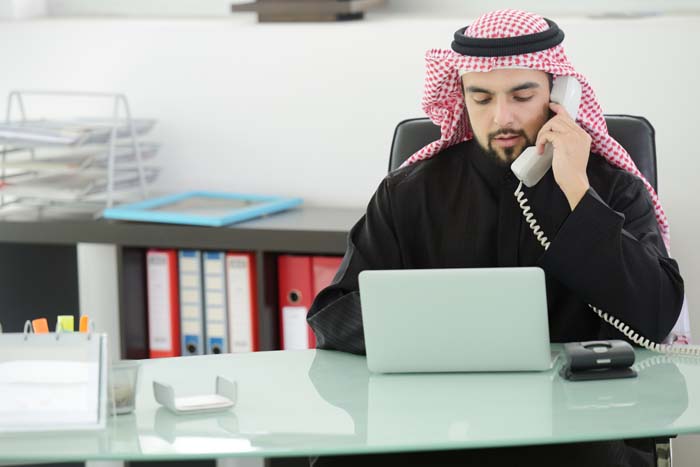 How Virtual Office Numbers Help Enterprises
Saudi Arabia is an economically diverse nation. Cities such as Mecca, Medina, and Jeddah have millions of people residing there. The capital Riyadh is a metropolis filled with tall skyscrapers. When you have clients, remote employees, vendors, suppliers, and more in any of these cities and the surrounding areas, your best option to take advantage of the potential business is to utilize Saudi Arabia virtual office numbers to ensure that no communications are lost.
For instance, a personalized voicemail can inform clients of a new promotion or special in their area. These pre-recorded messages can also play while they wait for the next available agent. This is a method frequently used with callers and it is effective in improving client relations.
Saudi Arabia virtual office numbers come with local area codes with forwarding abilities. So, even if your virtual office is thousands of miles away, residents will still see the call as a local telephone number. You can choose area codes from all over the world.
Truly, there is no shortage of options for this office solution. In fact, many business owners, and their employees find more flexibility in their day as a result. Since virtual numbers travel with you, individuals can feel free to vacation or go on sales calls as needed without worry.
Saudi Arabia Virtual Office Numbers
Saudi Arabia was considered an absolute monarchy until recent times. Around 1992, they introduced the country's first constitution. The country of Saudi Arabia is in Southwest Asia, bordered by Iraq, Jordan, Kuwait, the United Arab Emirates, Qatar, Oman, and Yemen. It rests near the Red Sea and the Gulf of Aqaba. Because of its proximity to these coasts, they can leverage natural resources such as oil.
In fact, Saudi Arabia is well known for its abundance of natural resources in the Middle East, ever since oil was discovered in the 1930s. They extract millions of barrels of oil per day, most of which is exported to other countries.
Saudi Arabia is home to the world's greatest continuous sand desert. Other types of land include a central plateau, coastal plains, and mountains. The climate, for the most part, is dry and hot; however, the nights tend to be cooler. There is much humidity along the long coastlines. The locale experiences sandstorms and high winds for about three months out of the year. Rainfall is fairly infrequent.
Saudi Arabia virtual office numbers allow members of your team to jump into this economy and natural resources. Read on to discover how to get your digital phone numbers today.
Global Call Forwarding – Virtual Office Numbers
Are you ready to set up your Saudi Arabian virtual office? You will easily be able to keep operating costs relatively low and develop a more professional image with the right assistance. Saudi Arabia virtual phone numbers can help achieve your goals.
Virtual offices work for most industries and they add legitimacy to any working company. In fact, set up your new office from the comfort of your living room. This saves a portion of your day that is usually spent commuting to work. This decreases distractions and increases productivity. Not only that, you are effectively allowing for a greater work-life balance.
Finally, digital numbers are scalable, which means their capabilities grow when your business grows. Because of their forwarding abilities, you do not have to "move" phone numbers during major changes, such as relocation.
Contact Global Call Forwarding today for your Middle East Saudi Arabia virtual office numbers. Our team is ready and available to help you get started today.