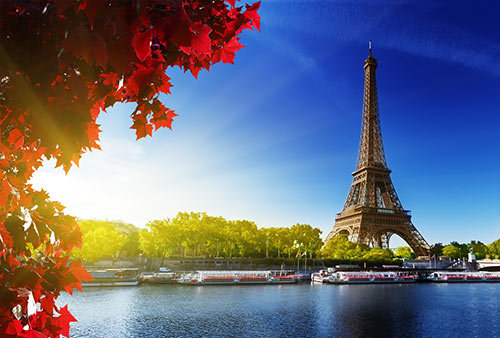 Looking to route calls to another phone number for your business? Then you need a virtual phone number. Virtual phone numbers enable national and international calls to be made on behalf of your business (or for personal reason) without accruing the charges that come from making non-local calls.
Selling Points
The best part about using a virtual phone number service is that whether you are based in Paris (or elsewhere in France, Europe, or the world), you can still use Paris virtual phone numbers to connect with callers. Similarly, these virtual numbers are a low-cost method for Parisian residents (and the surrounding metropolitan region) to forward their number to just about any city simultaneously, and vice versa, these numbers allow other countries to reach potential markets in France.
It's worthy to note that virtual numbers are not associated with a specific device or proprietary hardware; you can use them for mobile phones, tablets, laptops and desktop computers alike, as well as traditional landlines and physical handsets. This allows for a seamless transition with less overhead (i.e. equipment, headsets, and other tech gear) that other methods tend to require. Additionally, employee training time is significantly reduced as the learning curve is learned on already-familiar hardware with an easy-to-use account management system. With Paris virtual phone numbers, all you need is a device and your employees can start handling your new Parisian customers.
Another selling point for Paris virtual phone numbers is that they give you the ability to use either a) specified area codes or b) toll free 1-800 lines. Depending on how your business is run and structured, you can use either method as you see fit.
If this sounds promising and you want to learn more about how to capitalize on leveraging Paris virtual phone numbers for your business, you can read more about the enterprise benefits below.
Enterprise Virtual Phone Numbers
Let's first look at an example of the flexibility and versatility of using virtual phone numbers.
Suppose that you've listed a specific virtual phone number on your website. This business line allows for potential customers to reach the sales division in your organization. While you may have a fair number of sales personnel who can potentially handle these inbound calls, what happens if there's a temporary spike in call volume? Would all the other salespeople, who may be handling a call or are temporarily away from their desk, miss out on the opportunity to close a sale?
Thankfully, with Paris virtual phone numbers, the answer is no. The reason for this is the enterprise virtual phone number feature known as "simultaneous ringing." Simultaneous ringing works like this: when a customer dials your Paris virtual phone number, the line rings simultaneously on every phone of the team (or everyone who is specified) until it is answered by an available employee on your sales team. This allows for your potential customers to speak with a real person — not an impersonal answering machine, or a busy signal, or any other potential inconvenience.
Of course, this is only one example of the many enterprise features Paris virtual phone numbers can bring to your company.
Paris Virtual Phone Numbers
Whether it is the iconic Eiffel Tower, The Arc de Triomphe, The Louvre, or just the cosmopolitan and sophisticated Parisian culture in general, there are thousands of great reasons to conduct business in France's capital city. Considering Paris is one of the most popular cities for tourism in the world and one of the most populous regions in France (2.2 million residents), it makes absolute sense to conduct your business there with Paris virtual phone numbers.
It should be noted that Paris virtual phone numbers can serve as the gateway for your international organization to break into French markets. After all, Paris is renowned as an international center of culture — using Paris virtual numbers can imbue your business with the same type of class and authority that top-tier organizations use.
Contact Global Call Forwarding
If you're convinced that your business is ready to make the leap in Parisian markets, consider working with Global Call Forwarding. Since many of your potential customers prefer dialing local or toll-free numbers when directly contacting a business, it naturally follows that Paris virtual phone numbers can expand your business by being more personal with customers.
If you're looking to expand your business presence and enhance your reach in the Parisian metropolitan area (i.e. the 20 arrondissements and beyond), it makes sense to meet customers on their terms and where they live. Conversely, this allows anyone at any time to contact you from anywhere in the world. For small businesses and those new to international markets, a Paris virtual phone number can give your business the resources of a larger enterprise.
Working with Global Call Forwarding can streamline your business, especially if you rely on data and metrics. For instance, you will enjoy being able to see who called, at which time, and from where the call originated. Global Call Forwarding also allows you to use blacklists to block spam numbers or areas where you do not offer services. This makes sure that employees can make the most efficient use of their time by answering only the calls that matter to your business model.
For all of your enterprise solutions, contact Global Call Forwarding today. Our teams make it simple to get started. Call us at +1 (561) 908-6171 to learn more about our services.