A virtual phone system makes use of the internet, as well as some of today's leading technologies, to improve the way businesses communicate with their clients and other contacts. It is considered a convenient and affordable option for enterprises of any size that want to upgrade from a single, traditional landline or personal cell phone. Not only that, a virtual system requires no hardware, so it's relatively easy to make the switch.
Since the system is internet-based, international calls are now more seamless than ever. Enterprises in the United Arab Emirates (UAE) can more effectively manage their clients nationally and abroad.
What benefits can you expect from UAE virtual phone systems? They range from simple voicemail features to the more complex call diverting options. But the best advantage is that a virtual system makes employees more productive. Since calls are instantly routed to the intended destination, teams can work from any location, even remotely. Voicemail and fax can also be sent to any email account you choose, furthering your options.
In short, UAE virtual phone numbers continue to work for your company long after you head home for the day. All you need is a reliable internet connection to make this possible.
Enterprise Telephony in UAE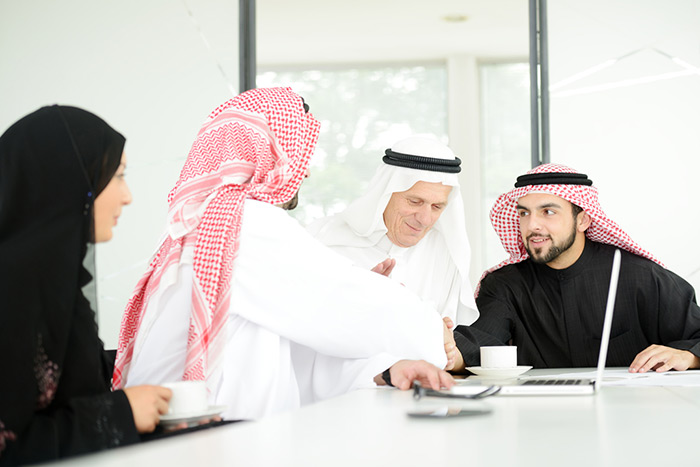 When used on an enterprise level, call charges with UAE virtual phone systems are generally less expensive than traditional carriers. Not only that, teams and employees eliminate expensive "roaming" charges altogether. This is because your organization's phone numbers are stored in the cloud online.
Even today's top talent can get caught up in the ever-changing business environment. This means the nature of a company is constantly changing and growing, and change can even happen overnight. This is why you need a scalable solution to your business communications that can grow with your brand. For example, UAE virtual phone systems allow you to build up new call centers in the cities of Abu Dhabi, Dubai, or even Sharjah in no time at all. These centers can help you keep up with the number of calls you receive on a daily basis.
If you have a "non-traditional" working scene, a virtual system works entirely in your favor. This is due to the fact that the UAE phone numbers move with you. So even if you or your team members need to change locations many times throughout the year to keep the business going, this shouldn't be a problem.
Finally, consider all of the feature-rich options virtual lines have for established organizations. Custom greetings, IVR, and VIP callers are just the beginning.
UAE Virtual Phone Systems
A digital solution may be exactly what your company is looking for, whether you're a startup, sole proprietor, or large organization. See what else is possible with low-cost UAE virtual phone numbers.
Almost 9.9 million people enjoy the beauty and wealth of the United Arab Emirates (UAE), as of 2020. Sharing its borders with Saudi Arabia and Oman, this country is also located close to Qatar.
This desert climate country is considered one of the wealthiest in the world, largely due to its oil-based economy. Other main industries are petroleum, aluminum, fertilizers, and construction materials. As for agriculture, the UAE produces products such as vegetables, poultry, dairy, and fish.
Most of the UAE's wealth is derived from tourist attractions from the millions of visitors they receive every year. If your company is in the tourism or hospitality industries, it may benefit from a virtual presence in the UAE. For example, the Burj Khalifa in Dubai is a well-visited building because it is the tallest freestanding structure in any country. The observation deck is an especially unique highlight for those who want to enjoy the view. The Hajar Mountains are another attraction with twisting roads with breathtaking scenery. In the UAE, those who enjoy nature can participate in activities such as hiking in the desert and bird watching while exploring the surrounding natural areas.
International Calling Capabilities With Global Call Forwarding
When switching over to UAE virtual phone systems, you don't have to worry about changing or giving up your current business numbers. Simply route the old numbers to the new ones to the chosen destination. This way, you don't run the risk of losing business simply because the number has changed.
Forwarding services give the impression of a professional, collaborative team even if everyone is based in different time zones. Incoming calls can be diverted to any office, landline, cell phone device, or tablet. No more hunting for extension numbers and customers will be able to spend less time getting frustrated over call waiting.
If you want to make a change to UAE virtual phone systems, your team can buy UAE 800 toll-free numbers in no time at all. An additional benefit is if you're already using your current Wi-Fi network, which will cut down on expenses and setup times. There is no expensive installation required or dedicated hardware to manage. Just contact Global Call Forwarding and we can have your virtual phone system up and running as soon as possible.