How many times have you dialed the phone number to a business' customer service department and been greeted by someone who sounded like they were less than enthused to answer your call? It happens often, unfortunately, but businesses do not realize how much this can hurt them. Just because a customer service representative is on the phone all day does not mean that they have to be bored and sound really unhappy. The proper telephone etiquette and some enthusiasm can go a long way in sounding professional when customers call your business – ultimately giving your business a reliable appearance.
Here are a few tips for sounding professional when customers call your business to help you make each phone interaction with your customers an amazing customer service experience:
Using the right phrase will start a conversation off on the right foot. Beginning a conversation with good morning, good afternoon, or a similar greeting and thanking the customer for their call is a great way to start. Stating your name and then asking them how you can help them comes next. Also, it is important to be friendly, upbeat and act like you love your job while providing the best customer service to them. This can all be heard in the tone of a customer service representative's voice, as well as in the words that are chosen in speaking to customers.
The Power of Positivity
Positivity is also paramount. Ensuring a customer that you will work diligently to resolve whatever issue they have called about and that it will be solved as quickly as possible is important. If you are not able to resolve the issue yourself, ensuring the customer that you will then find someone who is able to is important as well. Saying something like, "I am sorry that you are dealing with this issue, but we will figure this out and resolve this for you as soon as possible" exudes positivity versus sitting on the phone and telling a customer, "I just can't figure this out" or "I don't know what the problem is and I am not getting anywhere with this." Fill your conversation with positive statements, no matter how challenging the issue is to resolve.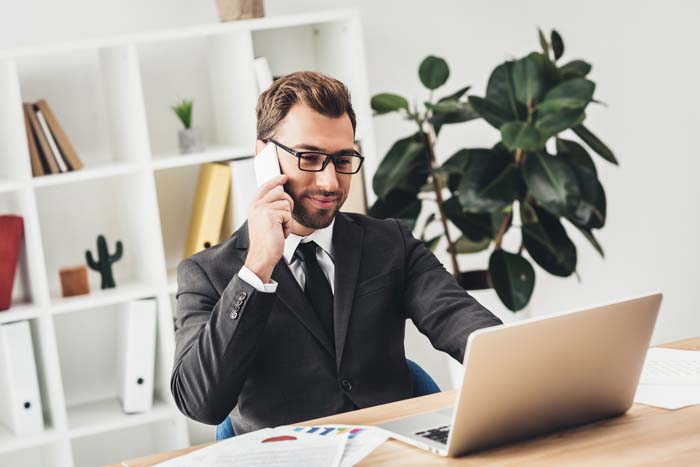 Pay Attention to the Energy You Give Off
Displaying energy through the sound of your voice also goes a long way. Even if it is super early and you have not had your coffee yet, sound like you are excited to speak with them and be of service to them through the resolution of their issue. Even if they are agitated and possibly raising their voice, it is your job to remain calm, energetic, and positive.
Being patient is another principle part of sounding professional when customers call your business. If you happen to ask the customer a question, be patient and wait for them to give you an answer. Do not talk over a customer. Talking over a customer is not only rude, but it may also cause you to miss out on hearing something very important that they are trying to convey to you. If you talk over a customer, they will need to repeat themselves and this will not only potentially aggravate a customer, but also force things to take a longer period of time to resolve. Remember to wait patiently for their full response.
Dealing with distractions in an appropriate way is another tip to sounding professional when customers call your business. There will always be distractions. It is part of life, no matter if you are working from a call center, your own office, a home office, or some other location. How you deal with those distractions is key. Callers know if you are distracted. From the moment you answer their phone call to the moment the call has ended, your one and only focus should be on the customer you have on the phone, their explanation of their needs, and how you are going to go about resolving any issues and fulfilling their needs. It is important to be attentive and helpful and treat the caller in the same exact way that you would want to be treated.
Just as displaying energy and positivity is important, the tone of your voice in demonstrating energy and positivity is just as important. Customer service agents should examine how they sound when they answer the phone. You should sound happy. Practicing with other coworkers in training can help customer service agents to hear themselves and adjust, if needed, accordingly.
Sounding professional when customers call your business is critical to the vitality and growth of a business. Remember that the person on the other end of the call is a human being and they are calling for help, guidance, answers, and to determine if they will invest in your brand or not. Make sure conversations are kept professional, focused, and upbeat from beginning to end.