A fairly new addition to the city of Atlanta (as of 2010), 470 area code – Atlanta numbers have been helping businesses and individuals get in touch with one another throughout "The ATL." Initially created as an overlay to the 678 area code, 470 area code – Atlanta numbers still require Atlanta residents to dial ten digit numbers even when making local calls. According to the organization NANPA (the North American Numbering Plan Association), the 470 area code – Atlanta was chosen at random and only based on the availability of the particular combination of numbers.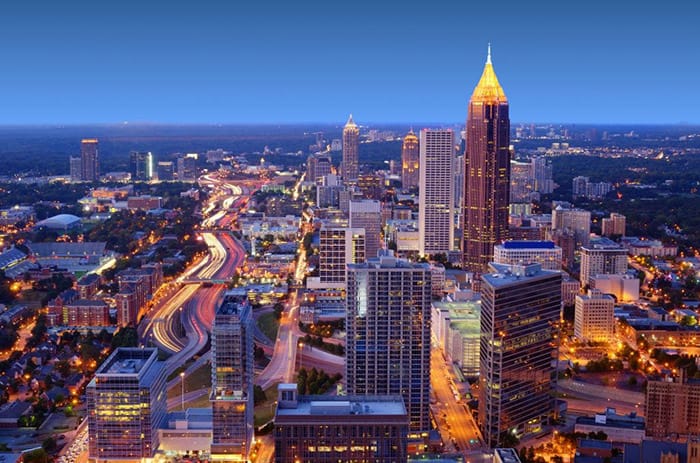 This change towards 470 area code – Atlanta phone numbers has been due in part to Atlanta's impressive population growth and in particular, the metropolitan area. The metropolitan area of Atlanta now has four area codes: the 470 area code, the outgoing codes 404 and 678, and 770 (primarily assigned to outer metro Atlanta phone lines). Considering that each area code can only accommodate 8 million phone numbers, getting a phone number with the 470 area code offers tremendous possibilities for businesses, entrepreneurs, and individuals.
Why Choose 470 Area Code – Atlanta Numbers?
The main reason that you or your business may want to get 470 area code – Atlanta phone numbers is to gain access to new entrepreneurial activities in Atlanta. After all, the 9th largest city in the United States (at 5.6 million individuals) is home to great opportunities and business connections. If you're looking to continue on that path, you can expect great results when you consider that Atlanta's growth exceeds twice the national average (as of 2015).
Consider that the following Fortune 500 businesses are headquartered in Atlanta: Home Depot, UPS (United Parcel Service), The Coca-Cola Company, Delta Air Lines Inc., The Southern Company, Genuine Parts Company — just to name a few household names. There's good reason for this, as Atlanta is becoming a great place to launch a startup and the ability to hire affordable staff due to the low minimum wage requirements. The city also has a lower cost of living than most other metropolitan hubs.
By choosing a 470 area code – Atlanta phone number from a qualified service provider like Global Call Forwarding, users get to take advantage of cloud computing's effect on communications: virtual phone numbers. That's where it's crucial to understand what virtual phone number are and how they work, as they can open up new worlds of business personalization or demonstrating your commitment to the Atlanta metropolitan area.
What are Virtual Phone Numbers?
Virtual numbers are easy to understand. Simply put, a virtual phone number routes calls from one phone number to another phone number (known as the "destination" number) via the cloud. For instance, if you have a 470 area code – Atlanta virtual phone number, any calls made to this number can be forwarded to another location — which may be any location in the world, including other U.S. states or regions, as well as countries around the world.
Vice versa, if your business makes a call that's routed through a 470 area code – Atlanta virtual phone number, that number will be indistinguishable from "normal" phone numbers and function the same.
Benefits of 470 Area Code – Atlanta Virtual Phone Numbers
Entrepreneurs can utilize 470 area code – Atlanta virtual phone numbers in a number of ways for their business model.
First, virtual phone numbers with a 470 area code are a type of "social proof." As an example, when a Georgia resident sees that you have a 470 area code listed on your website or on an advertisement, they subconsciously view your company as a local one. Using this method of marketing allows you to gain new clients at a much faster pace, as it builds trust and authenticity. For individuals, the idea is the same. If you're an entrepreneur that regularly visits Atlanta on business, these phone numbers can help you establish an Atlanta presence without establishing an Atlanta residence.
Second, a key advantage of virtual phone numbers is the ability to reach Atlanta markets on the terms of your potential customer basis. If your business is an international entity, customers that live in Atlanta may not have the ability to call your business outside of the United States. With virtual phone numbers, your customers aren't charged for dialing outside of the US.
Third, these numbers allow your business' incoming and outgoing calls to be handled by your pre-existing staff. There's no need to hire new staff in Atlanta or build a new location to scale your business. Instead, your team members can be based in one location, while calls to and from Atlanta are instantly routed and handled as if originating within the city.
How to Get a Phone Number with a 470 Area Code
Start by visiting https://www.globalcallforwarding.com/. Once on Global Call Forwarding's homepage, you will see a number of dropdown menus.
Find the first one, "Select Your New Phone Number" and select the country code, which is United States (+1).
Next, select a number type. For 470 area code – Atlanta virtual phone numbers, select "Georgia (SMS Optional)."
A new dropdown menu will appear, which prompts you to select a city and corresponding area code. For this option, select "Atlanta (470)." (Depending on the availability and visibility settings, sometimes a number will be provided upon activation.)
After you've selected your new 470 area code number, you have to enter the destination number where your calls will be forwarded, including the country code and the exact phone number.
Then you will be given an option to view subscription plan rates for 470 area code virtual phone numbers or the option for a free trial. Select an option that's right for your business model and usage.
From here, you will enter payment information and contact information as you would with any online transaction. Be sure to give a final review of your order before it is processed.