CallHippo is an on-demand Voice-over-Internet Protocol (VoIP) service provider, offering service in a number of countries worldwide. CallHippo allows businesses that are just starting out, as well as businesses that are already established to purchase local phone numbers in over 50 countries around the world. CallHippo uses cloud computing integrated with phone services, allowing for telephone use through their service anywhere where there is an Internet connection available.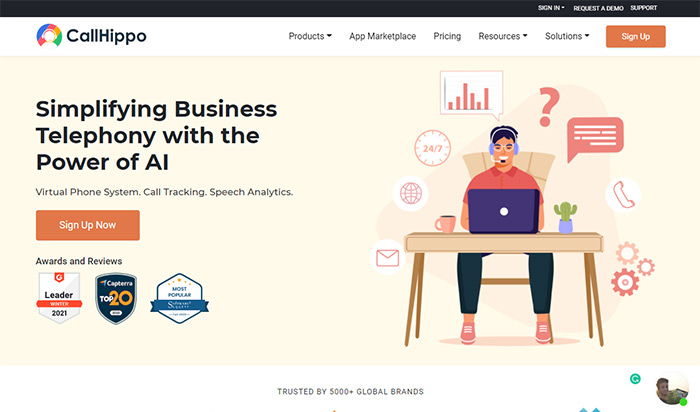 An internet-based virtual phone system is a web-based phone service that is able to handle calls, voicemail, and other types of messages for a business in a more efficient manner. A primary difference between a traditional phone service and a cloud-based phone service is that the cloud-based service does not require extra cables or hardware and is accessible to both small and large businesses.
The Many Features of CallHippo
CallHippo offers an activity feed, which lists the following:
Call analytics: includes caller details, call status and the duration of the call
Call recordings: ability to listen to recordings of calls directly from the dashboard
Status report: up-to-the-minute call history
With CallHippo, you are able to add new numbers to your service, which could include a new number for each country, a different number for each department within a company, and/ or a virtual phone number.
Other features that CallHippo offers include:
Setting time-zone for calls based on the location where you are when you are receiving the calls.
Customizing and setting the working hours during which you will be available to receive calls through your virtual phone number.
Voicemail setup, which reroutes incoming calls to your voicemail per your set times that you are available.
With the telephone call service that CallHippo offers, you are able to collaborate with different members of your team and allocate during which times of the day/ night each team member will be receiving rerouted calls versus leaving a point during a 24 hour day that calls are not answered. CallHippo also offers a feature where the calls made through a designated virtual phone number will ring to all team members that are arranged to receive calls through the system, giving multiple team members the ability to answer calls.
Other features offered by CallHippo include call recording, voicemail, call analytics, and on-hold music.
CallHippo offers both local and toll free numbers at a fairly affordable cost. CalHippo is based in Walnut, California and provides a simple-to-use interface as well as strong backend architecture to help businesses set up their virtual phone systems in a short amount of time.
CallHippo Plans
CallHippo offers three different types of plans, including a free plan, a silver plan, and a platinum plan. CallHippo customers can either pay on a monthly basis or sign up for an annual subscription.
A complete list of features offered by CallHippo includes:
IVR system
Customized messages
Ability to record phone calls
Ability to forward calls to cell phones
Voicemail
Automatic call forwarding
Distribution of working hours for multiple users
Management of contacts
Sharing of contacts
Customer support via email
Ring customization
Call hold
Holding music
Muting of calls
Voicemail sent to email
International numbers
CallHippo is supported by the following operating systems:
Windows
Mac
Web-based
iOS
Android
Customer support for business phone systems provided by CallHippo includes telephone support, live support, ticket, and training.
Using CallHippo
CallHippo software allows customers to purchase local phone numbers to use for their businesses in over 50 countries. A desktop phone is not needed to use this software as calls can be made and received using a web browser.
The CallHippo phone service centralizes all features offered by the service. All calls and any related information such as call history, records, and contact details with regard to the calls are centralized and easily accessible to all team members who have been assigned access.
A business owner is able to oversee the performance of all team members and manage a number of indicators including missed calls, answered calls, and the length of time of phone calls.
The long-term success of any business, whether it is a startup or a long-established company, depends on communication. Inefficient communication often results in negative employee morale, low customer satisfaction ratings, high employee turnover, low productivity and much more. Managing communication well, on the other hand, helps a business to run more smoothly and successfully.
The use of virtual phone numbers is becoming more and more common within businesses, offering companies the opportunity to establish themselves in foreign markets without having to actually be physically present in these foreign markets. CallHippo aims to meet the ever-growing needs of expanding businesses worldwide through their virtual phone service offerings.
A review of Global Call Forwarding vs Avoxi
A review of TollFreeForwarding.com
A review of Talkroute.com
A review of Sonetel.com