This TollFreeForwarding review is intended to provide information about one of the service providers in the international telecommunications industry so that you can make the most informed decisions when choosing a provider.
About Tollfreeforwarding
Founded in 2002, this privately held company is based in Los Angeles, California. They provide international and virtual communications solutions to customers throughout the world. Tollfreeforwarding.com has a virtual number inventory that includes countries in North America, Latin America, the Middle East, Europe, Africa, and Asia Pacific.
Tollfreeforwarding.com handles millions of calls each day with its proprietary call system. As well as international local phone numbers, Tollfreeforwarding.com also provides a number of special features. They also offer multilingual customer service.
A Review of Tollfreeforwarding Services
Toll Free Forwarding offers several featured services including virtual numbers, toll-free numbers, 1-800 numbers, vanity numbers, local numbers, virtual PBX, and RespOrg.
Virtual Numbers
Tollfreeforwarding.com offers virtual phone numbers which can be set up online in around three minutes. Their network of numbers covers more than 1,000 cities and 120 countries including Germany, Canada, and India. Customers can sign up for a free 5-day trial.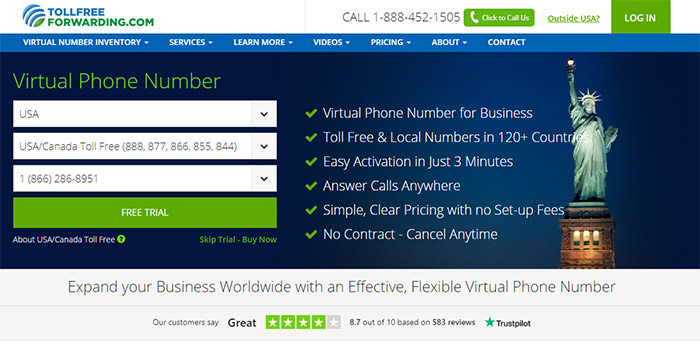 Toll Free Numbers
For businesses with a limited budget looking to expand overseas, Tollfreeforwarding.com offers toll free numbers in more than 120 countries worldwide. There is no need for additional hardware or software and no setup fees. There is no minimum or maximum amount of numbers, no contract, and you can add or remove numbers as your needs change. You can set up and change your forwarding number with the online 24/7 control center.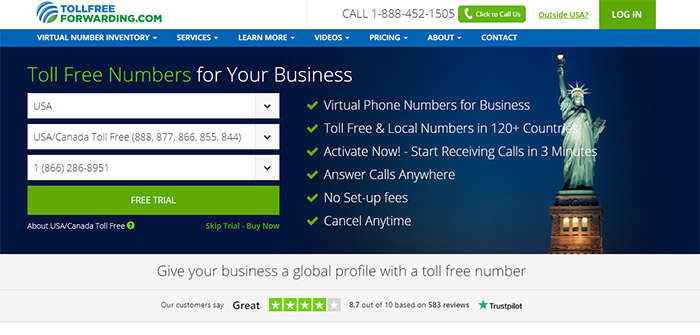 1-800 Numbers
1-800 numbers allow customers to contact your company without having to pay for the call. All TollFreeForwarding.com 1-800 numbers include smart features. Once you have chosen a 1-800 number, it will be activated within 60 seconds.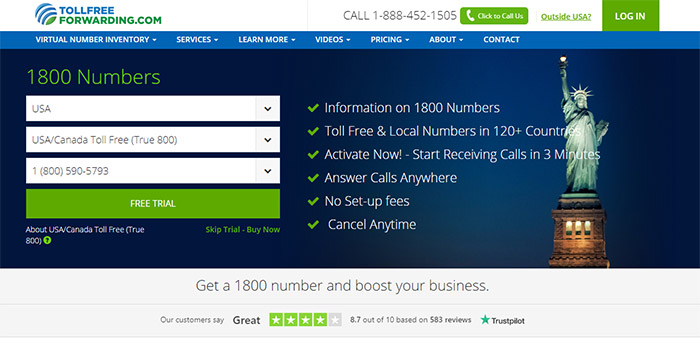 International Numbers
With an international virtual number, you can offer your customers a contact solution with a recognizable local prefix. Like Tollfreeforwarding.com's other services, this one comes with a range of special features. Virtual international numbers prevent your customers from paying expensive international call charges. You can sign up for a free trial for up to 5 days.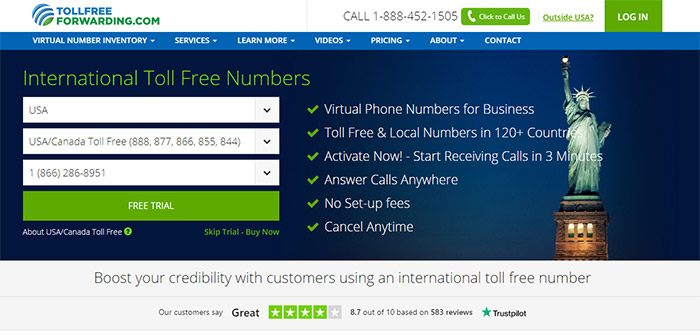 Vanity Numbers
If you're looking for a more memorable number for your company, Tollfreeforwarding.com also offers vanity numbers. A vanity number is a toll free number which spells the name of your company or product or service. Tollfreeforwarding.com lets you choose a descriptive word and see if it is available. It if is, your number will be activated within 60 seconds. There are no set up fees and you can have a free trial for up to 20 days.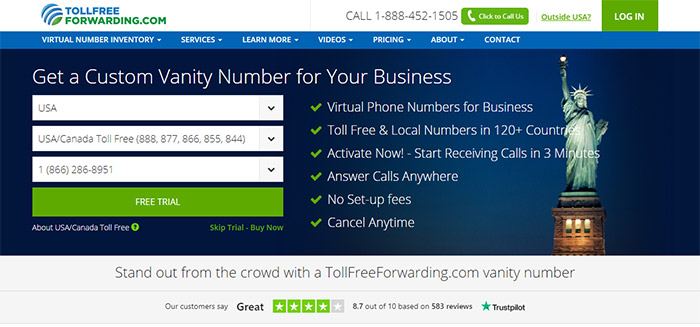 Virtual PBX
A virtual PBX is a voice menu that handles inbound and outbound calls for your office. It can also handle fax, voicemail, and extensions. The service is routed over the internet to save you the expense of on-site hardware. Tollfreeforwarding.com's PBX system allows you as many extensions as you need for no extra cost. It's easy to set up online.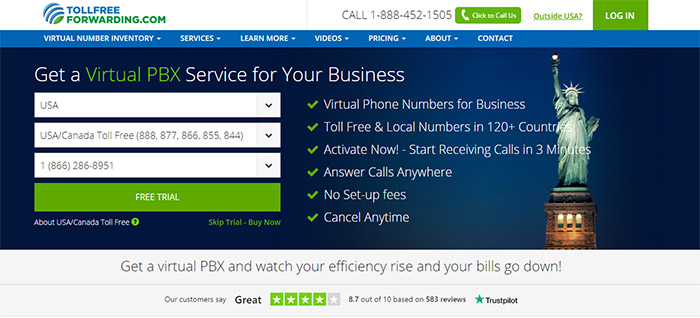 RespOrg
If you already use a toll free number and you want to keep the same one, all you need to do is change your Responsible Organization (RespOrg). You can do this by filling in a form, and the company that administers your toll free number will release it. The process from start to finish with Tollfreeforwarding.com only takes a few days to be completed. Your number remains in service until the paperwork is completed.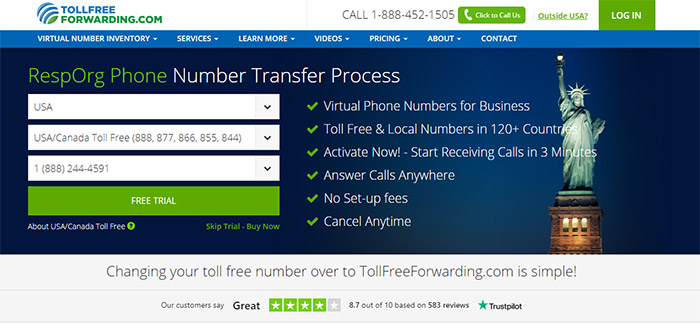 Tollfreeforwarding.com Features
Tollfreeforwarding.com offers several special features with its international, local, and toll free virtual numbers. These include:
Call Forwarding: So that you never miss a call, you can have incoming calls directed to your number of choice wherever in the world you are. You can also choose to have your calls routed to multiple numbers simultaneously or in a specific order.
Time/Day Schedule: You can select scheduling options for your incoming calls based on your days and hours of business and your time zone.
IVR: You can set up a custom greeting and a unique menu to direct callers to different departments or people. All they have to do is select a number on their keypad.
Call Recording: You can take advantage of an optional call recording feature. All recorded calls can be stored long-term so you can use them for staff training and resolving disputes. There is an additional charge for this feature.
Voicemail to My Email: This feature enables voicemail to be sent to your smartphone or members of your team as an email attachment.
Fax to My Email: You can use your virtual number to receive faxes. They are sent to your mailbox as an email attachment.
Real-Time Reporting: All the information about calls made to your Tollfreeforwarding.com phone numbers is stored. You can view it instantly from the online dashboard.
Tollfreeforwarding.com Pricing
Tollfreeforwarding.com offers four levels of pricing with a starter plan, a medium plan, a large plan, and a high-volume plan.
The Starter Plan
The starter package has four different options. For a fixed rate per minute, you can pay as you go with a monthly fee or pay annually in advance for a lower monthly rate. You can also have a monthly plan with 250 minutes and pay as you go for a fixed monthly rate or pay annually in advance for a lower monthly rate. If you use all the minutes in any month, there is a fixed rate per minute for extra minutes. There are additional fees for call recording and long-term storage of recorded calls.
The Medium Plan
Medium plans give the option for 701 or 1,300 minutes. The 1,300-minute plan is currently their most popular package. Whichever you choose, you can pay as you go with a monthly fee or pay annually in advance for a slightly lower monthly rate. Additional minutes are charged at a per-minute rate. There are additional fees for call recording and long-term storage of recorded calls.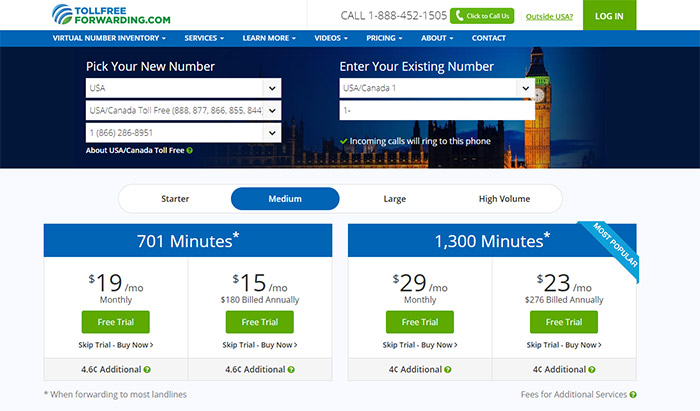 The Large Plan
This plan is ideal for businesses that have a higher caller volume. There are options for 2,592 or 5000 minutes. Both can be paid as you go for a fixed monthly rate or paid annually in advance for a slightly lower monthly rate. There is a per-minute charge for additional minutes. Call recording and long-term storage of recorded calls are optional and require an additional fee.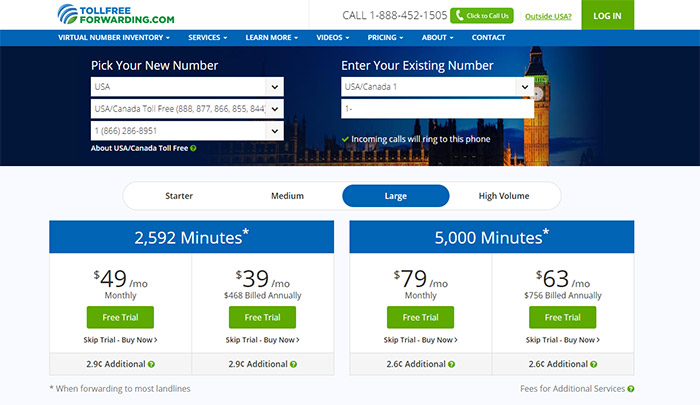 High Volume Plan
For customers who prefer to create their own plan, Tollfreeforwarding.com offers a customized pricing solution. This enables users who have a very high call volume to save money and receive discounts. You can talk to customer support for more details or fill in the online form to request a quote for the high-volume plan.
Global Call Forwarding Services in Comparison
All of these services are great but Global Call Forwarding offers more at a better price! Our services and features include:
While there are many similarities and few differences between Global Call Forwarding and Tollfreeforwarding's services, we hope this answers any questions. Give us a call to learn more about Global Call Forwarding services and features!