---
Hospitality Companies That Can Benefit From IVR
Any company in the hospitality industry that relies on inbound call traffic to make sales and provide customer support can use an IVR system for efficient inbound call management. Some of these companies include: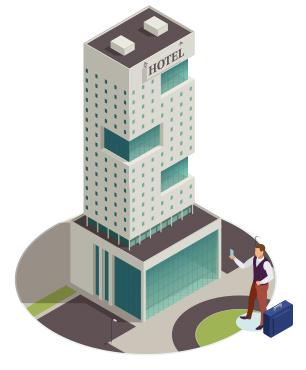 Hotels, timeshares, resorts, lodging
Vacation rentals
Food and beverage services
Restaurants and cafes
Third-party delivery services
Nature and recreation activities
Travel agencies (including online agencies)
Tourism companies (guides and tours)
Medical, educational, and ecotourism
Attractions and exhibits
Entertainment and events
Cruises
Such an automated voice system automatically directs callers to the desired department. And in some cases, they get the assistance they need quickly without waiting to talk to an agent.
What Can You Achieve with IVR?
A well-designed hospitality IVR helps you manage and organize incoming calls. You can create ring groups and backup call routing rules to ensure calls are answered no matter where your teams are located. Route calls to different locations based on language, skill, or time preferences. And by distributing calls evenly, you can make sure your teams are not burdened.
Some ways your hospitality business can use an IVR system include:
Greeting callers
Providing basic company information
Providing information in different languages
Offering hotel/resort information
Making and confirming reservations
Redirecting calls based on location
Transferring calls to the right department
Helping callers when agents are busy
Answering frequently asked questions (FAQs)
Collecting feedback
Providing after-hours customer service.
Global Call Forwarding offers a customizable IVR solution with each of our virtual phone number plans. You can use this feature to design your call flows in a way that works best for your business. And by doing this, your business vastly improves how callers interact with your teams and increase customer satisfaction rates.