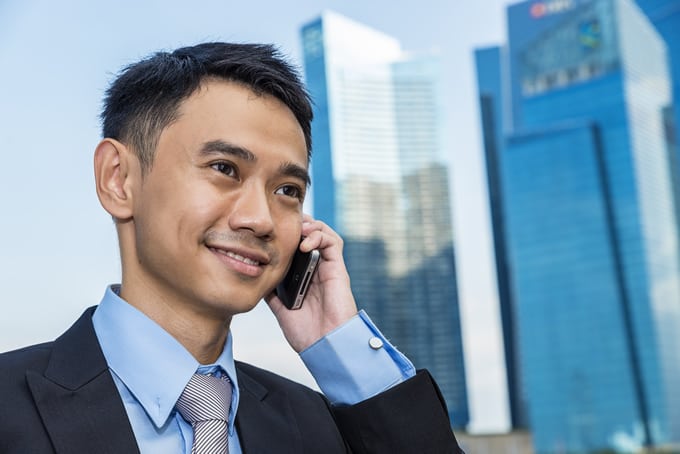 Businesses are always looking for new markets to grow in. However, one of the first hurdles any business has to overcome is communication. In foreign markets, communication is a top priority. Businesses who want to come across as trustworthy and reliable must adhere to local customs and standards to achieve this goal.
Take Singapore, for example. Small and even large enterprises are moving their business to Singapore at exponential rates, but communication is a factor. With various native languages, it can be a challenge to create an instant connection as a foreign business. However, there are ways to navigate these issues.
Global Call Forwarding helps businesses move to Singapore by providing a simple communication line when they buy a Singapore phone number. Because Singapore is quickly becoming a serious center for technological and governmental growth and investment, it is attracting the attention of countless foreign businesses. A local Singapore phone number, therefore, is a must for any business expanding there.
Prior to examining how these local phone numbers work and what businesses can expect when they purchase them, let's briefly take a look at Singapore's economy. We'll then move on to exploring how local or toll free phone numbers can be beneficial.
Singapore's Economy
In recent years, Singapore has gained respect from both local and foreign economists. In fact, it has earned a ranking as the world's best place to do business in by the Economist Intelligence Unit's Business Environment and Ranking Index. This standing has contributed to even further growth, as more businesses see potential in Singapore. The World Bank has compounded this ranking by noting that Singapore also has one of the easiest economies for business in the world.
Singapore has travelled a long and arduous road to enjoy the standing it has today. Lenient regulations, the ease with which companies can secure construction permits, and affordable utilities contributed to its growth. Clearly, for new businesses, the aforementioned all play a critical role in establishing a company in a foreign land.
Singapore also fares well in the export industry including those associated with chemicals, services and electronics. Additionally, it is flagged as one of the globe's most important wealth management locations. As such, Singapore provides easy access to loans and investment income to those just getting started.
What makes Singapore a haven for businesses, in addition to the previously mentioned strengths, are its stable political climate, low corruption risks, and massive growth over the previous two decades. The government has set its sights on other areas such as increasing low wages and reducing dependency on foreign labor. Consumers in Singapore are also starting to turn to foreign businesses for the products and services they need, and new businesses are ready to supply them with the products and services that match their needs.
Why do Businesses Buy Singapore Phone Numbers?
When businesses buy a Singapore phone number, they are getting a way to communicate with individuals in one of the world's fastest growing economies. A Singapore phone number provides customers with direct access to the business they're trying to reach. For businesses, this phone number enables them to power up their marketing efforts and provide their customers with improved customer service.
Global Call Forwarding offers Singapore phone numbers to businesses throughout the world. These phone numbers are managed virtually, and forwarded to landlines and mobile phones anywhere in the world. Instead of being limited to a landline in a foreign country, businesses can buy a Singapore phone number and connect with their customers or contacts in Singapore without added charges. There are several ways this can benefit a business.
For example, if a company has a call center in another country, such as Pakistan for example, they can offer a Singapore phone number to customers in Singapore. Those customers are then virtually forwarded to the number of the call center in Pakistan without any effort on their part. Therefore, when businesses buy a Singapore phone number they are really purchasing an improved means of communication.
Accessibility is the number one reason why businesses choose to buy a Singapore business phone number, and with good reason. Marketing is all but impossible without a brick and mortar location or another means of local presence. Singapore phone numbers make customers more comfortable when contacting a business by providing that local presence. Successful international corporations understand the importance of accessibility, and are the first to purchase local numbers for their business.
Advantages of Buying a Singapore Phone Number
Global Call Forwarding also provides a host of features for their virtual call forwarding service. For businesses, these services include customized voicemail greetings, simultaneous and sequential ringing, time of day routing and much more.
In a global and thriving marketplace like Singapore, a local number is a must. By utilizing an advanced service like virtual phone numbers, and a number that is paired with beneficial services, foreign businesses can fare much better in Singapore.
Tapping into the Singapore economy requires diligence and proper planning. When businesses buy a Singapore phone number, they are contributing to their larger goal of running a successful business in Singapore.