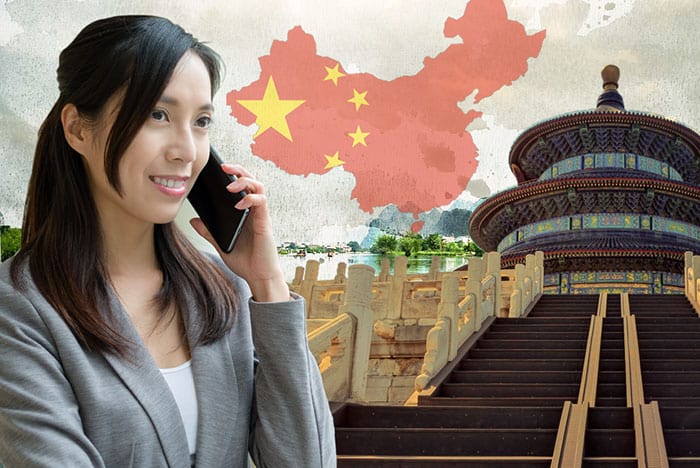 China has seen tremendous growth and development in the past few decades. Get a China phone number for your business and start forwarding calls from China to any phone in the world!
Industrialization and infrastructure spending have slowed down dramatically, but China is still is a profound platform to set up new businesses. With a population of over 1.38 billion, and the country's demand and supply ratios, China is a budding commercial area for many corporations.
China: Economic Overview
The astonishing growth in China has catapulted its economy to become the second-largest economy in the world. When the country began economic reforms in the year 1978, it ranked ninth in GDP with close to USD 214 billion. Barely three decades later, the gross domestic product jumped to the second position by reaching a GDP of USD 9.2 trillion!
China is one of the world's biggest manufacturing hubs. The country weathered the global economic crisis that shook the world better than most other developed countries. The State Council announced a CNY 4 trillion stimulus package in order to shield China from the harsh effects of the financial crisis. This program fueled the economic growth of the country via several massive investment projects.
The country was able to exit the financial crisis in rather good shape with its GDP growing at 9%. The President also announced some new economic measures in the year 2002 to promote a more balanced economic model to better the country's fiscal position.
While economists predict that the growth of the country may decelerate slightly in the year 2017, China will remain to be one of the best performers in the world. A panel of experts expects the country's GDP to slow down to slightly over 6% by the beginning of 2018.
Growing a Business in China
China's economy has grown leaps and bounds from being a predominantly agricultural one to a growing economy with dynamic private and banking sectors. The country now tops the list of the best countries where one can expand or invest internationally.
The people of China are very hardworking and self-motivated, possessing a wide array of professional skills.  As a result, if you intend to set up a business or expand your business in China, you will be dealing with competent professionals who are keen to excel. This coupled with discipline and high level of organization within corporate firms in the country makes doing business in China highly rewarding and profitable.
Get a China Phone Number for Your Business
A China phone number starts with the country code +86, followed by an area code and a string of digits. We provide toll free numbers in China, along with national numbers and local phone numbers. A China national number starts with +86 4008 and is followed by a string of digits.
If you have made up your mind to trade in China, or to expand your business in this country of opportunities, you should get a China phone number.
The interaction between the employees of the company, on one hand, and customers and prospective clients, on the other hand, can become scattered and fleeting, especially if you do not have an office set up in the country. Customer satisfaction is of paramount importance and goes a long way in boosting the growth of the company. And, this is why it is quintessential that you get a phone number in China to boost your company's brand image as well as revenues.
Current and potential clients will appreciate a China phone number for them to use. If you are getting a lot of traffic outside the areas that you have listed, you may be missing out on potential business. If setting up a physical office in China is not feasible, get a China phone number and forward your calls to any VoIP device or mobile number of your choice.
A China phone number is critical for growing business, especially when you cannot set up an office in the country and wish to establish a virtual office instead. When you get a China phone number, you get to choose where you want the calls to that number to be routed to.
This could be your office landline, a virtual call center or a VoIP device in some other part of the world. It does not matter where your call is routed to; it will still be a local call for all your clients and customers in China.
Setting up a China Phone Number
Getting a phone number in China is very easy. There is several leading call forwarding service providers that allow you to create a local presence in the country, by offering you a local number at affordable rates. Once you have subscribed to the service, you will be assigned a phone number. You will have complete control over your number through a simple to use software.
You can easily change the number you wish to forward your calls to, at the click of a button. Simply log in and change the number and all your business calls will be routed to a number of your choice. Your clients and customers will only pay local charges assessed by their telecom provider.
If you are looking for inexpensive means to enter the international market without having to set up a physical office – simply get a China number. Contact us for more details on the various packages and solutions that will give your company the boost it deserves.