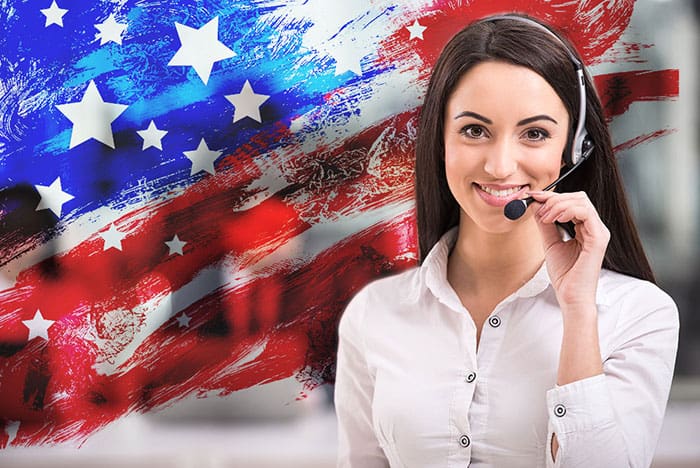 The United States is a country comprised of 50 states and one federal district (its capital, Washington DC). The majority of the states are located within the continent of North America, with Hawaii extending its presence to the Pacific Ocean. The U.S. is the world's fourth-largest country and has a population of around 323 million people. Since the demise of the Soviet Union, the U.S. is often dubbed the world's sole remaining superpower. This is largely due to its global economic, political and military influence. Your business can benefit from the use of American Phone Numbers.
Though U.S. culture is primarily Western, with a great amount of European influence, there are also Native American, African, Asian, and Latin American (among many other) cultural influences. The country has also established its own cultural characteristic, as can be seen in regional dialects, social habits, art, music, and folklore. Many elements of American culture have been adopted by other countries throughout the world by means of mass media.
The U.S. government claims that the country has no official language, and indeed, around 300 different languages are spoken there. The most common non-English languages include Spanish, German, French, and Chinese. Around 90 percent of the population speaks some degree of English.
The United States Economy
The United States has a highly developed, mixed economy and the world's largest economy based on GDP. The U.S. dollar remains the currency most commonly used in international financial transactions. As well as a well-developed infrastructure, the U.S. also has abundant natural resources. The country is currently the world's largest trading nation and the second-largest manufacturer.
Americans enjoy the world's highest average employee and household income. It has been the global leader in the market economy for over 100 years. In terms of the financial market, the U.S. is one of the world's leaders. This is largely due to the New York Stock Exchange, which is the world's biggest and most influential stock exchange. Foreign investments in the U.S. currently amount to around $2.4 trillion, while American investments overseas have reached around $3.3 trillion.
The majority of the U.S. economy is founded on consumer spending, and the country is home to the world's largest consumer market. To put this into perspective, America's household consumption expenditure is five times greater than that of Japan. The U.S. labor market has drawn workers from all over the world, and the country has the world's highest immigration rate. The U.S. economy went through a slump during the financial crisis which occurred in 2007-2008. By the second half of 2009, the country's economy had already begun to recover.
Doing Business in the United States
Most global business leaders consider the United States to be their most important market for overseas investments and expansion. However, doing business in the U.S. can be challenging due to the country's complex taxation system, which works on both a federal and state level. But there is an easy way to extend your business to the U.S. without having to deal with these complexities, and that is with virtual American phone numbers.
American phone numbers for business can be activated within minutes. When you choose them from Global Call Forwarding you also have numerous added options for your service including:
The ability to answer calls anywhere
Toll-free American phone numbers
Advanced Interactive Voice Response
Sequential forwarding to a list of predetermined phone numbers
Failover forwarding so calls are never missed
Forward fax which delivers faxes directly to your email
Today's global marketplace is very competitive, and you cannot afford to lose business because your company is unable to keep up with its international competitors. If you have a business outside of the U.S. without American phone numbers, your enterprise will be at a significant disadvantage which will cost you in terms of growth and worldwide sales.
Choosing Global Call Forwarding for Virtual American Phone Numbers
Since our inception, Global Call Forwarding has become a world leader in providing virtual American phone numbers and virtual numbers throughout more than 150 countries. Over the past 20 years, we have supported many large multinational companies, such as Novartis, Cisco, and IBM – Merge Healthcare.
Whether you choose American phone numbers or virtual phone numbers from another country, all of our numbers are local and/ or toll-free. Each number is also unique to the country of your choice, so your business can have a presence virtually anywhere in the world. We also provide support services 24/7. You can count on the fact that someone will be there to help you, whenever you need it.
Call us today to find out more about implementing American virtual phone numbers. We can set you up with a system within minutes. You can even try our service for free so that you can see what your business is missing. Why delay? Start expanding your overseas influence affordably and effectively today with American phone numbers.