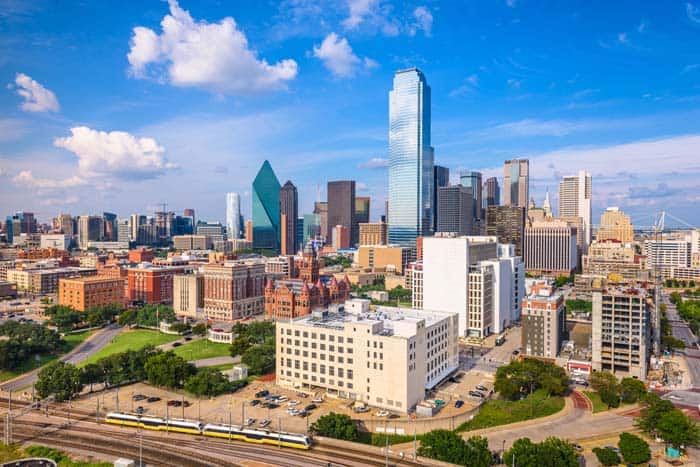 Located in North Texas, Dallas is the region's commercial and cultural hub. The city has the third-largest population in the state of Texas. Historically, Dallas has been a valuable center for the cotton and oil industries. It is one of the most rapidly-growing cities in the U.S. Enter your business into the Dallas market with a Dallas phone number and take advantage of this booming economy.
Why Your Business Should Get a Dallas Phone Number
With a local Dallas phone number, you offer customers and prospects in Dallas an inexpensive way to connect with your business. This gives rise to customer calls regarding product inquiries and customer service. And once customers interact with your staff, you can convert them into recurring clients.
Dallas Area Codes
Our Dallas phone numbers come with SMS capabilities (optional). We offer Dallas local numbers with three area codes:
Customers and interested prospects receiving calls from numbers with these area codes are more likely to answer. This is because they recognize the number as a local number and are more comfortable answering the phone as opposed to an international call or call from a random number. Attract more customers by giving them an easy way to connect with your business.
How Much Does It Cost?
You can get a Dallas phone number plan for as low as $7.95 per month. We offer five different plans so you can choose one that is right for your needs. You can sign up for your new Dallas local number on our homepage.
Why You Should Do Business in Dallas
Dallas is home to a diverse array of businesses. The tech industry is a forerunner, which is how Dallas gets its nickname, "the silicon prairie." The city's other major industries include financial services, defense, IT, life sciences, telecommunications, transportation, and semiconductors.
Like its neighbor, Fort Worth, the city of Dallas was developed as a result of rail lines that gave access to oil, cotton, and cattle in north and eastern Texas. With the development of the Interstate Highway System, Dallas' prominence as a transportation hub was reinforced. A number of Fortune 500 companies are headquartered in Dallas including ExxonMobil, Neiman Marcus, Texas Instruments, and Southwest Airlines. Tourism and real estate are other major industry sectors in Dallas