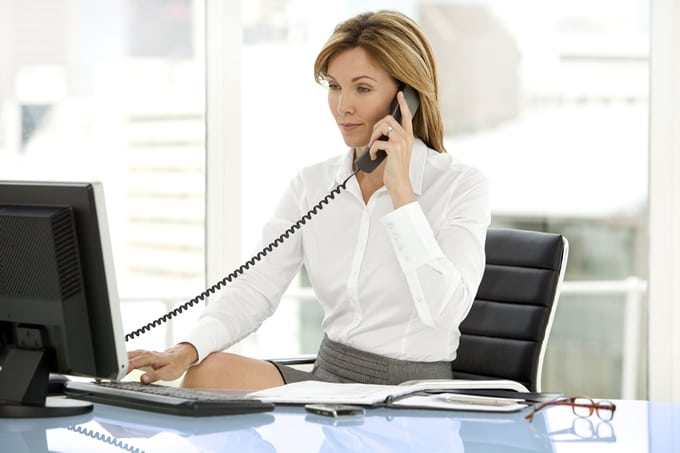 Businesses located in or expanding to Germany will inevitably need to consider telecommunications and the best way to stay in contact with their customer base. Owning a toll free number gives your business the exposure and accessibility it needs within Germany. Customers are often reluctant to call a business' phone number if it has an unfamiliar area code as they are not sure if the services are provided in their location. A German phone number gives the customer the impression that you are an established, approachable business and that you operate in more than one area code.
Understanding German Phone Numbers
At first look, there are a number of characteristics of German phone numbers that can be confusing to those new to Germany's telecom system. German phone numbers vary in length and contain both geographical and non-geographical codes. This differs from phone numbers in the US, for example, that always contain an area code (NPA) and geographical stems. Cities in Germany with higher populations typically have a shorter area code than cities with lower populations. Furthermore, the longer the phone number has been in existence, the shorter the number will likely be.
It can be difficult at times for callers to differentiate the parts of a German phone number such as the area code, country extension, and actual phone number. Fortunately, local calls made in Germany do not require the area code to be dialed. Therefore owning a local German phone number makes it easier for customers to reach you. Callers will only have to remember your phone number without the area code.
Gaining a foothold with German Local Numbers
Customers and contacts calling from within Germany will enjoy the convenience of reaching you at a local phone number. A local phone number allows the caller to bypass country codes, extended phone numbers, and paying the international charge for the call. If your company does not have a local or toll free number in Germany, callers will be required to dial an international number and will also have the notion that you might not even extend your services in Germany. In summary, operating from a local or toll free phone number is guaranteed to increase your amount of business and sales within Germany.
Another advantage of having a local or toll free number in Germany is business to business outreach and marketing. When another business needs to get ahold of one of your departments, they will be able to easily reach their contact within your company by dialing your in-country number. For example, your suppliers may need to reach your procurement manager. Having a toll free number with an extension directing them to the manager's office streamlines the process of inquiries, ordering, payments, etc. The smoother your business' communications run, the more productive and efficient your team of employees can run the company.
Choosing Global Call Forwarding
Global Call Forwarding is an industry leading provider of phone numbers and telecom services, offering the most competitive rates, intelligent and competent customer service, all with convenient month to month service requiring no long term contracts. Since, 1996 we have proudly served a diverse range of customers from individuals keeping in touch with family and friends all the way up to multinational corporations with complex systems of telecommunication. Our number one goal is to provide quality telecommunication & services at competitive rates. Our passion is to provide exceptional and personal customer service to each of our customers, no matter their volume of business. Your questions, inquiries, concerns, etc. are of the utmost important to us and our customer service representatives are happy to provide you with answers and solutions to any of your telecommunication needs.
Better Business with German Phone Number
In today's increasingly connected global economy, communication has become paramount in the success of any business. As businesses expand regionally, internationally, and multi-nationally it becomes more important as well as more difficult to stay connected to customers. Browsing the web and making phone calls have become the primary means of connection between the customer and business. It's no surprise that the most immediate and efficient form of communication for businesses today is by phone. When that phone call is long distance it becomes necessary for the business to make it convenient as possible to the customer. That's where getting a German virtual phone number comes in.
We see them everywhere we look – 888, 800, 866 – Toll free numbers are a necessity to expanding businesses promoting a professional image. There are many major benefits when you get a German phone number for your business.
The Benefits of Getting a German Phone Number
Convenience for the customer. Bearing the expense for the phone call is important as it is a way of saying "thank you for your business".
The portability of a toll free forwarding service gives the business flexibility in day to day operations. Patch calls through to any phone: office, cell, home, and more.
Brand image and public perception are important in finding and retaining customers. Having a toll free number projects a more professional, corporate image.
Toll free numbers are more affordable today then ever. Businesses can use multiple numbers to track
The reliability in the event of a disaster makes a toll free number invaluable. A fire, flood, power outage, etc. can render your office useless. While your office land lines are down, redirect toll free numbers to elsewhere to ensure your customers calls do not go ignored.
Mercedes and German Toll Free Numbers
One company headquartered in Stuttgart, Germany utilizes toll free numbers in a unique and resourceful way. Germany is known worldwide for their engineering expertise. When it comes to automobiles, Mercedes Benz leads the industry in quality and service. The company operates across the globe with production facilities in 17 countries on 5 continents and services a very diverse range of customers. One of the ways Mercedes Benz provides exceptional service to its customers is through the use of toll free numbers. Customers are able to call the German company toll free for a wide range of services.
Drivers can call the toll free number from anywhere in the world for roadside assistance. If you accidentally lock your keys in the vehicle you are able to call in a remote door unlock. If your vehicle requires emergency assistance or towing, you may call the number free of charge to speak to an agent for help.
Mercedes uses toll free forwarding numbers for a number of other services like speaking to a financial representative, customer care, and lease information, and more.
Since its introduction to the telecommunication industry, the toll free number has had a major impact on small businesses up to multinational companies. It has endless uses and serves as a very efficient means of communication between the customer and business. With the affordability of toll free numbers today, why even wait to hit the big time to show your customer you are an established, professional, and appreciative business!