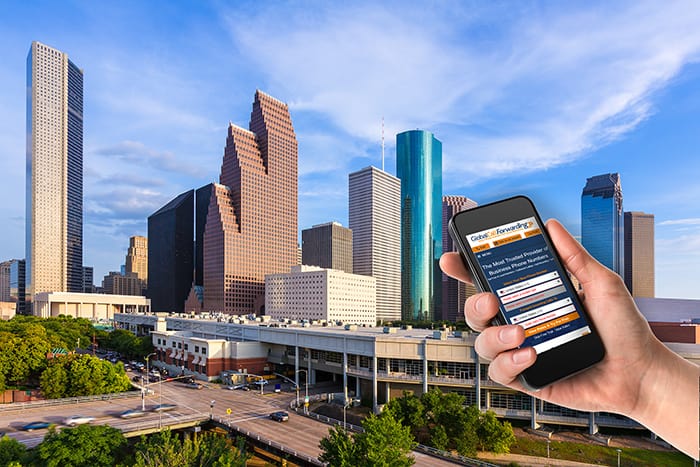 If you want to expand your business' reach within the United States, you will need to be accessible on a local level by focusing on target states and cities. Enter the booming economy of Texas with Houston phone numbers and increase your customer base within the country gradually.
Why Your Business Should Get a Houston Phone Number
We offer a wide variety of Texas virtual phone numbers for businesses that are ready to take their companies to the next level and expand within the United States. You can use your Houston phone number to establish a local and reachable presence within Texas and offer sales and customer support services, even if your business is actually located elsewhere.
Houston Area Codes
Our Houston phone numbers come with SMS capabilities (optional). We offer Houston local numbers with two area codes:
How Much Does It Cost?
We offer five different virtual and local phone number plans. Browse through our plans and find one most suitable for your communication needs. Our Houston phone number plans start as low as $7.95 per month.
Why Take Your Business to Houston
Houston, Texas is a city rich in resources and hosts a booming oil and gas industry. Additionally, the city has been home to over 25 Fortune 500 companies over the years. This demonstrates the possibility of growing and boosting one's company to new standards. Having one of the nation's largest ports, it is easily open to international business and trade.
Both the city of Houston and the state of Texas offer new businesses and start-ups a variety of incentives and support resources such as funding, coworking office spaces, and more. Furthermore, having no state income tax makes this city a business-friendly one drawing in businesses from across the country.
Getting a phone number with Houston or Texas area codes can help you ease into the market by creating a virtual presence. This means that you do not have to be physically present or spend money on opening a field office in the city. You can extend operations from wherever your business is located and forward incoming calls to your location. Sign up today or call us at 1 (888) 908 6171 to learn more!