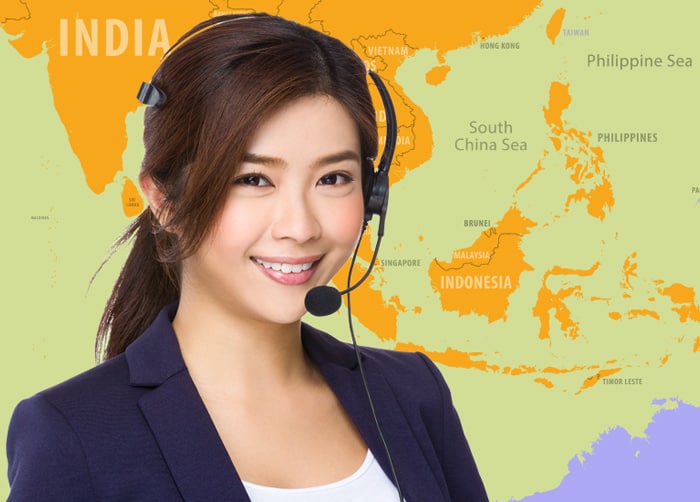 Indonesia is a country with a history of conflict and fighting, and this has allowed them to settle and find their identity as a free country. They are now a democracy and have the largest economy in Southeast Asia with a GDP of $888 billion. They've seen constant upward growth in the last few years, and their president is working on plans to allow businesses a clear path to grow and operate within the country to continue this upward trend in growth.
Because the country has only recently become a democracy, they are working hard to improve infrastructure and law to ensure that the country becomes more stable. There are many positive attributes and benefits that the country can offer businesses, so it may be worth it to consider getting a call forwarding service to allow you to have Indonesia phone numbers.
Indonesia: A Thriving Business Market
Indonesia in a top ten provider for United States agricultural goods, and with it's prime location along major trade routes, it's an obvious choice for companies involved in this industry to want to become involved with the Indonesian market. In addition to being an agricultural giant, Indonesia occupies an area the size of the US with thousands of islands and a multitude of natural resources.
Although Indonesia is still in its growing years, the current projections estimate that tens of millions of Indonesians currently living in poverty will join the middle class in the next ten years. This will create a massive bump in demand, and there will need to be businesses to meet this new demand – it might as well be your business. Having Indonesia virtual numbers will make it easier to make and receive Indonesia phone calls, and conduct business with locals. What makes this future look even more promising, is that half of Indonesia's population is under thirty years old. The country is full of energetic, innovative, young individuals who are looking for new business opportunity. This drive within the population will help propel the growth of the country as a whole.
Indonesians are also the fourth highest tech users in the world, with about eighty percent of their population using Facebook and Twitter. This is a huge opportunity for businesses to launch social media campaigns and reach a large number of users. If a business has Indonesia phone numbers, it will make it even easier for individuals to contact them. This isn't the only area for opportunity in the technology sphere – the country needs to grow their telecommunications infrastructure, and American companies have an advantage as they have the ability to manufacture quantity and quality – this is a huge opportunity for businesses currently operating in this industry.
There is more opportunity for businesses to contribute IT and banking equipment, parts for the aviation industry, energy (renewable), and military equipment (the Indonesian government just increased their military budget). These are all promising and profitable areas that companies all over the world will want to become involved with. Early entry is key, and it is made simpler by having Indonesia phone numbers. Having a phone number linked to Indonesia will help any company create connections without having to have a physical office in the country.
As promising as all of this sounds, it is made even more promising by its the country's breathtaking wildlife and scenery. Indonesia is home to some of the world's most beautiful beaches and exotic plant and animal life. The tourism industry only has room for growth, and companies who want to be a part of providing tourists with the best experiences of their lives should become involved ASAP. If you add Indonesia phone numbers to your contact list, not only will you attract your usual clientele, but individuals overseas as well – there will be no shortage of beautiful destinations for you to recommend.
How do I Get Involved?
The future of Indonesia could not be brighter and more promising for entrepreneurs or large companies looking to expand. The simplest, cheapest, and most effective way to do this is to use Indonesia phone numbers. There are call forwarding services that allow individuals or businesses to have a phone number with a local area code in any country in the world. In this particular case, you will want to get Indonesia phone numbers as soon as possible. Luckily, Global Call Forwarding has fast activation and affordable services, and they allow anybody to have a virtual presence in any country they want. There are options to customize your service and make it work the way you need it to. The process is so simple, and once you become involved in the business world of Indonesia you'll have every reason to book a flight and head to one of the nation's famous beaches!