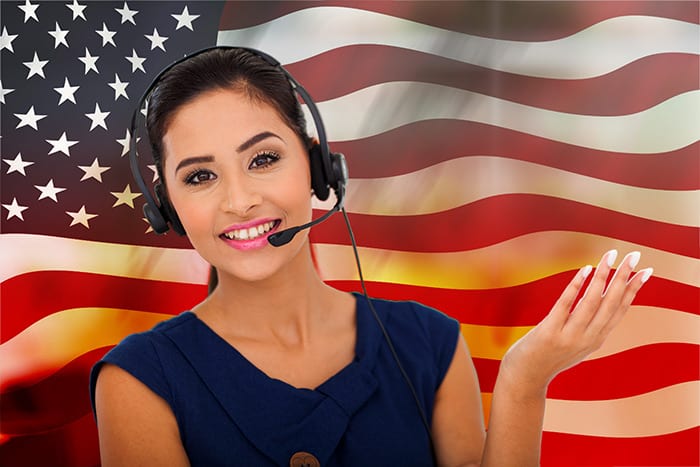 With a country code of +1, the United States is a vast nation, filled with the diversity of many peoples and languages. Business opportunities abound in the US, positioning the country as a go-to destination for motivated solo entrepreneurs, start-ups, and large, world-famous businesses. Buying USA phone numbers is critical to achieving success in so many cases, as well as in presenting your brand to the masses. Because the United States customer values the shopping experience, US phone numbers will assist in catering to the immediate needs of your target market, especially if your business is located elsewhere in the world.
The Advantages of United States Business Operations
The US is a leader in technology and business. As of 2016, there were 28.8 million small businesses, which accounted for 99.7% of US businesses. Across various industries such as healthcare, real estate, and agriculture, stability awaits businesses willing to promote their companies and further their growth through communication, marketing, and strategy.
Businesses operating in the US have the added benefit of money that can be exchanged easily in foreign markets. U.S. dollars are able to go further abroad, affording businesses a greater degree of buying power overseas. Because local prices in foreign countries are not heavily influenced by changes in the US economy, an American dollar can often have more value when converted to another form of currency. Residents in the US use a valuable system of monetary exchange, and your US phone numbers will help you to connect and build trust with these customers located in the States.
Communicate More Effectively in the US
Face-to-face interactions are crucial when building a customer-based business. Oftentimes, many of these meetings are initially set via phone call, as well as the follow up calls that promote brand loyalty. When face-to-face meetings are not an option, well-executed phone calls can be equally effective.
Communicating with customers is of utmost importance, regardless of your physical location. In the United States, consumers expect to be treated with quick service that provides solutions. An estimated 3 billion phone calls are made in the USA every day. With US phone numbers, you can easily connect with customers at any time.
Timely communication can make or break sales. Research has shown that 67% of customers have ended a call because they could not reach a real person, while a whopping 75% of consumers were unhappy with their wait time over the phone.
No one should be expected to stay in office all day and night, but it's important to be a reachable company at all hours. If you can't be reached at specified hours, others working within the company can take calls from your US phone numbers with call routing. This is an easy way to present your business as dependable while building loyalty, and loyalty is profitable.
Reports have revealed that brand loyalty increases the financial value of a buying customer tenfold. Businesses are no longer focused on making one sale. They are working to position themselves as a resource for consumers that often return for additional products and services. Instead of relying solely on upselling, US phone numbers let a company show their expertise and value by solving problems for customers when help is needed in the States.
The Benefits of US Phone Numbers for Employees
Use your US phone numbers to strengthen employee relations by helping everyone feel valued and involved while sharing ideas and company updates. Unlike traditional hiring practices of the past, today's businesses may have employees scattered around the globe. Surprisingly, the distance and freedom allowed to telecommuting workers often lead to a boost in morale and lowered stress. 69% of interviewed businesses see lower absenteeism and turnovers decreased by 50% in respective companies.
Proper communication directly impacts the financial success of the business. With a large number of remote workers based in the United States, US phone numbers usually become imperative for internal operations, due to the need for training, scheduling, reporting, and helping employees to meet their goals.
What many working professionals enjoy most about call forwarding is the simplicity of accepting calls that are being directed to an alternative number. By allowing the use of one primary number, customers are not confused when contacting the business. Combine modern call forwarding with US phone numbers to experience increased efficiency and financial growth.
Consider A Vanity Number.
One way businesses use their phone numbers as additional marketing material, which can also be a great way to keep your business' name in their minds is with a vanity number. We suggest setting a vanity number that will be easy for callers to remember, due to the association of connecting the dialing numbers with a word associated with your business. As you decide on a vanity number, remember that this creative and subtle form of marketing will drive business and enhance relevancy because 58% of customers effortlessly remember contact information of a company using a vanity telephone number. Plus, it can add a little extra chintz to your company, having the extra creative touch of a special number, distinct from all the typical ones out there.
In Conclusion
America is home to many large cities and diverse personalities. The demand for various services makes the country ideal for business start-ups and entrepreneurs. US phone numbers will show residents that you exist in this competitive economy, as your virtual number implies you have a physical presence. Still, just creating US phone numbers is not enough to succeed. Use these numbers to market to customers, solve problems, and motivate employees.