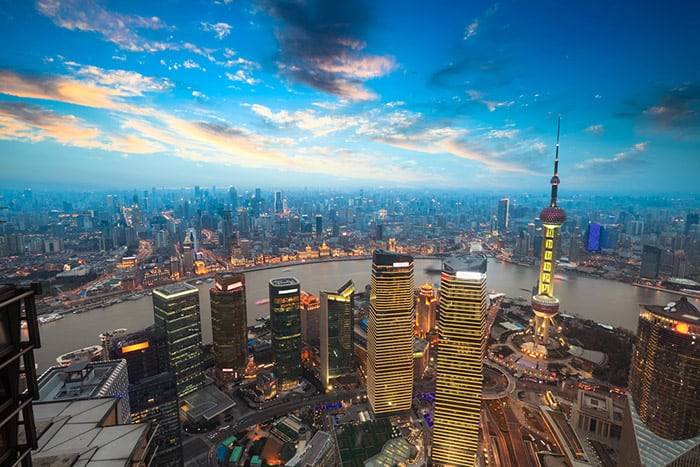 Shanghai is a popular place to do business in the Asian Pacific region. Shanghai virtual phone numbers give you an opportunity to expand your business to China without having to make a move.
Read on to find out more about Shanghai virtual phone numbers.
About Shanghai
Shanghai is located on the east coast of China, south of the Yangtze River. Geographically, most areas of the country are flat, apart from the hilly southwest region. There are many rivers and lakes scattered throughout the country. The region is divided into sixteen separate districts and three counties.
Shanghai, also known locally as Shen, is a multicultural city which combines both traditional and modern Chinese features. The city has provincial status and as such, reports directly to the government. Shanghai is the hub of China's technology industry and also has one of the nation's most important seaports and the largest financial and commercial center.
As one of the most densely populated cities in China, Shanghai has a population of over 23 million. The city is home to people from many different cultures. Shanghai's permanent residents are members of China's 44 various ethnic groups, with over 99 percent of them coming from Han ancestry.
Transportation has vastly improved throughout the region over the past decade. Shanghai has two airports; Pudong Airport and Hongqiao Airport. The railway system now has a daily capacity to transport around 110,000 departing passengers.
Industry in Shanghai
Shanghai is an important commercial and industrial center which contributes to the economy of the whole nation. For the past 15 years, the region's economy has increased consistently by 10 percent each year.
Agriculture
The Shanghai government recognizes the importance of agriculture and as such, maintains produce, fisheries, forests, and stock breeding. In spite of the limited availability of arable land, rainfall, temperatures, and fertile soil make the region ideal for high-yield agricultural production. There are a number of agricultural zones throughout the city, including Fengxian, Sunqiao, Songjiang, and Jinshan.
Industry
Manufacturing industries still play a role in Shanghai's economy, such as the manufacture of petrochemicals, biomedicine, communications and electronic equipment, and automobiles. The architectural industry has also developed rapidly in the area. This is illustrated by the construction of highways, railways, expressways, airports, bridges, ports, and maglev lines as well as residential and commercial buildings.
Other Industry
Shanghai has several other growing industries such as the service industry. The financial system has also improved which has led to improved services for citizens and tourists. International and domestic trade are also rapidly developing. Shanghai's metro system has quickly expanded to provide efficient and reliable services. Other developing industries include communications, tourism, catering, entertainment, information services, social welfare, and public utilities.
Shanghai's Economy
Renewed national reform policies have sped up Shanghai's economic development, and the city has maintained consistent economic growth for several years. The income of local residents has increased, leading to a significant improvement in the standard of living. However, underlying problems remain. The Shanghainese economy is still overly dependent on the manufacturing industry, which puts a heavy demand on energy and land resources and has negative effects on the environment. In an attempt to solve these problems, Shanghai continues to make efforts to develop the industrial sector more evenly and promote the advancement of six key service industries: financial services, information industry, automobile manufacturing, commerce and trade, real estate, and equipment assemblies. This will help the region to maintain a balance between the environment and the economy. There is a noticeable increase in the development of local enterprises and more and more multinational companies are setting up their Asian headquarters in Shanghai.
Business in Shanghai
Setting up a company in the central business district of Shanghai is expensive; this is one of the reasons that many companies are relocating their offices further away from the city center; a move that's saving them up to 40 percent in rent.
Companies who move to more decentralized areas can still take advantage of local amenities, links, and good transport. It is predicted that these decentralized commercial areas will come to drive the market force and support the future development of the whole region. Shanghai virtual phone numbers offer an alternative to this.
Expand Your Business Interests with Shanghai Virtual Phone Numbers
If you wish to expand your company to China, Shanghai should be your first port of call. However, it is understood that you may not have the capital to set up a physical office, even in a decentralized location, not to mention all the red tape you would have to go through for permits and to find workers. You still don't have to strike Shanghai off your list, though. You can easily and affordably give your company a presence there by using Shanghai virtual phone numbers.
With virtual call forwarding and Shanghai virtual phone numbers, you can establish a firm presence in Shanghai while saving money and having instant access to your client base. The beauty of using virtual number is that you don't need to shell out money on new equipment or initial set-up costs. All you have to do is subscribe to one or more numbers. Your numbers will usually be activated within just a few minutes.
You can count on having crisp, clear phone lines with your local Shanghai numbers, so communication will not be a problem. As well as local numbers, you can also subscribe to toll-free numbers to contact customers, colleagues or suppliers. Your calls can be forwarded to whichever numbers you choose, and you can unsubscribe or add more numbers as needed.
Stay In Communication with Shanghai Customers
Shanghai virtual phone numbers provide the perfect solution for staying connected to Chinese clients. They can reach you at any time from their cell phone or landline from within Shanghai.
Chinese customers appreciate being able to call you from a local number without having to pay expensive international calling fees or having to deal with confusing international dialing codes.
Avoid Expensive Re-location Costs
Bureaucracy and red tape can be a tricky problem in Shanghai, but with virtual phone numbers, you can escape all these challenges while making the most of conducting international business in the world's most populous city. And you don't even have to leave the comfort of your own office! If you haven't already, try using Shanghai virtual phone numbers to give your customers peace of mind while saving your business money.