Call monitoring is a call center feature that can be used by businesses of every type and size to improve their customer service and build strong customer relationships. Learn how this feature works and the best ways to use it.
Call Monitoring Explained
Call monitoring software or call listening is a call center feature that allows managers or supervisors to listen in on a call. This feature is commonly used to improve quality assurance and customer service. Some other terms for call monitoring include call logging, agent monitoring, and quality monitoring.
Call listening enables calls to be monitored with or without the agent or employee's knowledge. Some providers may even give you the option to record and store such calls for future use.
Need a call monitoring scoresheet to evaluate your agents' performance? Scroll below for call monitoring scorecard templates!
Who Uses Call Monitoring Software?
Any business trying to improve or maintain its customer service standards may use call monitoring to do so. Callers will hear the message: "This call may be monitored for quality assurance."
And so, call monitoring is a common feature used in call centers, sales, and customer service companies. This feature can be used to:
Train new agents (used by managers and supervisors)
Conduct performance analysis (used by managers and supervisors)
Gather customer insights (used by marketing departments)
Determine the quality of leads (used by marketing departments)
Improve sales calls and lead generation (used by the sales department)
Key Features of Call Monitoring
Monitoring calls is more effective when done in conjunction with call monitoring features that let users participate, observe, record, and analyze calls and interactions. Some of the top features that support call monitoring software include:
Call monitoring dashboard — Included as part of a call center software; used to track certain metrics and study call logs
Detail records — detailed logs and reports of incoming and outgoing calls to study caller preferences.
Call whispering — informs agents about where a call is coming from (which advertising campaign or channel) before they answer it.
Call barging — enables managers and supervisors to join a call between a customer and agent to aid the agent in resolving the call.
Hosted call recording — records inbound and outbound calls and stores them for future reference.
Benefits of Call Monitoring
Like any advanced phone system feature, being able to monitor business calls comes with a variety of benefits. Call monitoring lets you not only listen in on calls but also to take the necessary steps to improve your business' overall customer service efforts. Here are the top benefits of using this feature:
Improved quality assurance
Fewer training sessions for new employees
Remote agent management
Reduced number of escalated calls with upset or angry customers
Higher first call resolution rates
Gathering customer insights and feedback, etc.
5 Call Monitoring Best Practices
To get the best out of this call center feature, you need to implement these call monitoring best practices:
1. Set Clear Objectives
As with any other business decision, set clear goals and objectives. Determine why you will be monitoring calls, make a list of the KPIs to measure, and prepare a scorecard for evaluations.
2. Provide Useful Scripts
A well-written script can go a long way in ensuring customers feel valued and heard. And by giving your agents and employees useful scripts, you give them the tools they need to offer assistance, troubleshoot, and provide solutions for common issues. This can help improve first call resolution rates.
3. Learn from Bad Calls
Treat bad calls as a treasure-trove of info. These calls can help you identify what went wrong and how to not repeat those interactions with other customers. Additionally, these calls make valuable training materials for new agents.
4. Study Metrics
Measure and analyze the KPIs and metrics you have been tracking. Find out which areas are working well and which need improvement. Brainstorm with your team to find ways to implement changes that align with your company's standards and customers' expectations.
5. Be in Compliance
Features like call monitoring and call recording have laws that differ across different countries. And so, depending on where your business is located and where your customers call from, you will have different federal and state laws to abide by.
Does Your Business Need to Monitor Calls?
Monitoring calls can give you insight into the current state of your company's customer service and sales. And you can use that valuable information to improve your services and build better customer relationships. To learn more, speak or chat with one of our telecom experts today!
Downloadable Call Monitoring Scoresheet Templates
Ready to get started? Then, grab our call monitoring scoresheet or evaluation templates below, share them with your managers, and start evaluating your call center's performance! We have scoresheet templates for Outbound Sales calls, Inbound Sales calls, Customer and Technical Support calls, and Chat support.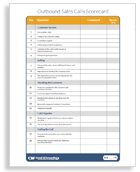 Download Your Free Call Center Scorecard Templates