Dubai is located in the southern Persian Gulf. It is the largest and most populated emirate in the United Arab Emirates. It is a lavish city, perhaps the only one in the world where you will find a seven-star hotel, the world's tallest building, and 200 human-made islands shaped into the countries of the world. The city has a vibrant, cosmopolitan air and attracts business people and tourists alike.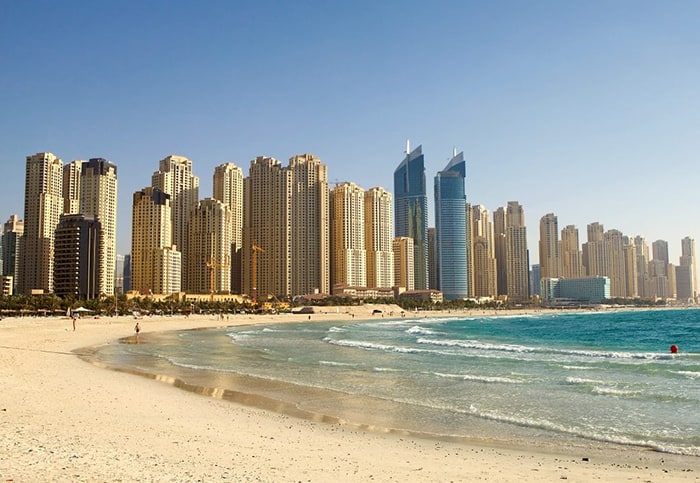 Dubai's Economy
Dubai has a strong economy which was built on revenues from the natural gas and oil industries. Today these industries form only 5 percent of the region's GPD, and sustained its status as a trading route throughout the 1970s and '80s and still has a free-trade in gold.
Tourism is Dubai's current economic mainstay. The city has put a lot of effort into developing property and building hotels. It is also home to Port Jebel Ali, which is the world's largest constructed harbor. As well as tourism, Dubai is also a developing hub for finance and IT. The government founded Emirates Airlines in 1985. The airline is still state-owned.
Real Estate in Dubai
Real estate construction has lead Dubai to become one of the world's fastest-growing cities. Foreign visitors and expatriates invested capital in the region during the early 21st century. The city is home to huge buildings such as Emirates Towers and the Burj-al-Arab hotel. Dubai is also home to the Burj Khalifa, which at 2,717 feet in height, is the world's tallest building. In 2017, construction began on the Dubai
Waterfront area, which is expected to be 2.5 times the size of Washington D.C. and house a mix of residential areas, canals, and islands with hotels.
The city is also renowned for its Dubai Science Park. The cutting-edge business park is targeted at pioneers in the fields of pharmaceuticals, biotechnology, biodefense, and genetic research. Dubai also has an International Media Production Zone, which is targeted towards printers, publishers, and media production.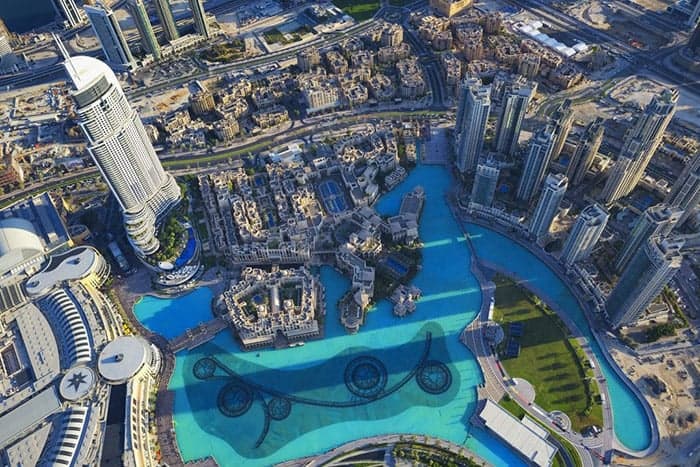 Dubai Culture
Although Dubai is a modern city, the Muslim religion plays an important role in its culture, and mosques can be found throughout the city. Every evening at sunset, the call to prayer can be heard resounding from the rooftops.
If you are visiting Dubai, then you should dress modestly, particularly in public places. Swimwear is appropriate at the swimming pool or beach, but you should cover up elsewhere. Shorts and t-shirts are accepted in most places, though if you are visiting a mosque or religious site, then you should keep your arms and legs covered. Women are required to wear a headscarf when entering a mosque.
As is typical in all Arab countries, hospitality and courtesy are considered to be virtues. Dubai residents welcome visitors and are very friendly. Majlis is a cornerstone of Arab society; it is a gathering of family and neighbors to talk about life's daily issues, current affairs, and religious issues. If you are invited to a majlis, take off your shoes and leave them at the entrance. Typically, men and women will be escorted to different areas of the room. If you are sharing a meal with your host, accept food and drinks before moving along with matters of business.
When you are accepting food or beverages, it is polite to take them with your right hand, which is also the hand with which you eat. It is considered impolite to show the soles of your feet, point your foot to anyone, or to cross your legs. You should also avoid pointing at anyone or beckoning them with your finger. If you are the host, you should not offer your Muslim guests pork or alcohol.
Visitors to Dubai may purchase alcoholic drinks from licensed restaurants and bars. Most of the bars are in hotels. Visitors can also buy alcohol from Duty-Free shops at Dubai International Airport.
Fun Facts About Dubai
Many people are attracted to Dubai for work because of the tax-free earning.
These days, Dubai is known as the "city of skyscrapers," yet just as recently as 1991, the city's only skyscraper was the Dubai World Trade Centre. In just two decades the city has become home to more than 400 skyscrapers.
During its construction boom, Dubai was home to around 20 percent of the world's cranes.
More than 80 percent of Dubai's population consists of expats. Emiratis make up only 19 percent of the population. Around 100,000 new residents arrive in Dubai each year.
Camel racing is a popular sport in Dubai, but no human jockeys are involved. All the jockeys are robots.
If you're looking for world-class shopping, the Dubai Mall is the largest shopping mall in the world with more than 1,200 stores, which includes stores of many major brands and designers.
Communications
A key factor to investing in Dubai is telephony and communication. Businesses communicating with consumers as well as locals who will be guiding you through the process of expansion is vital. In order to do that, one must first establish a means of communication. Global Call Forwarding sells Dubai virtual phone numbers and Dubai toll free numbers with SMS and Email capabilities. Many other features include ringback and call recording to assist you and your business in establishing a solid means of communication, which will prove to be the catalyst for a successful business of any kind.