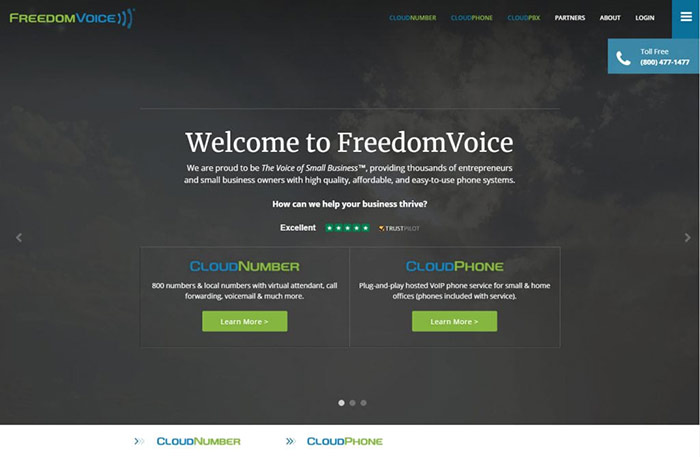 FreedomVoice Systems, Inc began operations in 1996 in Encinitas, California, USA. FreedomVoice provides geographic, vanity, and toll free numbers in the USA and Canada. Other services include FreedomIQ, a hosted Voice over Internet Protocol (VoIP) phone system. FaxFreedom, an internet faxing service, and AdTrakker, a call-capture lead generation service marketed to real estate and mortgage professionals.
GoDaddy acquired FreedomVoice in 2016. Since May 31, 2017, FreedomVoice operates as a subsidiary of (mt) Media Temple, Inc, which GoDaddy also owns.
FreedomVoice markets itself as "The Voice of Small Business™," and it specializes in phone service for small business and entrepreneurs.
CloudNumber
FreedomVoice sells three types of toll free CloudNumbers: 800 numbers, vanity phone numbers, and virtual local numbers. Users manage the numbers using a smartphone app. FreedomVoice offers over 40 features with their numbers. The following table lists the features.
CloudNumber Features
Port In Numbers
Unlimited Extensions
Hold Music Library
Voicemail Transcription
Unlimited Line Capacity
Call Forwarding
Dynamic Caller ID
Secure Voicemail
Toll Free Directory Listing
Ring Groups
Call Screening
File Compression
Online Faxing
Call Hunting
Call Announce
Check Messages by Phone
Call Blocking
Simultaneous Ring
Call Whisper
Unlimited Users
Professional Voice Recordings
Call Rotation
Call Record
Visual Call Reports
After Hours Greeting
Call Queue
Call Transfer
Call Capture
Company Directory
Availability Scheduling
Put Callers on Hold
Name/Address Capture
Dial-By-Name
Immediate Forwarding
Q&A Voicemail
Voice Broadcasting
Smart Number Routing
Custom Hold Music
Voicemail & Fax to Email
Fax On Demand
FreedomVoice offers three CloudNumber plans:
The Start Plan at $9.95 per month with 400 included minutes and 3 ¢ per additional minute
The Edge Plan at $19.95 per month with 1,200 included minutes and 3.9 ¢ per additional minute
The Suite Plan at $29.95 per month with 3,000 included minutes and 3.9 ¢ per additional minute
CloudPhone
CloudPhone is a cloud-based phone service. FreedomVoice hosts the service using cloud servers. There is unlimited calling in the US, Canada, Puerto Rico, and the US Virgin Islands. FreedomVoice Polycom uses desk set phones for the service, some are free and others are available at a nominal monthly cost. There is also a mobile app for iPhone or Android phones. The minimum service cost is $29.95 per month, per phone.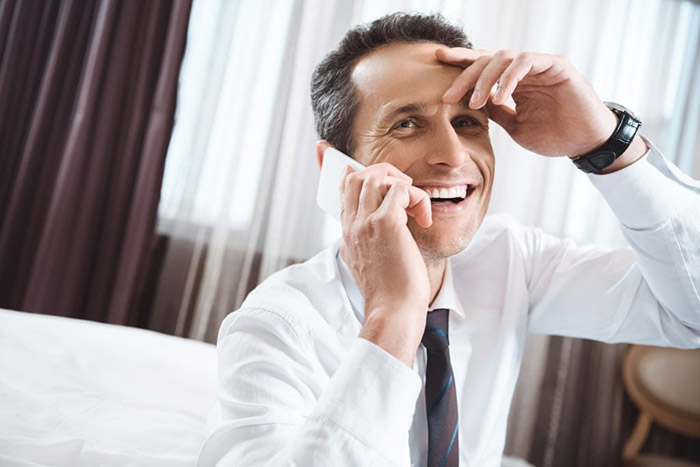 CloudPBX
CloudPBX is a scalable, cloud-based business phone system offered by FreedomVoice. Since the system is cloud-based, there is no need for expensive PBX hardware. Users manage the system using the FreedomVoice app on their iPhones or Android mobile devices. To minimize user cost, CloudPBX charges one rate for trunk lines and a second, lower rate per user.
Virtual Phone System Review
FreedomVoice is best for its cloud PBX, which is more flexible than competing systems. However, there is added cost for the customization. If other providers do not meet specific needs, CloudPBX may be a good option.
FreedomVoice Pros
WebLINK Internet Control Panel
Easy Customization
FreedomVoice is offering a free, 24/7 teleconferencing service. After a year, there will be a cost of $5 a month plus minute usage.
They have discontinued 2-leg billing in the US. Two-leg billing is when there is a charge for the call to the PBX and a second charge from the PBX to the destination number.
FreedomVoice Cons
Customer support is Monday through Friday from 6:00 am to 6:00 pm PST. They do not have 24/7 customer service.
On the FreedomVoice web site, it is difficult to find details on some plans and features.
Many "standard" features incur additional monthly fees.
Local lines are an additional $10 per month.
FreedomVoice Review Summary
FreedomVoice offers a full range of features plus some aspects that other systems do not have. They also allow customization and flexibility. However, the added fees for some features and the limited customer service window are drawbacks.
NextAdvisor Review
NextAdvisor recently published a review on virtual phone and virtual office systems. The overall results of the review are as follows.
Phone.com, 5 stars
RingCentral, 4.5 stars
eVoice, 4 stars
Grasshopper, 4 stars
FreedomVoice, 4 stars
Nextiva, 3 stars
The conclusions of the review were that FreedomVoice is best for 10 employees or less; it includes faxing; it was easy to use, and all plans allowed unlimited mailboxes.
Review from Best Reviews
The review mentioned several times that FreedomVoice is for both residential and business users. The ratings were four stars for Overall, Features, Price, and Customer Support.
The positives from the review included the number of available features, the scalability of the service, the straightforward account manager, support for third-party softphone integration, low-cost pricing plans, and a free trial period. The negatives included limited media storage, hidden prices, and expensive number porting.
Trustpilot Review
Trustpilot is an online review community. It has received 630 reviews from the internet. Ratings ranged from one to five stars, one star being "Bad" and five stars being "Excellent." The ratings for FreedomVoice were:
Excellent, 86% of responders
Great, 7% of responders
Average, 3% of responders
Poor, 2% of responders
Bad, 2% of responders